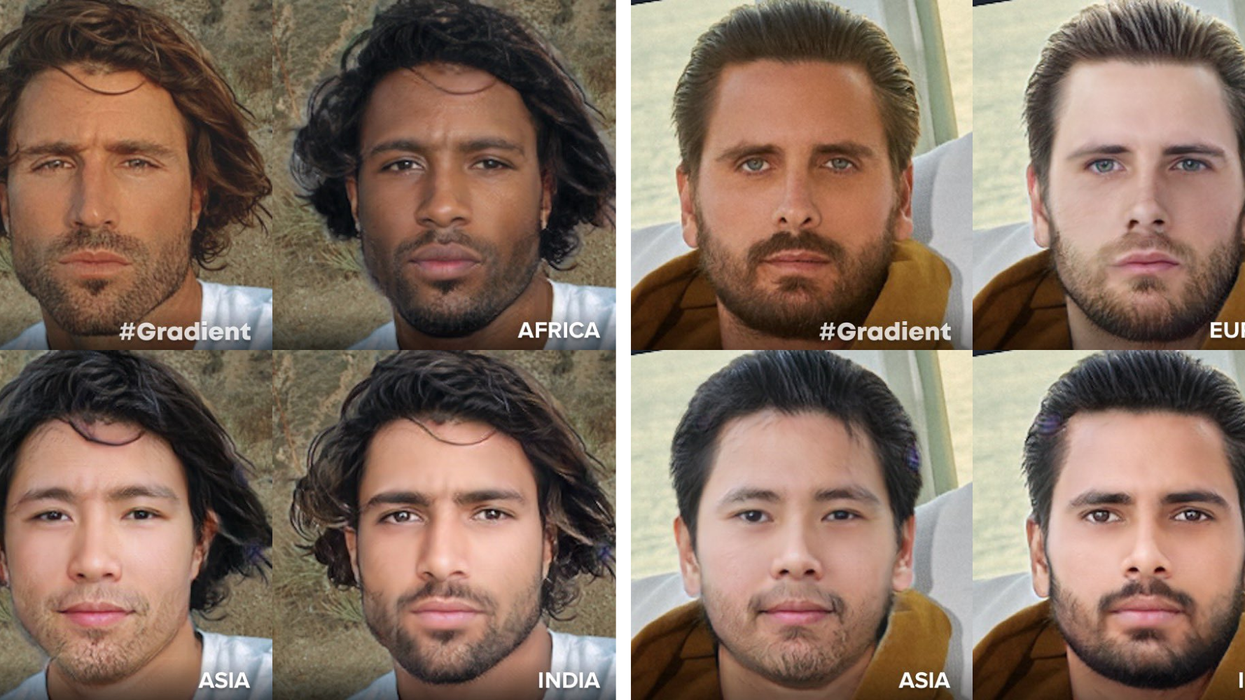 Twitter/brodyjenner/scottdisick
There's some spon con you probably shouldn't.
Think promoting laxative teas or weight loss products to young people.
Well now add photo-editing app 'Gradient' to that list.
Why?
Well it offers a controversial filter that allows people to 'edit' themselves into different ethnicities.
And after it was promoted by two reality stars, people pointed out exactly why this is so problematic.
Media personalities Scott Disick and Brody Jenner both posted tweets promoting the app's AI "ethnicity-changing" feature.
On Monday, Jenner posted his first (and now-deleted) tweet, later re-uploading an identical post this morning.
"You need to try this new feature in gradient app," Jenner wrote alongside four pictures showing his face edited to appear to be different ethnicities, including Black, East Asian and South Asian.
The filters were titled "Africa, Asia, India", despite India a country that belongs to the Asian continent.
And it turned out that an app that had the potential to 'turn' white users Black might not be a good idea.
Jenner was labelled "tacky, privileged and gross" for posting about it.
It was seen as pretty offensive to 'try on' other ethnicities for fun.
It was basically 'blackface' someone else said.
It was unequivocally seen as racist.
Scott Disick also was called out for his similar promotion of the feature on Instagram.
"Tried new filters in the Gradient app. #ad," he captioned the snap.
Disick clearly had slightly more sense than Jenner as he eschewed the Black filter.
But people, naturally, still found posting pictures that mocked up a white user as other ethnicities, extremely ignorant.
On Twitter Disick received backlash.
'Probably best to delete this one," a follower wrote.
Like Jenner, Disick did eventually delete his original tweet – but then reposted the photos this morning.
Neither of the reality stars have publicly commented on the controversy.