On Thursday Stella Creasy, the Labour candidate and former MP for Walthamstow, retweeted a picture of a constituent's postal vote ballot with a cross by her name.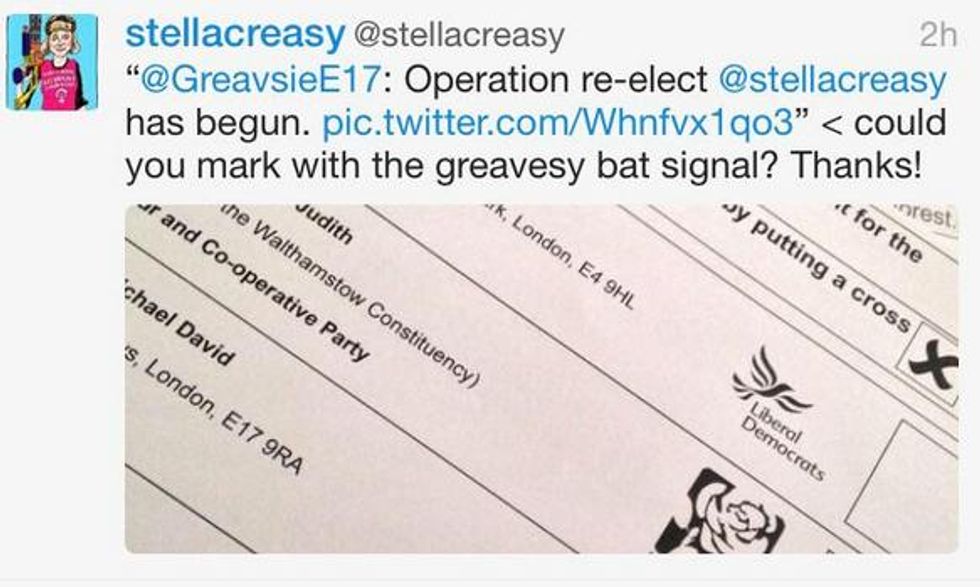 You can see a crop of the image and the full tweet above, and while Creasy has not deleted the message her constituent has made his tweets private which is why the image can no longer be viewed.
We don't know for sure why @GreavsieE17 made that change to his account - but it may have something to do with Ukip's Mark Reckless, who immediately seized on Creasy's tweet and suggested she had broken the law.
Reckless then spent some time retweeting mansplainers keen to let Creasy know her tweet was illegal.
Just one issue: it is not illegal. An Electoral Commission spokesperson told i100.co.uk postal voters can publicise their ballot papers, and MPs can retweet them:
Postal ballot papers are treated differently in electoral law, compared to polling station ballot papers. A postal voter may take a picture of their own postal ballot paper and publicise it (including via social media).
There is an exception to this rule, it would be illegal for someone to "persuade or induce" a postal voter to promote their ballot paper. "While the postal voter themselves may publicise the information, if someone else persuades or induces them to make this information available, they would be committing an offence. If there are any suggestions or allegations that this could be happening, the person making the complaint should be advised to report the matter to the police," the spokesperson said.