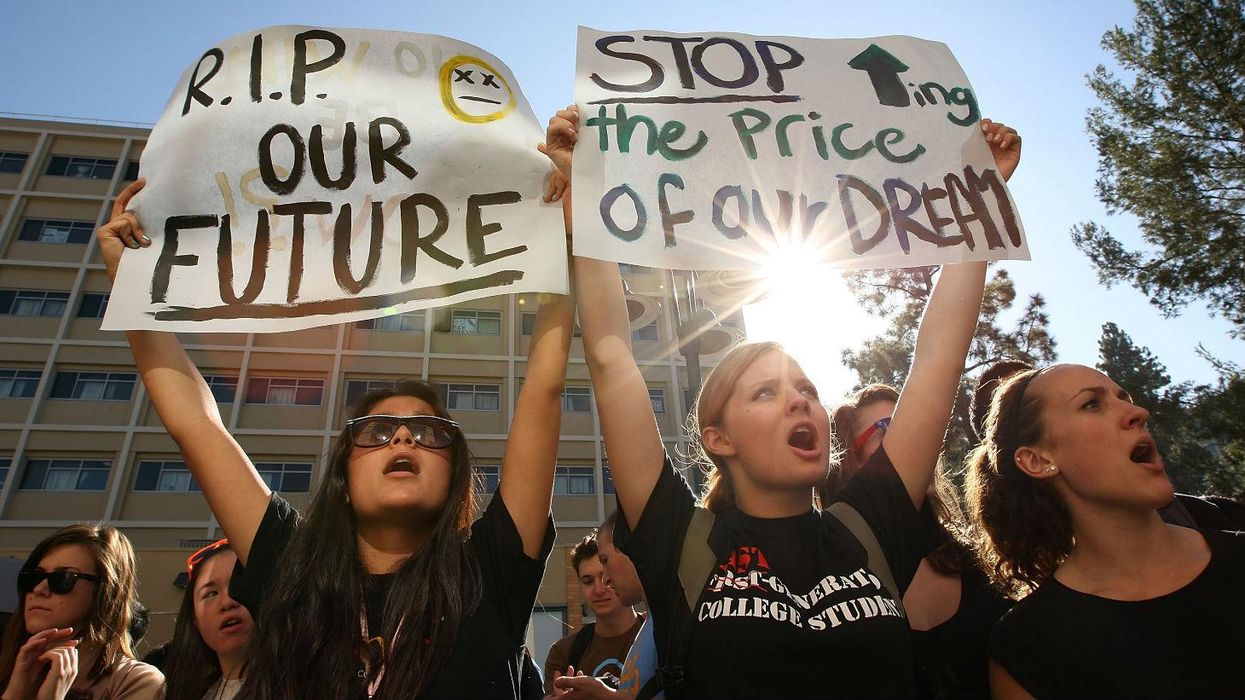 University tuition fees rose from £3,000 to £9,000 a year in 2012, and it appears opposition to the hike has been steadily growing.
2015 university graduate Simon Crowther recently wrote a scathing open letter to his MP, Vernon Coaker, about retrospective changes to student loan rates which, he argued, has led to him paying 3.9 per cent interest on his loan.
One of the biggest issues, as Crowther sees it, is that loans are sold to students when they are still just children:
I was still in the Sixth Form at school, when I agreed to the student loan. I had no experience of loans, credit cards or mortgages. Like all the other thousands of students in the UK, we trusted the Government that the interest rate would remain low - at around 0-0.5%.
The letter was shared thousands of times before Crowther deleted it. He went on to say:
I graduated with a huge debt of around £41,000... the Government has sold our loans to a private company which has caused the interest rate to skyrocket. At no point was I consulted about this and of course I would never have agreed to this enormous increase in fees.

...From the attached image you will see some months the interest on my student loan is over £180.

Just to cover the interest, I would need to be earning over £41,000 a year.

Unless I earn that much, my student loan will increase due to the interest.

I would like to know how many new and recently qualified graduates are earning over £41,000? I am only 22 years old and out of university less than a year.
Crowther attached the following image, showing the impact that interest has had on his monthly payments:
Picture: Simon Crowther/ Facebook
The post has been shared over 15,000 times, with many sharing his anger.
I feel we have been mis-sold the loan. A commercial firm would not be allowed to buy loans from another company and then hike the interest rates. This is not what I and thousands of others signed up to. How can it be allowed?

How can our loan agreements be altered without our prior knowledge. This is a disgraceful act by a government which encouraged us when at school, to go on to higher education – helped by a government loan with the promise of a low interest repayment scheme.

Along with many of my former university colleagues, we have lost our trust in this Government. We have been told that as graduates, we are the future leaders of the country in politics, engineering and commerce.
But how accurate are his claims?
indy100 contacted the Student Loan Company for comment:
The only time interest has been 0.0 was in 2009/10 which rose to 1.5% between 2010-2015, for students who started studying before 1 September 2012.

The maximum interest rate, which applies to graduates earning £41,000 or more [annually], is RPI (which is the current inflation measure and set at 0.9 per cent) plus 3 per cent, giving a total of 3.9 per cent interest.
A spokesperson for the Department for Business which, along with the Scottish Executive, owns The Student Loan Company, also refuted the claim that the student loans were "sold off", and told indy100:
No student loans from the post-2012 system have been sold off at all.