Cyclist Sir Chris Hoy has six Olympic gold medals. Rower Sir Steve Redgrave has five, as does Sir Bradley Wiggins, who at Rio 2016 also just became the first Briton to win eight Olympic medals.
The men are legends. Heroes.
But even Olympic champions have awkward moments. Yesterday, while talking success and greatness in the wake of Team GB's latest cycling triumph, the trio posed for a photo...
...while being filmed on the BBC.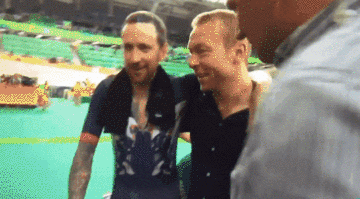 What a mess.
The looks on their faces are priceless. That moment of realisation, Wiggins looking over at Redgrave, Hoy just dying inside. It's simply fantastic.
Here it is in full: