If you've ever been left speechless by a dirty catcall hollered by some creep on the street, then this could be the video for you.
In the tragicomic revenge fantasy of your dreams, comedians SJ and Ginny took to crowded Bryant Park in Manhattan to prey on random male victims with sexual catcalls in a video they call 'The Shame Game'.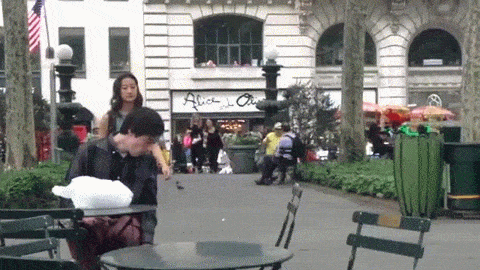 Before they set off they confess to having doubts about the idea.
"I'm worried because being a woman in public is always very scary," says SJ. Ginny responds, "I'm very concerned about SJ getting stabbed."
The pair push on regardless.
"I'm gonna destroy your d*ck"," SJ whispers suggestively at one guy after sidling up to him.
"Uh, dat ass," is a not-sweet-nothing floated in someone else's direction.
Judging by the reactions they got - ranging from amused to bemused - flipping round catcalling doesn't quite work in the same way.
"The lesson here is that no one learned anything," says Ginny.
We suggest next time they go out catcalling SJ and Ginny take a 6ft gay bodybuilder with them. That might shake things up.
Watch the results below: