A policeman has been stabbed and an alleged assailant shot by armed police in a major security incident at the Houses of Parliament.
Here is what we know so far:
Police name the man they believe to be responsible for the attack on Westminster as Khalid Masood
Masood, aged 52, was born in Kent - detectives believe he was most reccently living in the West Midlands.
On Wednesday a car was driven into pedestrians on Westminster Bridge. It then continued around the corner, crashing into the railings outside Parliament.
After that incident, the driver (named by police as Masood) got out of the vehicle, a Hyundai four by four, and attacked a police officer.
Masood was then shot by police.
The Metropolitan police confirmed five people have been killed, including the police officer and the attacker. 
A woman was killed after the car drove into the crowd - she has now been identified as Aysha Frade.
The police officer has been named as PC Keith Palmer, no other names of the deceased have been confirmed yet.
At least 40 have been injured in the attack.
Three police officers on their way back from a commendation ceremony were also hit by the car on Westminster Bridge.
Three French teenagers on a school trip to London were among those injured on Westminster Bridge.
10 nationalities were among the victims.
Picture: NIKLAS HALLE/AFP/Getty Images
Police currently believe that Masood was only one attacker.
Masood was not the subject of any current investigations and there was no prior intelligence about his intent to mount a terrorist attack.
He was however known to police and had a range of previous convictions including GBH, possession of an offensive weapon and public order offences.
Masood's first conviction was in 1983 for criminal damage and his last conviction was in December 2003 for possession of a knife.
Masood has never been convicted for any terrorism offence according to the Met
Eight people have been arrested in connection with the Westminster incident.
The Metropolitan Police have searched six address in relation to their investigation.
Theresa May was in parliament at the time of the incident. She was seen being ushered into a car to be evacuated. 
Theresa May is expected to address parliament later today. 
An air ambulance with paramedics landed in Parliament Square and a regular ambulance came in through the front gates.
Armed police helped clear the area around the incident in Parliament Square and the surrounding streets. These were also closed to traffic.
The Scottish parliament in Holyrood was suspended during the incident.
MSPs have delayed a vote on a possible second independence referendum in light of the terrorist attack at the Houses of Parliament, authorities at Holyrood confirmed on Wednesday.
The London Eye tourist attraction was also locked down.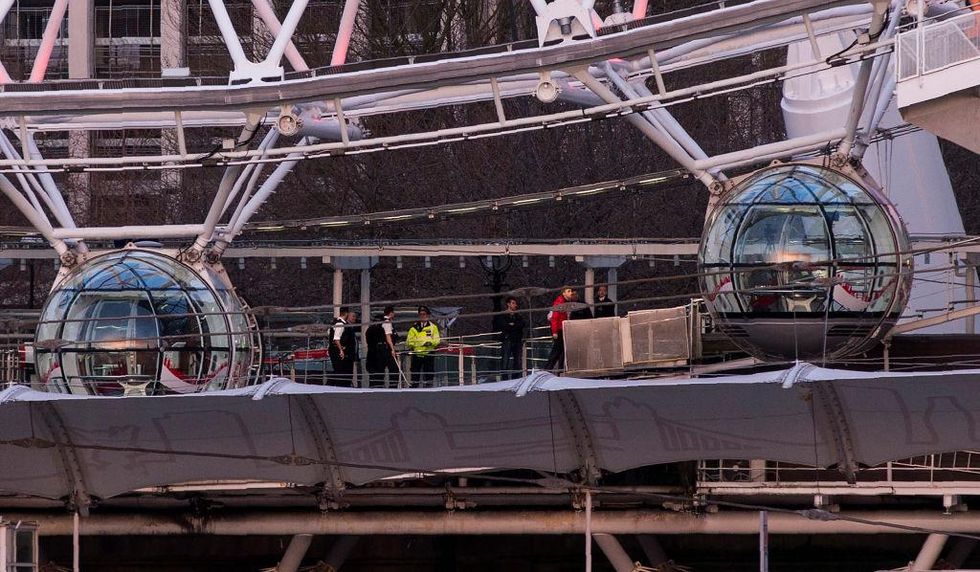 Picture: DANIEL LEAL-OLIVAS/AFP/Getty Images
Theresa May chaired a meeting of the Government's emergency Cobra committee on Wednesday, a Downing Street spokesman said. She will be meeting with them again today.
Picture: DANIEL LEAL-OLIVAS/AFP/Getty Images
The Prime Minister said in a statement:
The location of the attack was no accident, where all people from all nationalities, religions and cultures come together to celebrate liberation and democracy.

Let me make it clear today... any attempt to defeat those values through violence is doomed to failure. The streets of Westminster are ingrained with the spirit of freedom.
Facebook activated its 'Safety Check' feature, allowing people in the area to mark themselves 'Safe'.
Donald Trump has spoken to Theresa May about the attack, Sean Spicer said in a press briefing, adding 'We condemn today's attack'.
MPs will return to the commons today for 'business as usual'.
A woman was been recovered alive from the River Thames - she is currently receiving 'urgent medical treatment' 
A spokesman for the Port of London Authority, which looks after safety on the River Thames, said:
We believe she fell from the bridge.
The Mayor of London, Sadiq Khan, says he has spoken to Acting Commissioner of the Metropolitan Police.
Tobias Ellwood MP gave first aid to one of the casualties of the Westminster terrorist attack. Maria Miller MP said he gave mouth to mouth resuscitation to one victim.
Picture: DANIEL LEAL-OLIVAS/AFP/Getty Images
What we don't know:
The motive of the attacker.
If the attacker was part of a wider organisation.
What connection addresses the police investigated have in common with Masood. 
The names of one other victims who lost their life on Wednesday. 
The names of those injured.
Whether the Terror Threat level will be raised from 'Severe' to 'Critical'
If the attack was timed to coincide with the anniversary of the terrorist attack on Brussells on 22 March 2016
More follows