Jamie McCartney makes it his business to put women's minds at rest about the shape and size of their vaginas.
From twins to post-natal mothers and those who have undergone labiaplasty, more than 400 women have volunteered to have their bits cast in plaster of Paris for the British artist's 2008 artwork The Great Wall of Vagina.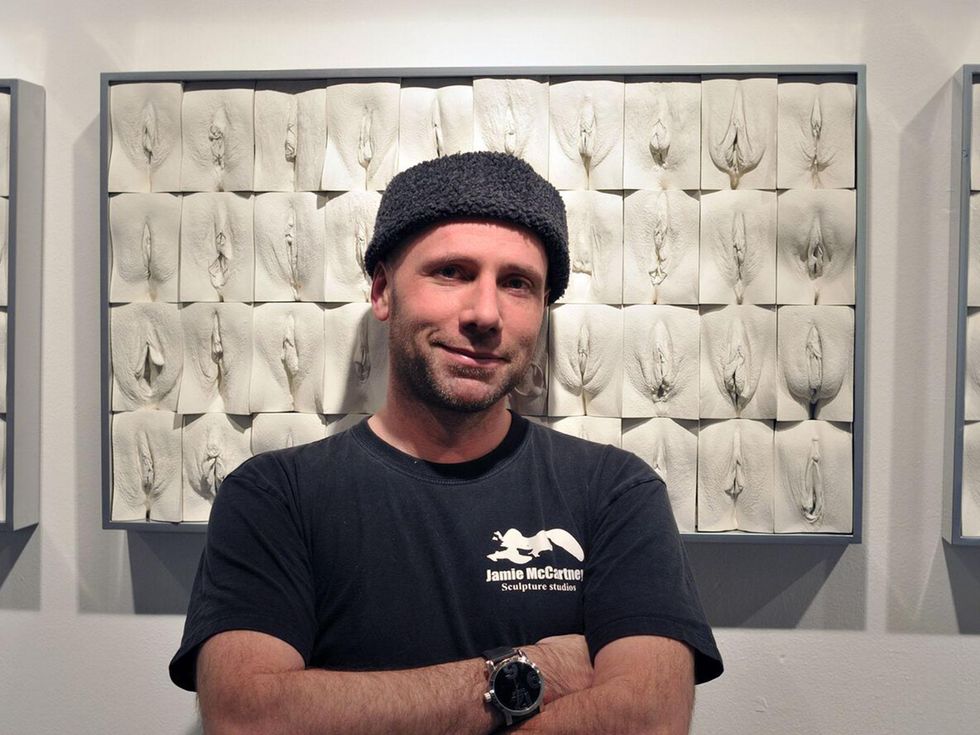 While the thought of a male artist casting women's intimate body parts may not sound appealing, McCartney says he has been inundated with requests.
"Scarcely a week goes by when someone doesn't ask to get involved," he says. "They're all volunteers. It was really important that nobody got paid to model for me. That might be really unfair but a man who pays 400 women to get their vagina out is not nearly as interesting as 400 women endorsing the project and believing in it enough to do it."
McCartney says he was inspired to pursue the project by the rise of vaginal cosmetic procedures and what he calls "body fascism" dictating the way women should look. "The vagina became this whole new place to shame women around, because there's money to be made in shaming people. I do believe that cosmetic surgery is a fairly unnecessary procedure. It's a psychological problem. There's a whole industry base set up to persuade women they're defective and to give them an answer."
Women have supported his intentions from the start, and he "gets letters virtually every day" saying the artwork has "changed their lives in terms of their body and genital anxiety".
Response to The Great Wall of Vagina has been so positive that McCartney is now working on two more casting projects, one of them called Mondcivitano, "world citizen" in Esperanto, in which he aims to cast a woman's vagina from every country in the world.
He also plans to do a similar US-focused piece with a woman from each state, after hearing from a number of American women who wanted to take part in Mondcivitano but were "disappointed" to hear that a volunteer from their country had already been cast.
"People have been so determined to be cast that they have come here especially to make sure they were the first from their country. It's first come first served. They have literally based their travel plans around being part of the sculpture."
McCartney is hoping to get an even bigger anatomical range of vaginas for Mondcivitano, and is currently looking for a volunteer who has undergone FGM, although he admits this has been difficult to find so far. "I'm interested in casting more unusual women – I think one way of showing what is normal is to show extremes. Every generation is going to go through the same anxieties, every girl is going to think, 'Oh my god, what's wrong with me'," he says.
The Great Wall of Vagina has been exhibited around the world as well as being used as an educational resource in sex text books. But while McCartney admits he "didn't go to art school to cast people's private parts", it is what he has become best known for.
Jamie McCartney will be the leading guest artist at the 7th Passion for Freedom art festival, Mall Galleries, London SW1, 21–26 September (passionforfreedom.co.uk)