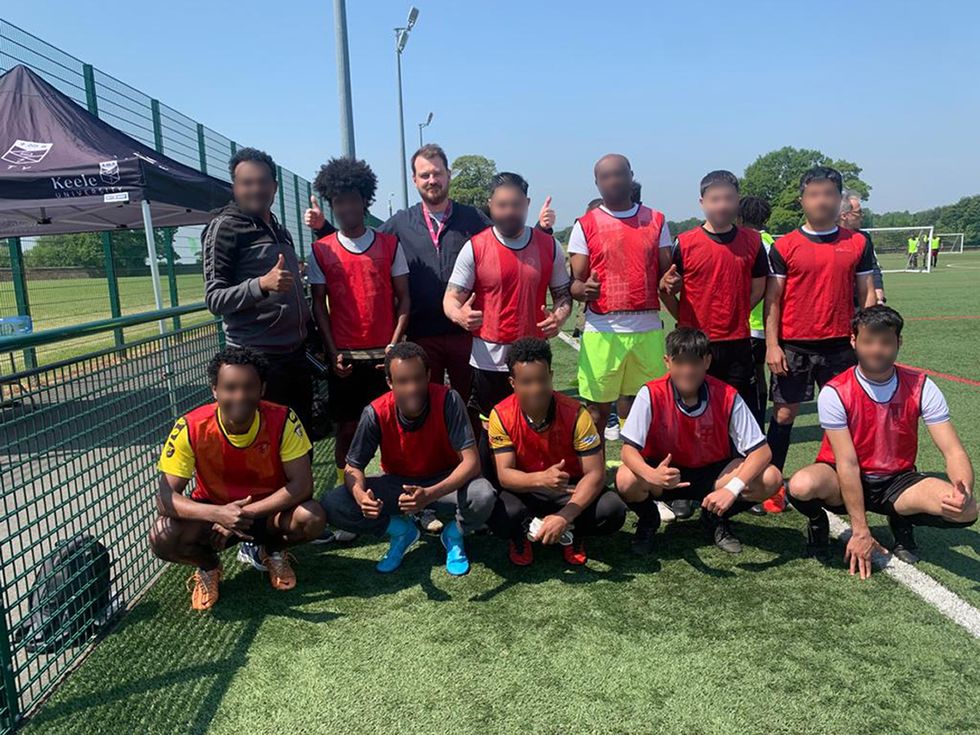 A football group in Derby has helped to put smiles on the faces of refugees who have fled war and the Taliban.
The group – which is made up of males between the ages of 18 and 30 who have come from countries including Afghanistan, Sudan, Ethiopia and Iraq – was set up in 2019-2020.
It was paused for a while and restarted after the Covid pandemic in 2021.
They have weekly sessions on Tuesdays in a park in Derby, which are attended by between 14 and 25 people, and have helped refugees to "have fun" and improve their mental wellbeing.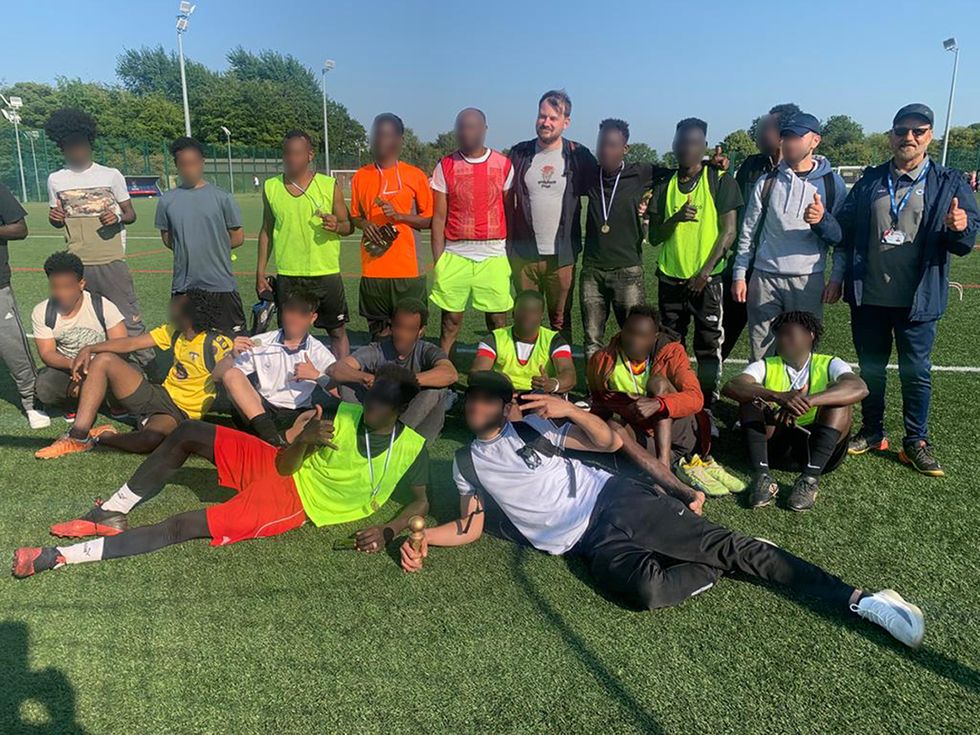 Jakub Szukaj (in the middle) said the group has helped to improve the mental wellbeing of those who attend (PA)
Jakub Szukaj, community liaison officer at Migrant Help, became involved with the group in 2021, and told the PA news agency: "(The project was) restarted after Covid in 2021 with a completely new group of service users.
"Due to the accommodation being transitional, we have new people joining the project all the time and some of the stalwarts being moved on to different parts of the country, there is a constant flow of people.
"People are saying that if they didn't have that, they wouldn't have anything to do and it just gives them the time to get together and have fun because that's what the sessions are all about.
"Probably the best thing is when you get someone on a bus (to the sessions) and they get together and maybe they don't know each other that well, but they speak, they sing the songs from their countries and there's so much cohesion."
The 39-year-old, who is based in Nottingham, said there is one member who has "slight cognitive issues" who really benefits from participating.
"You cannot put a price on the smile on this man's face," he said.
"He's so happy to participate, just run around and be part of the group."
In June, Keele University organised a football tournament for refugees and asylum seekers, which included 16 teams from areas including Stoke-on-Trent, Crewe, Stafford, Tamworth, Burton-upon-Trent and Derby, with Mr Szukaj entering two teams.
Russell Clark, head of Keele University's Language Centre, who organised the tournament, told PA: "(Mr Szukaj) sent two teams to our competition and one of them won the 'trophy' – the competition for teams who finished third or fourth in their groups during the group stage."
Mr Szukaj added: "(The team who won the trophy) were really, really happy.
I think we can all get along - just leave your prejudices behind because there's a lot of negative information flying about, but meet the people and speak to them and you'll be surprised to see what kind of people they are

Jakub Szukaj, Migrant Help
"And even those that were not on the winning team kind of felt as though they won and supported the other team in their last games and they were all taking photos with the trophy."
Mr Szukaj said he tries to "talk about the present and football" with the team, rather than asking the players about the situations that led to them fleeing their countries of birth, but some of the reasons include war.
"Some of them came up to me, especially when the war in Sudan was happening and one of them said, this is my uncle, he's on the phone with me and he's escaping for safety at this moment because there's bullets flying everywhere," he said.
"The Sudanese were very open, especially when the civil war started and they were telling me that their families were seeking safety, they need to contact them or they lost contact with their families and that was quite striking.
"The people from Afghanistan have obviously run away from the Taliban."
With migration discourse in the news regularly, Mr Szukaj said: "There's definitely a kind of view that refugees or migrants are a burden, but they're people like everyone else.
"They want to have a safe life and they've obviously been through quite a lot.
"And the response from the community, that I have seen, when we played football has been really positive – we have children joining and the guys will adjust their play.
"I think we can all get along – just leave your prejudices behind because there's a lot of negative information flying about, but meet the people and speak to them and you'll be surprised to see what kind of people they are."