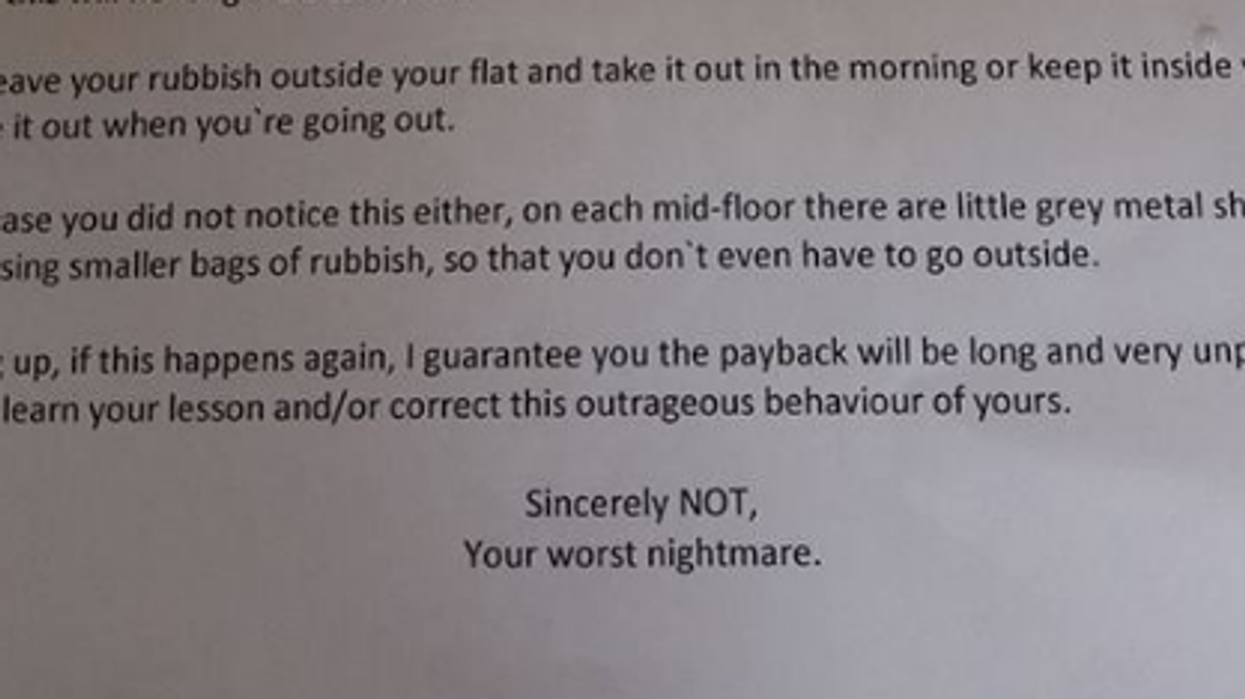 Facebook / Marina C Angel
If there's anyone you don't want to mess with, it's the person who signs off a letter to neighbours as "Your worst nightmare".
Facebook user Marina Angel posted a picture she received from a very disgruntled neighbour on the Facebook group 'Sh*t London' .
The crime? People leaving rubbish bags outside the flat overnight.
"Your worst nightmare" writes that their fellow neighbours have probably had their night's regularly disturbed by fighting foxes outside the building.
This, the letter states, is because someone is leaving full bin bags outside the entrance door.
Your worst nightmare writes:
I am not sure which one of you does it, but sure as hell will find out. I am sick and tired of walking into the sea of trash on my way to work in the morning after tiring night of disturbed sleep. And when I do find this out… oh boy! My patience reached the limit.
Your worst nightmare goes on to list six reasons why someone would do this, including:
Lazy
Arrogant
Inconsiderate
A tw*t.
They finish the letter with:
If this happens again, I guarantee you the payback will be long and very unpleasant, until you learn your lesson and/or correct this outrageous behaviour of yours.
Read the full threat here.
More: Woman sends angry note to noisy upstairs neighbours. Starts a war
More: Student writes letter to a neighbour having loud sex, and gets very surprising letter in response