This tweet is a symphony.
The Republican party - after large sections of the GOP condemned Donald Trump (including these fine gentlemen) - tried to call for party unity after he won the nomination to become the GOP presidential candidate.
They then called for unity throughout the country after he defeated Hillary Clinton in the election (including these fine gentlemen).
Let's have a brief joyous skip through a history of the positions of these fine gentlemen on Donald J Trump:
Mitt Romney:
Here's what Mitt Romney said in March prior to the Republican convention:
Here's what I know. 

 

Donald Trump is a phony, a fraud. His promises are as worthless as a degree from Trump University. He's playing the American public for suckers: He gets a free ride to the White House and all we get is a lousy hat.

 
After accusing Trump of implementing "trickle down racism" he later reconciled the feud at the urging of Reince Preibus
Respect Mitt and differences but couldn't disagree more. SCOTUS too important to lose for generations. Let's stop this and unify.

— Reince Priebus (@Reince Priebus) 1465606656
He's currently in the running as Trump's secretary of state, having gone to dinner with him at at Jean-Georges restaurant at Trump International Hotel & Tower New York.
Picture: Drew Angerer/Getty Images
Ted Cruz:
Cruz campaigned against Trump for the republican nomination, earned the nickname "Lyin' Ted Cruz" from his competitor.
It was a bit better than the Zodiac Killer.
He called Donald Trump:
pathological liar
utterly amoral
a narcissist at a level I don't think this country's ever seen
and
a serial philanderer.
He lost, and later campaigned for Trump in the general election.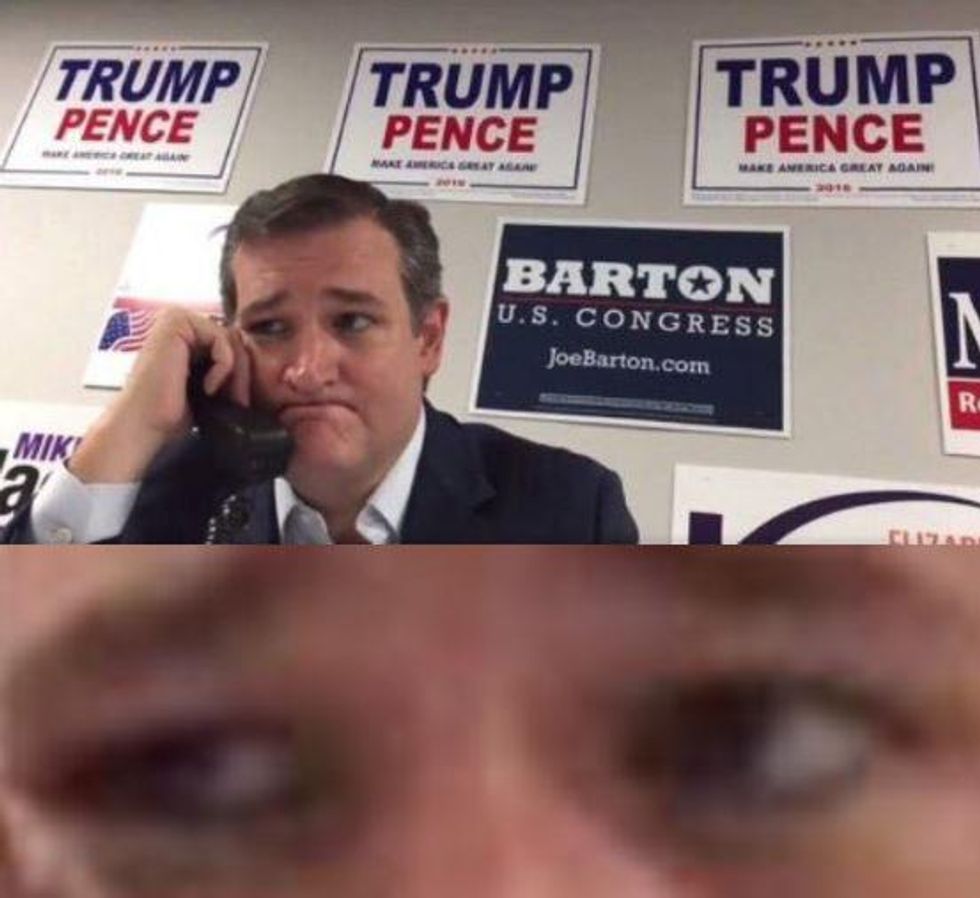 Chris Christie:
Christie also ran against Trump for the Republican nomination, and also lost.
He said Trump's policy to ban Islam was:
the kind of thing that people say when they have no experience and don't know what they're talking about.

We do not need to endorse that type of activity, nor should we. You do not need to be banning Muslims from the country. That's, in my view, that's a ridiculous position and one that won't even be productive.
He said of Trump mocking a disabled reporter:
He shouldn't be making fun of people with disabilities. It's just not worthy of someone running for the president of the United States.

He's got to answer for himself. Part of the folly of all this is that we're answering for him. He's said what's he's said, and now the people who vote will have to judge him. In the context of Donald, outrageous is a high bar.
Christie campaigned for Trump in the end.
Picture: John Moore/Getty Images
What a time to be a Republican.