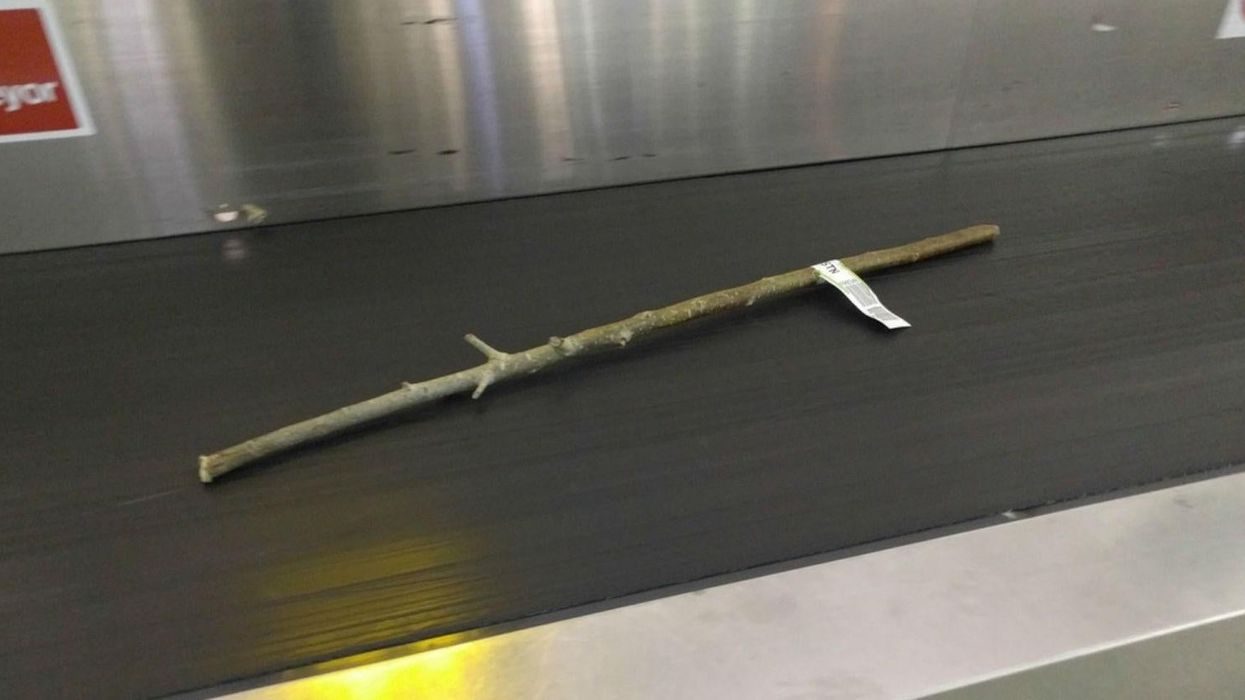 Here is an aesthetically pleasing stick on a conveyor belt at Stansted Airport.
It looks very much like a large Twiglet, a snack often brought on planes, but is, in fact, simply a stick.
A keen-eyed Reddit user spotted the wooden instrument while also arriving into the north London airport and shared it for all to enjoy and puzzle over.
A Stansted Airport spokesman told MailOnline:
Obviously a stick is very unusual item to be seen on a baggage belt at any airport. Although we do see lots of different types of personal luggage that people take on their travels, as long as they meet the strict security standards then it's okay to travel.

We did check with our terminal operations team and they're not aware of this stick being checked in or ever seeing it on a baggage carousel in the arrivals hall. However, the handling of hold baggage is undertaken by an airline's handling agents, not the airport itself.

Perhaps we should ask special branch to look in to it.
The spindly but pleasingly smooth length of wood arrived on a London-bound flight, although nobody as yet knows who it belongs to. Many have speculated its use and owner.
One user imagined that Gandalf, a well-known wizard, could have been the person to fly the item across the world.
TSA: You can't bring that on the plane. Gandalf: You would not part an old man from his walking stick?
Others proposed the stick belongs to a dog, as perhaps a tool in the "longest game of fetch ever".
From there, things got real really quite quickly:
Maybe it's some cool fruit tree branch and they plan on grafting it on a tree back home. You can get similar plants to grow on the same tree by grafting on the limbs from others. So you can have a single tree that grows Oranges, Lemons, Limes, and Grapefruit. Apples and Pears work well together. In fact all Hass avocados are grafted. It's natural roots are prone to sickness so they graft it onto the root system of another type of avocado tree that produces crappy fruit but has hearty roots.
The above is possible. A long discussion ensued, and eventually somebody posted this story about how a professor grew 40 types of fruit on one tree.
As A. A. Milne once said: "To the uneducated, an A is just three sticks".
And, it seems, to those unaware of the possibilities of branch grafting, a stick is just a stick.