President Donald Trump's White House appears, to even an uneducated eye, to be one of the leakiest administrations in recent memory. 
There have been rumours about staff taking meetings in darkened rooms because they don't know where the swtiches for the lights are and a number of leaked stories from aides about the President's fragile ego.
It looks like it's all getting a bit too much for  POTUS, who seems pretty peeved at the state of affairs.
Today, Donald Trump tweeted the following: 
Information is being illegally given to the failing @nytimes & @washingtonpost by the intelligence community (NSA and FBI?).Just like Russia
It would be fairly safe to say, that the president hates leaks. Especially to news organisations he alleges are purveyors of #FakeNews.
But to accuse his own security services of leaking classified information is a worrying turn, even for him.
In response to this latest Twitter tantrum, people have decided to send president Trump this video. 
The video is of Donald saying how much he 'loves WikiLeaks'. The organisation who have famously leaked American government documents...
The president also tweeted that the whole thing was a cover-up for the Clinton campaign...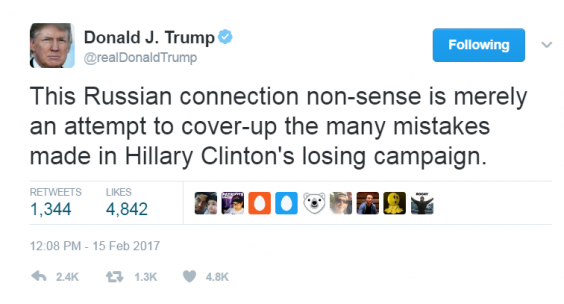 Just another day in the Twittersphere.
---
More: Donald Trump tweeted and now everyone is making the same joke