Weddings are funny things, aren't they? For the happy couple in question, it's one of the best days of their lives.
For the couple's families – it's a tear fest. But for the bride and groom's single friends – it can be… Interesting, to say the least.
For these guests, weddings can trigger an existential crises.
Reddit user Janessa James, who is single, has summed up how people feel at weddings.
She wrote:
This is how I am currently feeling about Wedding and engagement season coming up... Yes, this is an actual photo of me (extremely single) helping my best friend with her bridals.

The photographer asked me to throw her train up and then dive out of the shot, and so I did. Very theatrically.
And this is the photo: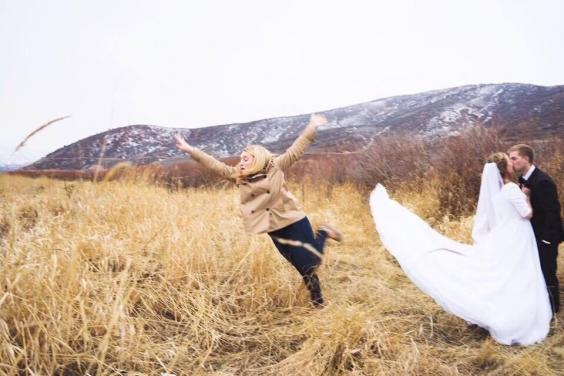 The 21-year-old told US Magazine:
It was so cold that day. I knelt in the snow and hid under the veil. Eventually I dove into a bunch of leaves trying to get the floating dress look.
But she said she is always "happy to help".
I've performed original raps, yelled at incompetent staff, put together cakes and bouquets, calmed down the families, run to get ice and food. I've done just about everything.
---
More: Long-term singles make perfect partners, studies show