2014 has featured many politicians being sexist. Here are some of the worst offenders:
---
Hurry up and get married
Japanese politician Akihiro Suzuki to his female colleague Ayaka Shiomura
Source: BBC
---
Imagine you get into a lift and there's a girl trying to get it on with you. She gets in the lift with you, takes off her bra and skirt, and then runs out screaming that you've tried to assault her.
León de la Riva, mayor of the Spanish city of Valladolid, on rape
Source: The Local
---
[The woman] will know what is haram and not haram. She will not laugh in public. She will not be inviting in her attitudes and will protect her chasteness.
Bülent Arınç, Turkey's deputy prime minister
Source: Independent
---
Now, women are well-represented amongst the teaching and nursing students. They will not be able to earn the high incomes that say dentists or lawyers will earn.
Australian education minister Christopher Pyne
Source: ABC news
---
I spoke at a packed public meeting... a group in the audience completely kicked off quite critical of the whole concept because they were arguing, "Why are we sacking her? Why aren't we lynching the b*stard?"
Labour MP John McDonnell on Esther McVey
Source: Daily Mail
---
I think that given some people very, very embarrassed by it, it isn't too difficult to breastfeed a baby in a way that's not openly ostentatious... Perhaps sit in the corner, or whatever it might be.
Ukip leader and breastfeeding expert Nigel Farage
Source: LBC
---
The Night of the Petticoats
Tory MP Richard Drax on David Cameron's reshuffle, in which he promoted two women to the Cabinet
Source: Telegraph
---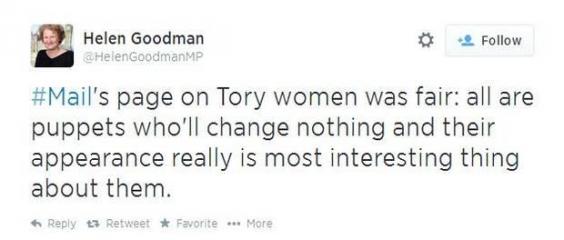 Labour shadow minister Helen Goodman on the same reshuffle
Source: Independent
---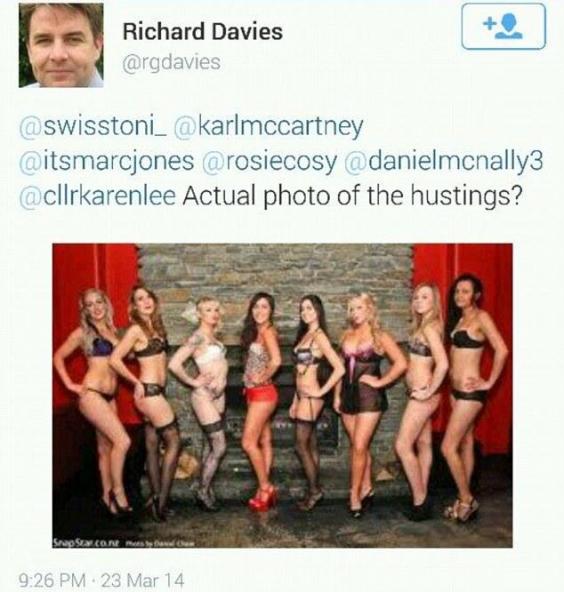 Lincoln Tory councillor Richard Davies on Labour's selection to find a parliamentary candidate for the seat, which was based on an all-women shortlist
Source: Telegraph
---
The parliamentary party is undergoing the biggest process of feminisation and rejuvenation embarked on since fabulous pink Camay soap promised to make us look a little lovelier each day.
Labour MP Austin Mitchell on all-women shortlists
Source: Daily Mail
---
The double whammy of being brown and a woman probably handicaps her still.
Tory councillor John Barnes on why Suella Fernandes lost a bid to become Bexhill's parliamentary candidate.
Source: Financial Times
---
I'm not sure it is a job for a woman
Labour MP Frank Doran on being the fisheries minister
Source: Independent
---
More: [These sexist quotes by politicians are actually from this century]13