BRENDAN SMIALOWSKI/AFP/Getty Images/NICHOLAS KAMM
President Donald Trump spent Martin Luther King Jr. Day, a federal holiday honouring the United States' most famous civil rights leader, at his Trump International Golf Club in West Palm Beach, Florida.
The President arrived in West Palm Beach at 9 am on Monday 15 January, marking the 95th day he has spent at one of his golf clubs since his inauguration.
Trump had, on the campaign trail, been highly critical of President Barack Obama's time golfing, yet he is on course to far outstrip his predecessor for time spent on the course.
The President also came under criticism for not volunteering his time to the community on the federal holiday.
Critics cited consecutive previous Presidents who used the day to serve or visit communities, such as Barack Obama: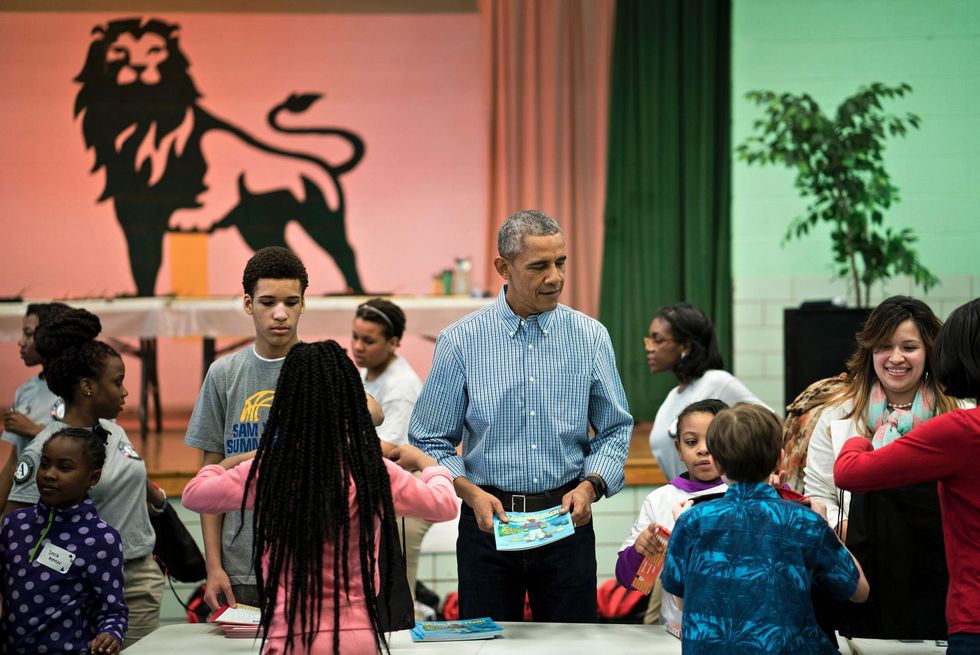 US President Barack Obama helps give out books at Leckie Elementary School while celebrating Martin Luther King Day January 18, 2016 in Washington, DC. The President and First Lady Michelle Obama participated in the community service project in celebration of the Martin Luther King Day of Service and in honor of Dr. Kings life and legacy. (Picture: BRENDAN SMIALOWSKI/AFP/Getty Images)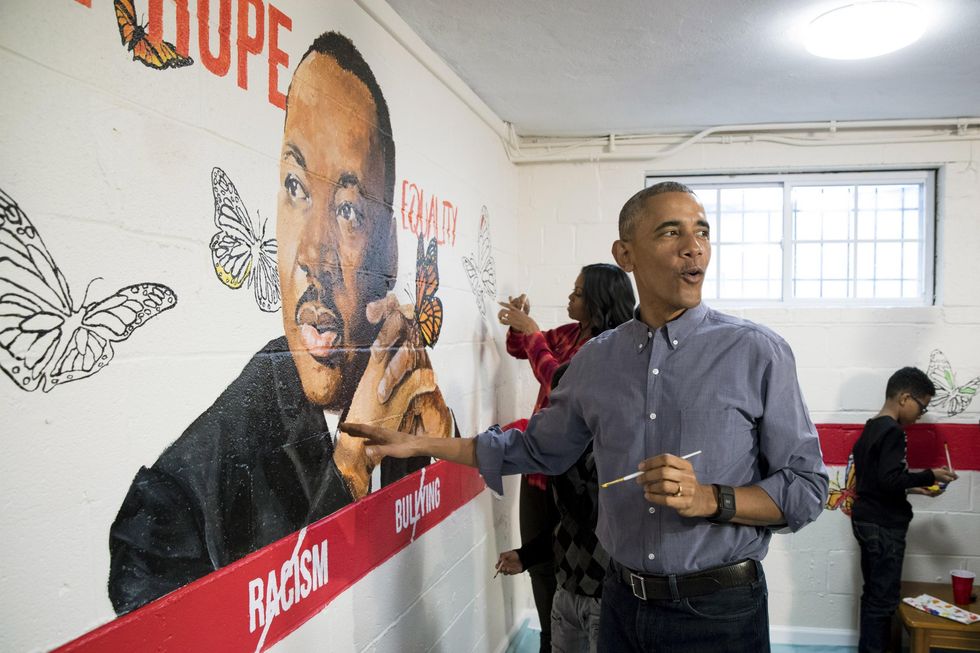 U.S. President Barack Obama (Front) and first lady Michelle Obama (Back) help paint a mural depicting Martin Luther King Jr., at the Jobs Have Priority Naylor Road Family Shelter January 16, 2017 in Washington, DC. President Obama and the First Lady attended a service event at the Jobs Have Priority Naylor Road Family Shelter for Martin Luther King Jr. Day. (Picture: MICHAEL REYNOLDS-Pool/Getty Images)
George W. Bush:
US President George W. Bush (C) is helped by City Year volunteer Morgan Lacey (2nd R) as he paints a mural at Cordozo High School in Washington, DC, 15 January 2007. President Bush made a surprise visit to the school for the Martin Luther King Jr. holiday. (Picture: JIM WATSON/AFP/Getty Images)
Bill Clinton (and Al Gore):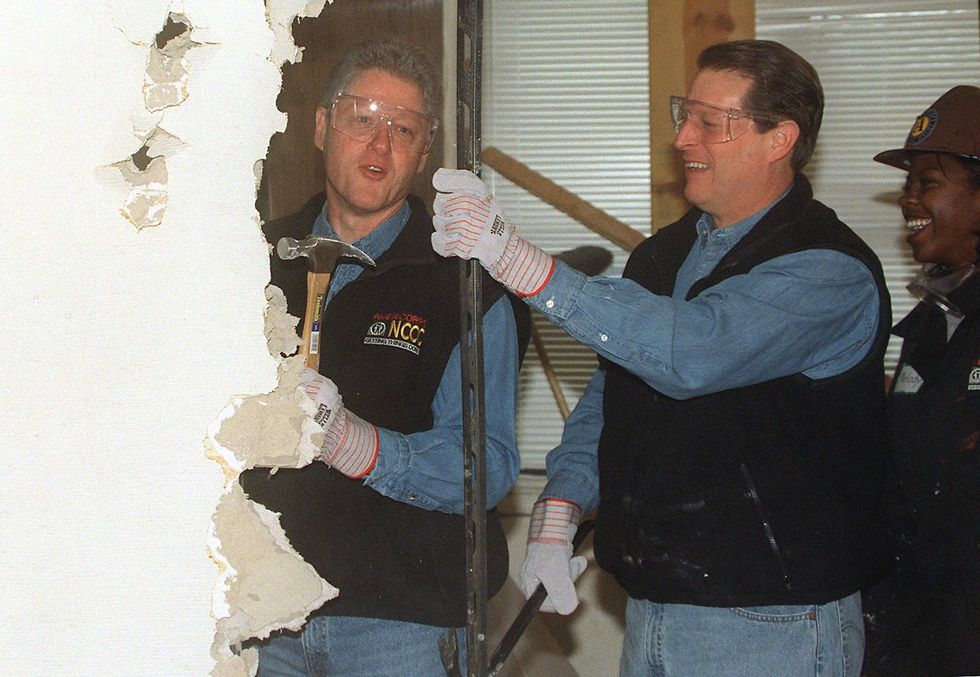 US President Bill Clinton (L), Vice President Al Gore (C) and an unidentified Americorp volunteer (R) tear down a wall to begin renovation of the Regency House, a senior health centre, 18 January in Washington. Clinton, along with Vice President Al Gore, announced the largest lending discrimination settlement at the centre during the 1999 Martin Luther King Day Service Project. (Picture: STEPHEN JAFFE/AFP/Getty Images)
Trump did, however, record an address for the day, tweeted by the White House:
However, he was criticised for not following his own instructions to Americans:
Mr Trump also recently came under intense criticism for his reported remarks allegedly calling Haiti and African nations...
... sh**hole countries.
He has denied using that language.
Civil rights activist and Democrat representative John Lewis, who marched in Selma, Alabama, alongside Dr. King Jr., said:
It's unreal. It makes me sad. It makes me cry.

As a nation and as a people, we've come so far. We've made so much progress.

And I think this man, this president, is taking us back to another place.