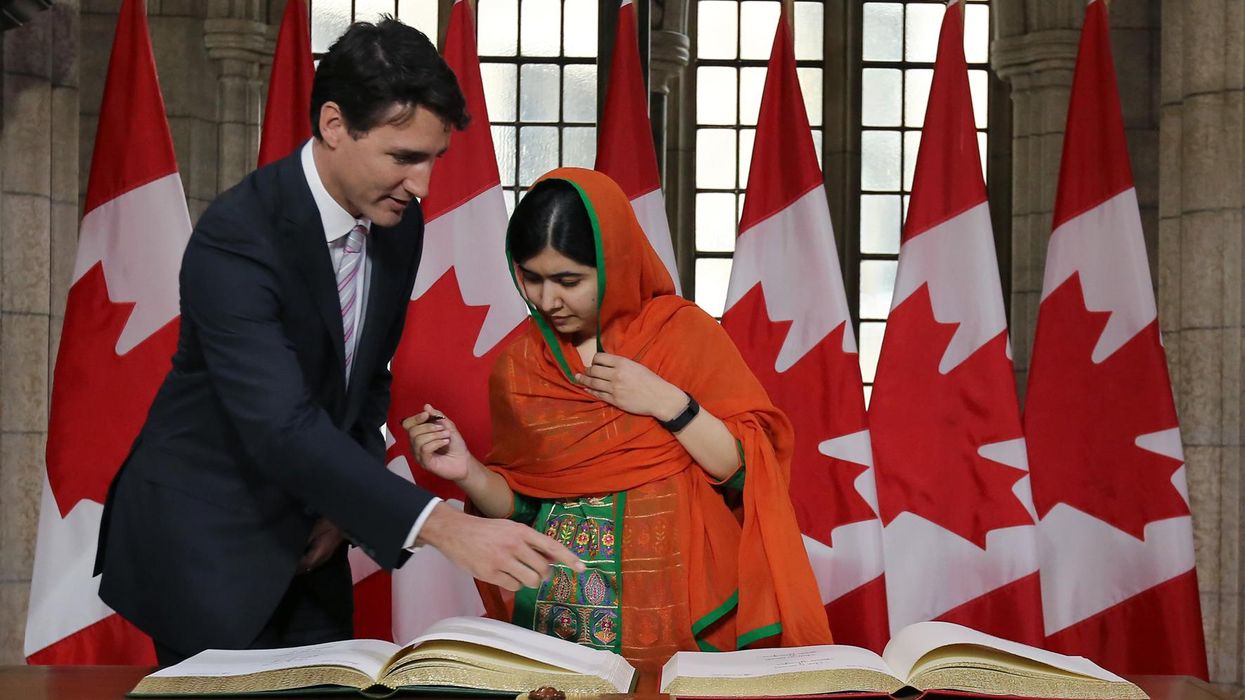 LARS HAGBERG/AFP/Getty Images
Pakistani activist, Malala Yousafzai was today given honorary Canadian citizenship by Canada's president Justin Trudeau.
Yousafzai, 19, is the youngest person to achieve the award and address the Canadian Parliament. She was welcomed with a standing ovation.
PM @JustinTrudeau bestows @Malala with honorary Canadian citizenship. #Malala https://t.co/GaGlRjHWjR

— CPAC (@CPAC) 1492012755
In 2012 she was targeted and shot by a Taliban gunman for speaking out against the groups efforts to separate girls from education. Since surviving the attack, Yousafzai has been awarded a Nobel Peace Prize and continues her work as an activist for female education.
Most recently, Yousafzai has been campaigning for world leaders to guarantee schooling for refugee children.
She praised the Canadian prime minister, describing his leadership upholding refugees and women's rights as a "true example" to the world.
Malala Yousafzai praises PM Justin Trudeau's leadership on refugees and women's rights: "He's a true example" to th… https://t.co/oMJKPcH4at

— Globalnews.ca (@Globalnews.ca) 1492012716
Justin Trudeau, said:
As the world prayed while she recovered, we were reminded that a bullet is no match for an idea.
On accepting her Canadian citizenship, Yousafzai said:
I'm humbled to accept honorary citizenship of your country. 

While I will always be a proud Pashtun and a proud citizen of Pakistan, I'm grateful to be an honorary member of your nation of heroes
"Though I still require a visa, but that's another discussion," she added.