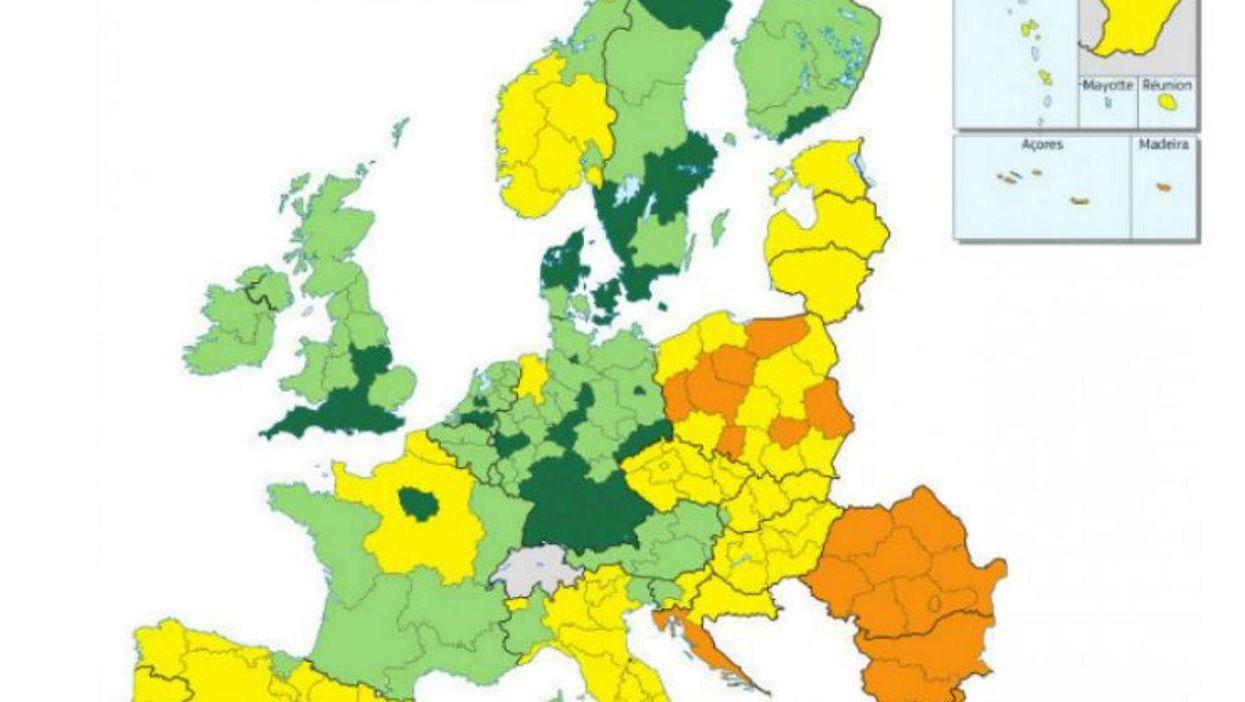 Europe has long secretly admired Silicon Valley.
So when a local European politician wants to emphasise how innovative his or her region really is, it is common to somehow relate it to the Valley.
One example is "Silicon Saxony," in eastern Germany, with the regional capital Dresden. It's far from being the only European region dreaming of California, though. When a large German company opened its new headquarters in Munich earlier this year, many felt obliged to applaud the "Silicon Valley spirit" one could allegedly feel. What was so remarkable about it?
Although that comparison mostly emphasises how much Europeans still feel they lag behind the United States in innovating, Munich may indeed come closer than most other cities on the continent, according to a new EU report that maps innovation across the continent. It is based on 12 criteria that include the number of graduates, share of high-tech jobs among total employment and number of new products invented there.
The main finding that the most innovative regions are also located in countries that are already considered as the most innovative may not sound particularly surprising, but it shows how divided Europe has become — with some countries lagging far behind others.
The continent's most creative and productive regions are in Germany, France, Britain and the Nordic countries. Southern England, northern Denmark, southern Germany and Paris are particularly successful — whereas Romania, Poland and Spain have disproportionately more regions that lack innovation.
But as a political and economic union, all of Europe should be worried.
Europe is becoming less innovative overall
The European Union has been collecting similar data for at least the past eight years. At first, and despite the global financial crisis in 2008, performance increased in nearly all regions. But only two years later, the first signs of a downturn in innovation became apparent. By now, there is no way to hide the fact that this decline is not only a regional problem; it has spread across the continent.
"In Belgium, Greece, Ireland, the Netherlands and Romania, performance declined in all regions," the report's authors note. Germany — often considered the economic powerhouse of the continent — was also unable to improve performance.
But Germany may have crucial lessons for the rest of the continent, regardless.
You don't need university degrees to be innovative
Germany may be one of Europe's most innovative countries, but it has far fewer college graduates than other EU countries that perform worse overall.
The share of university graduates among the total workforce is only about half of the EU average in most German regions.
Germany has long prided itself for offering an alternative path for school leavers besides university. Many companies offer apprenticeships, which are practical and are paid courses for a set amount of time.
Usually, apprentices are taught a job on site, rather than theoretically in university. Employers say that this model benefits them and school leavers who do not always want to pursue an academic education.
Lower numbers of graduates are not necessarily a path toward more innovation, as the example of Italy shows. There, both innovative performance and the share of university graduates among the total workforce are lower than in other countries. The innovation map does not only reflect societal and economic problems that worry Italians.
It can also give insight into separatist movements, for instance. Germany's innovative south often considers itself disconnected from the less productive rest of the country, with different political parties and habits. Local economic strength has been one of the key arguments used by residents in the southern German region of Bavaria to advocate for greater autonomy.
Similarly, the Basque country — an autonomous region in Spain — is the country's only area that is more innovative than the EU average. European politicians may be well-advised to take a closer look at where Europe is most and least innovative, to understand what lessons can be learned.
Washington Post ©