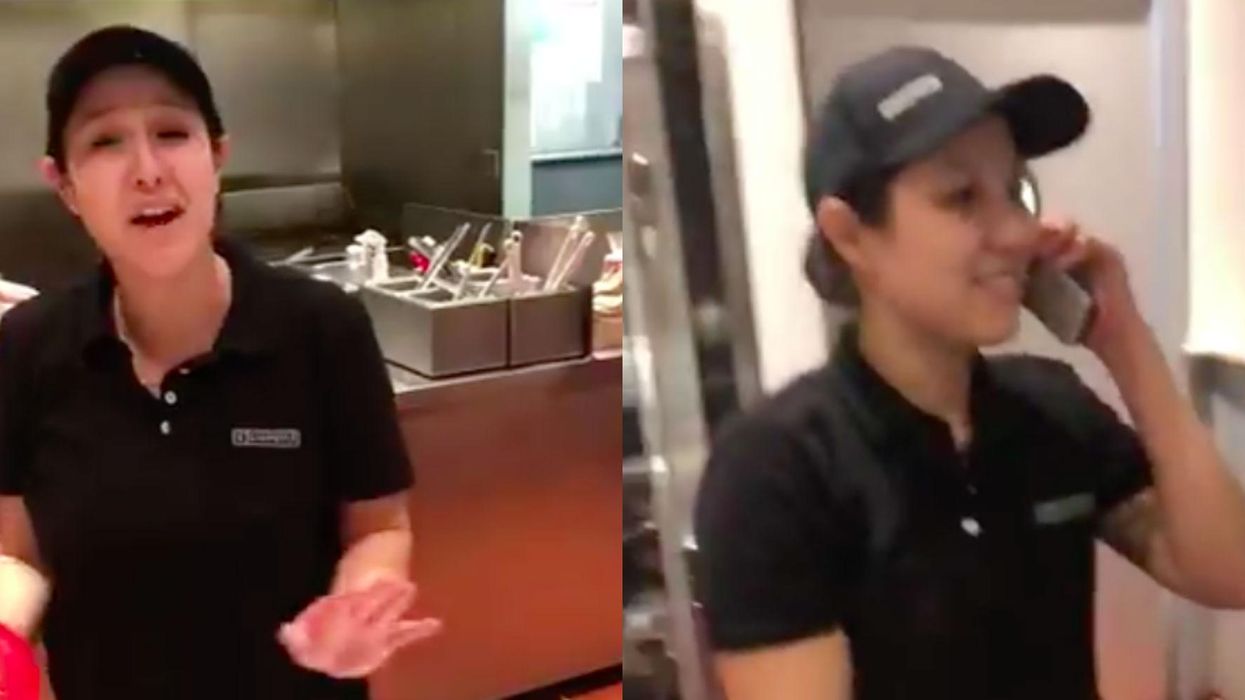 @Masudaliii / Twitter
Chipotle is considering re-hiring a manager who told black customers to pay before they ate after tweets emerged in which they boast about dining and dashing.
Masaud Ali, 21, claimed he'd been the victim of racism after he was refused service at a Chipotle restaurant in St Paul, Minnesota, unless he paid for his meal first.
He recorded the altercation and posted the video to Twitter, where it's had more than six million views, and gone viral. In a tweet accompanying the footage, he wrote:
Can a group of young well established African American get a bite to eat after a long workout session. @ChipotleTweets ??
In the video, which is followed up with a series of others documenting the altercation, the manager of the restaurant can be heard saying:
You've got to pay because you never have money when you come in here.
Another empolyee adds:
We're not going to make you food unless you guys actually have money.
As the video continues, Ali and his friends complain about 'stereotypes' as the employees in the chain are seen serving a white customer without asking them to pay first, as well as claiming that the group have come in and had food without paying on two previous occasions. The manager then calls the police, reports Fox News.
The videos sparked furious backlash against the manager, and the restaurant Chipotle, who fired the employee the following day, reports The Daily Mail.
Speaking to Minnesota's Star Tribune, Ali argued that the way the manager had dealt with them sounded 'really racist'. Speaking to the paper, he said:
It sounded really racist — the way she said it was racist

She asked for proof of income as if I'm getting a loan.
However, since the manager was fired, old tweets reportedly from Ali's personal account have come to light, in which he boasted about 'dining and dashing' and stealing from a number of restaurants, and Chipotle has decided to re-consider its decision to fire the manager.
Fox Newsreports that the now deleted tweets, from 2015 and 2016, said:
Dine and dash is forever interesting.
When other Twitter users criticised the actions, he reportedly responded:
Not a dine and dash we're just borrowing the food for a couple of hours that's all.
A third reportedly referenced Chipotle 'catching up' with them:
Aye man I think Chipotle catchin up to us fam. 

Should we change locations and yooooo what should we do about the other thang. 
Fox News reports that another now deleted post read:
Guys we're borrowing food... that's it. And if the lady tries to stop you at the door don't hesitate to truck the sh-- out of that bi---.
On Sunday, Chipotle admitted that they might have been too hasty in firing their branch manager and issued a statement regards the termination of her contract. Speaking to Fox News, Chipotle's chief communications manager Laurie Scharlow said:
Our actions were based on the facts known to us immediately after the incident, including video footage, social media posts and conversations with the customer, manager, and our employees.

We now have additional information which needs to be investigated further. We want to do the right thing, so after further investigation we will re-train and re-hire if the facts warrant it.
The manager of the restaurant who was fired has now posted a Change.org partition onto her Instagram account under the handle d0mmarie titled 'Help Chipotle Manager Get Her Job Back', which at the time of writing has 1,433 signatures of its 1,500 target.
Despite reports on Twitter that the manager had got her job back, Scharlow confirmed to Fox News that nothing had changed:
Nothing has changed from this morning. We are still investigating a few things.
In a previous statement regards the firing of the employee, Chipotle told Fox Newson Saturday:
We are committed to treating all of our customers fairly and with respect. ... Regarding what happened at the St. Paul restaurant, the manager thought these gentlemen were the same customers from Tuesday night who weren't able to pay for their meal.

Regardless, this is not how we treat our customers and as a result, the manager has been terminated and the restaurant is being re-trained to ensure something like this doesn't happen again.
The altercation follows a number of high profile racially charged incidents in America where the police has been called on African American customers despite the fact they haven't committed a felony. Examples include the police being called on a black man in a branch of Starbucks because he hadn't bought anything; police being called on an African American family for having a barbecue; and on a student attempting to study in a library.
Ali, whose records show he is on probation for theft, did not respond to Fox News or the Miami Herald's requests for comment.