Donald Trump is not known for his natural human interactions.
After bizarre videos emerged of him throwing packs of tissue to hurricane survivors last year, and pictures went viral which showed that he needed to be told how to speak to gun violence victims, we weren't sure things could get more strange.
But Hurricane Florence has provided a treasure trove of odd Trump-esque interactions. Following Trump's visit to North Carolina, where he was forced to make conversations with actual humans, each moment was its own marvel.
Talking about a boat that was blown into somebody's yard, the president promised one person to use the power of the presidency to track down the name of an insurance company. He congratulates them on the fact that a boat that didn't belong to them ended up on their property. Nothing strange about that.
Then he ran into someone who claims to have named their dog after him. This exchange was about as odd as you can possibly imagine.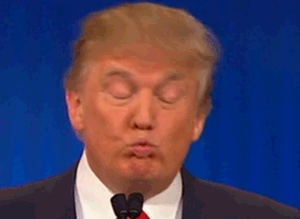 H/T: Mashable