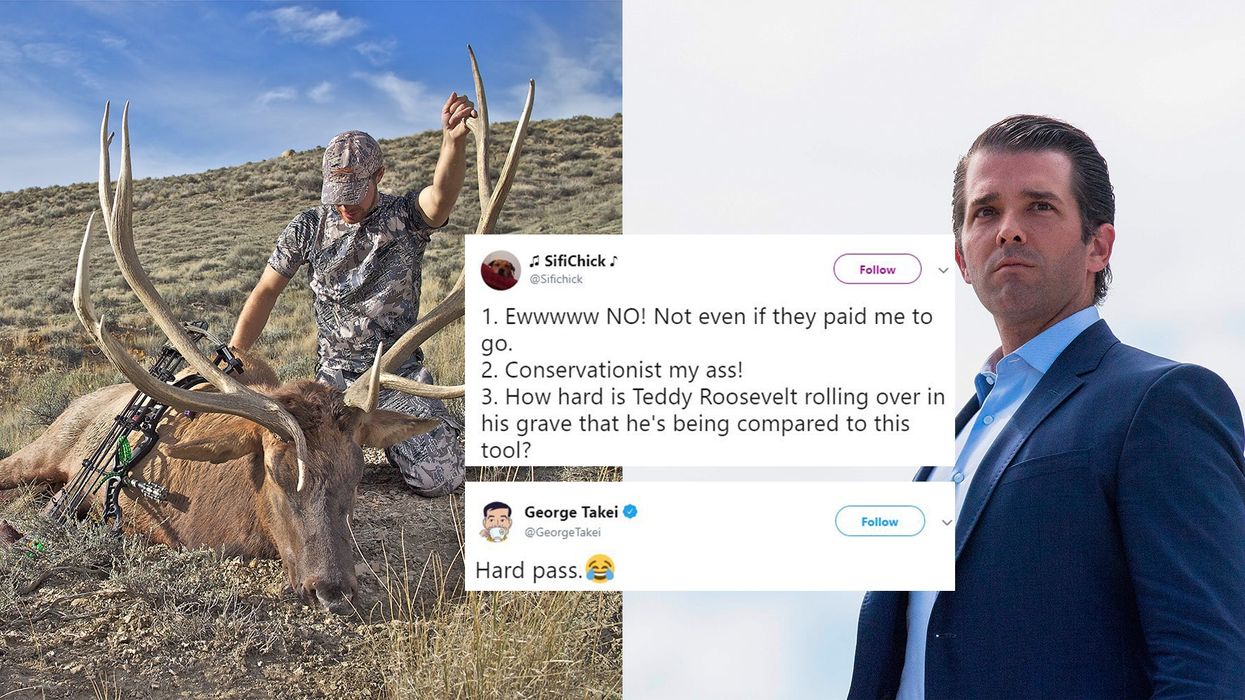 AFP/ Getty iStock/ Twitter
A hunting advocacy group is offering a five-day elk hunt trip with Donald Trump Jr for the winner of its raffle contest, and the internet is not impressed.
Hunter Nation, based in Utah, announced the "once-in-a-lifetime" opportunity planned for this autumn in an Instagram post that was liked by Trump Jr himself.
The contest description on the group's website reads:
Join Donald Trump, J., the modern-day Teddy Roosevelt, in Utah for a 5-day adventure hunting elk in some of the most majestic land our great country has to offer.

You will have to go a long way to find a bigger advocate for our hunting lifestyle and a more passionate hunter and conservationist than Don, Jr.  

The opportunity to share a hunting camp with him is truly priceless.
As you might expect, many people on the internet were horrified by the news.
And others did not agree with the comparison made between Trump Jr and Roosevelt.
Trump Jr often shares photographs of his hunting and fishing trips to Instagram and is revered by other hunters as a champion of gun rights.
We think we'll pass on Trump Jr's raffle.
More: Donald Trump Jr owned himself again after sharing an inaccurate Obamacare meme
More: Donald Trump Jr criticised for 'loser teachers' comment at rally in Texas