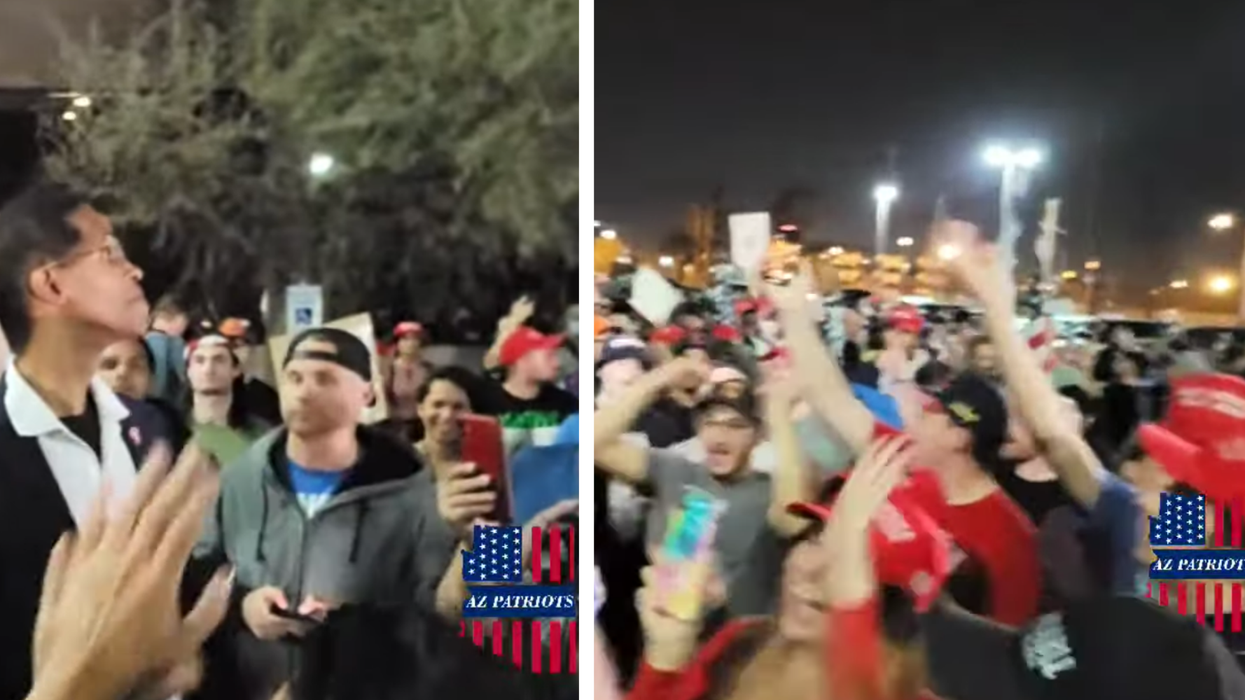 YouTube/AZ Patriots
The US election drags on, as votes are still being tallied in key swing states that will decide whether Donald Trump or Joe Biden will be the next person to sit in the White House.
But Trump – currently somewhat behind in the electoral college votes he needs to clinch another four years in office – has already begun spreading completely false conspiracy theories about votes not being counted.
Which has led to some of his supporters deciding to head down to vote counting centres – the place where they are literally counting votes – to demand they uh, do just that.
Armed pro-Trump protesters turned up to the Maricopa County Elections Department building in Phoenix, Arizona and gathered in a large crowd outside, shouting slogans like "Stop the steal".
At one point, CNN journalist Kyung Lah ventured outside the Elections Department building, where calls of "Show us the vote" could be heard as she was surrounded by the crowd.
But that wasn't all; at one point the crowd decided it was time to honour their dear leader with a sing-a-long.
For some unfathomable reason, the Trump campaign has selected the novelty song, 'YMCA' as their theme tune.
It frequently plays at their rallies.
Which led to last night's bizarre sight: a group of armed protesters, falsely alleging voter fraud who suddenly cracked into a chorus of 'YMCA'.
"We're sending this to our president," shouted one man, before breaking out into song.
We're sure Trump is very grateful.
Those who witnessed the event via the news, found it darkly hilarious.
So the ppl protesting in Maricopa county with long guns at a place where they are counting votes are singing a song… https://t.co/jyQlDaSLXP

— Penny (@Penny) 1604553308
Some took it in their stride.
trump supporters protesting outside the maricopa county election site in AZ are singing YMCA and for some reason that just makes sense

— koobloobb roobboobrsoobn (@koobloobb roobboobrsoobn) 1604553171
For others, it was a lot to process.
@Volcel2020 Still processing 'armed militia singing ymca in Arizona'

— Uncle Wilbur (@Uncle Wilbur) 1604562270
2020 is just plain odd.
Guess there are many ways to have a good time.