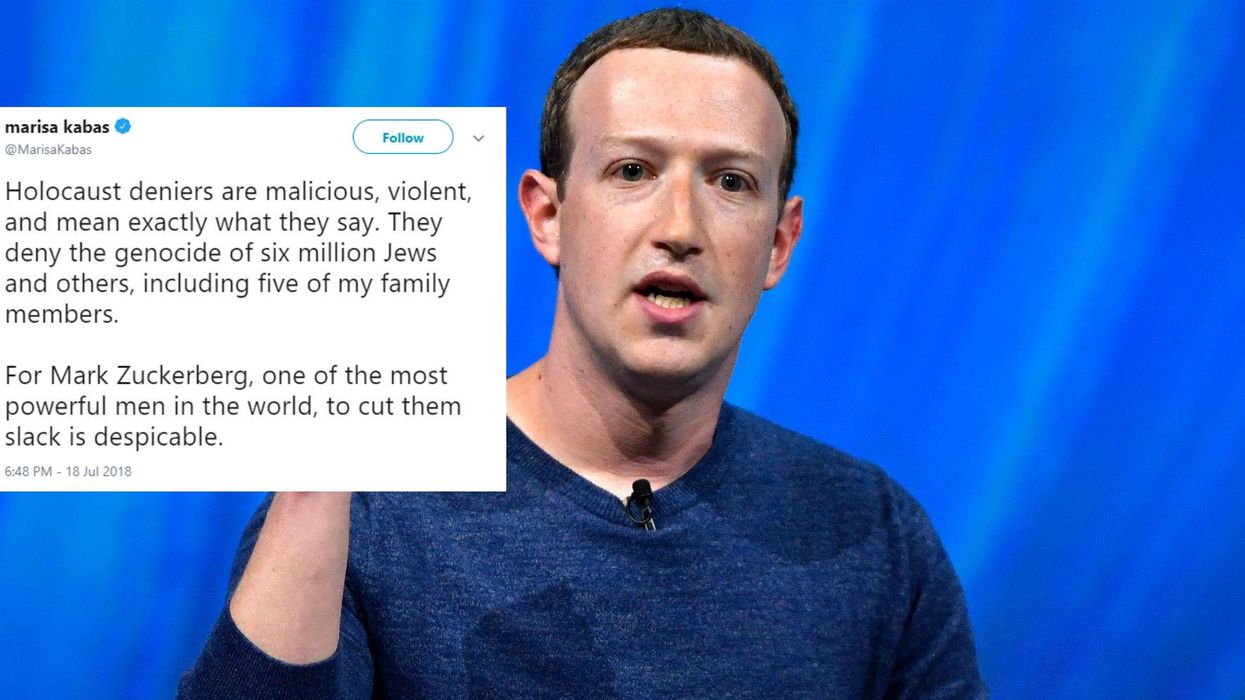 Gerard Julien / Getty Images
Things haven't gone particularly smoothly for Facebook of late, what with the Cambridge Analytica revelations that millions of users' data had been improperly shared, and all.
Now, Mark Zuckerberg has hit the headlines again, for controversial comments suggesting that Holocaust deniers are 'not intentionally getting it wrong'.
The comments came as the CEO of the social networking site was questioned about what his company proposes to do about fake news.
In a lengthy podcast interview with the tech siteRecodepublished Wednesday, journalist Kara Swisher pressed Zuckerberg to explain how he can say that he's taking a firm hand with fake news, however at the same time refuse to remove conspiracy theories such as Sandy Hook didn't happen.
In response, Zuckerberg used the example of Holocaust deniers as people that he wouldn't remove from the site:
I'm Jewish, and there's a set of people who deny that the Holocaust happened.

I find that deeply offensive. But at the end of the day, I don't believe that our platform should take that down because I think there are things that different people get wrong.

I don't think that they're intentionally getting it wrong. I think ―
Swisher quickly interrupted him and pointed out: 'In the case of the Holocaust deniers, they might be, but go ahead'.
Zuckerberg then continued to emphasise his point, and responded:
It's hard to impugn intent and to understand the intent.

I just think, as abhorrent as some of those examples are, I think the reality is also that I get things wrong when I speak publicly.

I'm sure you do. I'm sure a lot of leaders and public figures we respect do too, and I just don't think that it is the right thing to say, 'We're going to take someone off the platform if they get things wrong, even multiple times'.
Unsurprisingly, the comments caused outcry on social media, with many expressing outrage and disbelief.
Since the uproar, Zuckerberg has issued a clarification of his comments in an email to Swisher, which has been published on Recode:
I personally find Holocaust denial deeply offensive, and I absolutely didn't intend to defend the intent of people who deny that.