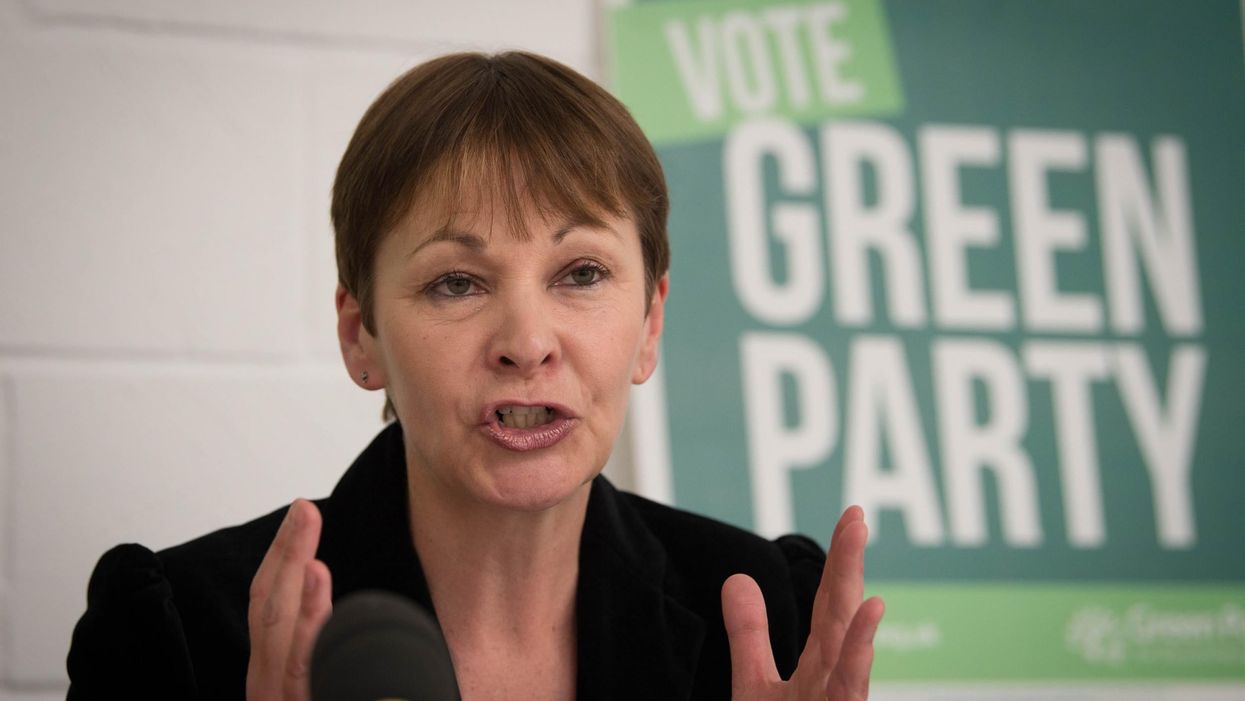 Stefan Rousseau/PA Wire/PA Images
As the Conservative Party continues to dominate the polls in the General Election run up, strategic voting is becoming increasingly appealing to anti-Conservative leaning voters.
A widely-shared spreadsheet, 'HOW TO VOTE TO STOP THE TORIES,' gave details of each constituency and who voters should choose if they wanted to deny the Conservative candidate victory in the seat.
This is key in marginal constituencies, where there is serious competition between two major parties for a seat.
In effort to bolster the chances of the best non-Tory competitor, the tactical voting advocates seeks to redirect minor party voters towards the major opposing party.
Do you like keeping out the Tories? Do you like spreadsheets? Then this is for you https://t.co/ALyZPM0idQ #GeneralElection Lib Dems Labour

— Becky S 🤖 (@Becky S 🤖) 1492527692
And now, it seems, the Green Party are engaging in a little tactical voting of their own: they've called for a 'progressive alliance' to battle a Tory landslide.
The party has declared that they will not be standing in Richmond Park, in order to encourage non-Conservatives voters to choose Liberal Democrat MP Sarah Olney.
Because yes, former MP and political Lazarus Zac Goldsmith is back again, trying to claim his former seat.
You may remember Goldsmith from when he ran a questionably 'dog whistling' campaign for mayor of London and campaigned for Brexit during the race. He was got destroyed by strongly pro-European London.
Goldsmith 'quit' as Richmond MP in protest over new Heathrow runway (and got destroyed in the media), then ran as an 'independent candidate' (and got destroyed by his own constituents).
In that by-election the Green Party did not field a candidate.
The Greens, who won 3,548 votes in the 2015 General Election, are once again re-directing their supporters towards Olney, in the hope of putting one Conservative vampire back in his coffin for good.
Richard Bennett, the Green party co-chair in Richmond & Twickenham, said:
We are proud to be at the vanguard of a growing movement to create a new kind of politics. 

Progressive parties must work together to put country before party.
Twickenham
In the south west London seat of Twickenham, where the Greens took 2,463 votes in 2015, we're seeing something similar.
Hypothetically, (and with the very big 'if' that Green voters had supported a 'Progressive Alliance') Green voters in 2015 combined with the Liberal Democrats would have been enough to keep the Conservative candidate out of office.
Lib Dem former Cabinet Minister Vince Cable is battling Conservative MP Dr Tania Mathias for her seat, and so the Greens have again stepped aside.
Oxford West and Abingdon
The Lib Dems came second in 2015, Cheryl Briggs has conceded in order to oust the Tories, urging Labour to do the same.
The Greens aren't just backing the Lib Dems, either.
For Labour, they will not contest:
Ealing Central and Acton (Labour: 22,002, Con: 21,728, Green: 1,841)
Brighton Kemptown (Labour: 18,428, Con: 17,738, Green: 3,187)
The Lib Dems stand aside in Brighton Pavilion for Green Party co-leader Caroline Lucas (the only Green MP in the last Parliament).
The Green Party are also begging Labour to do the same - both Clive Lewis and Tulip Siddiq signed a letter in TheGuardian urging the Labour party not to stand in Brighton Pavilion.
They call it the "right thing morally" to do.
What difference does it make?
Tactical voting, strategic concessions and cross-party alliances are all positives steps towards a less polarised government.
However, even if all these seats are snatched back from the Tories, we still seem to be an unstoppable course towards a Conservative majority government again.
Their predicted majorities are in some cases so large, that a loss of half a dozen seats to a 'progressive alliance' will be factored in as the cost of doing business.
Moreover, the anti-Brexit alliance may rally pro-Brexit voters to go to the polls, driving up Tory majorities.
Nevertheless, this is a promising symbol of local-level rebellion and frankly, the more opposition in Parliament, the better.
HT: Politics Home