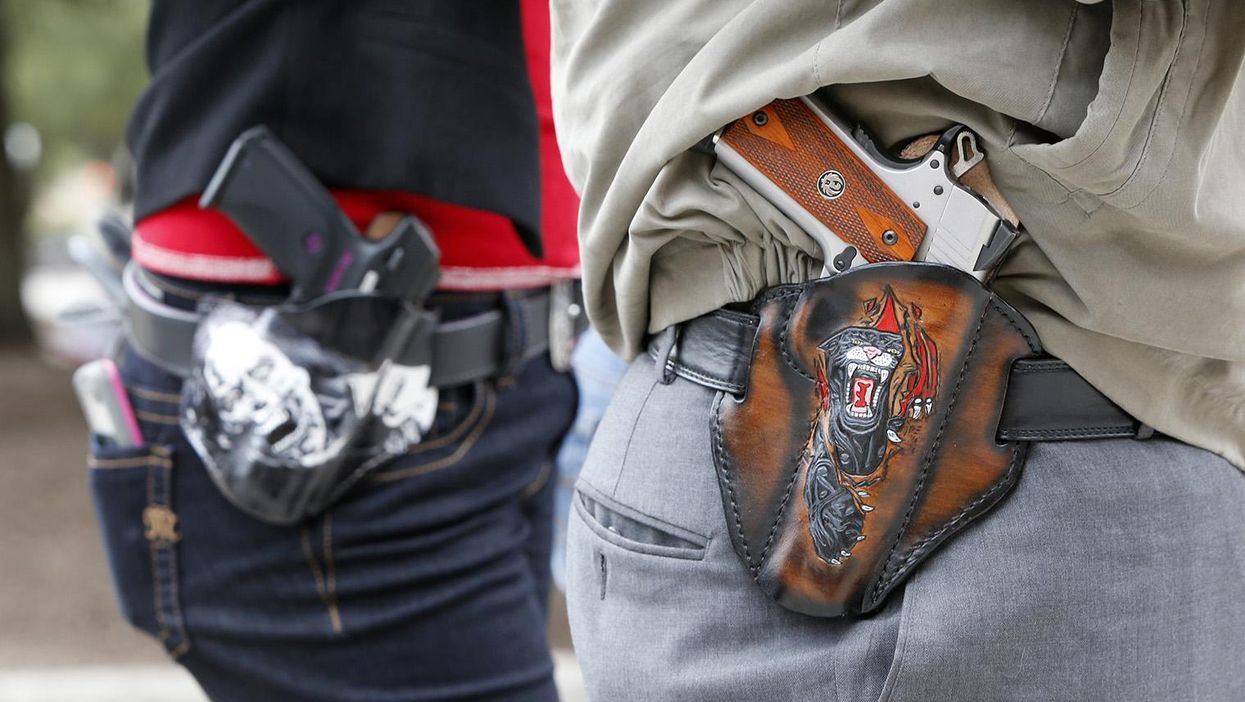 A Change.org petition calling on Republican National Convention heads to allow attendees to carry licensed guns at the rally in Cleveland, Ohio in July has (at the time of writing) reached 30,000 signatures.
The group behind the petition, Americans For Responsible Open Carry, state:
This is a direct affront to the Second Amendment and puts all attendees at risk.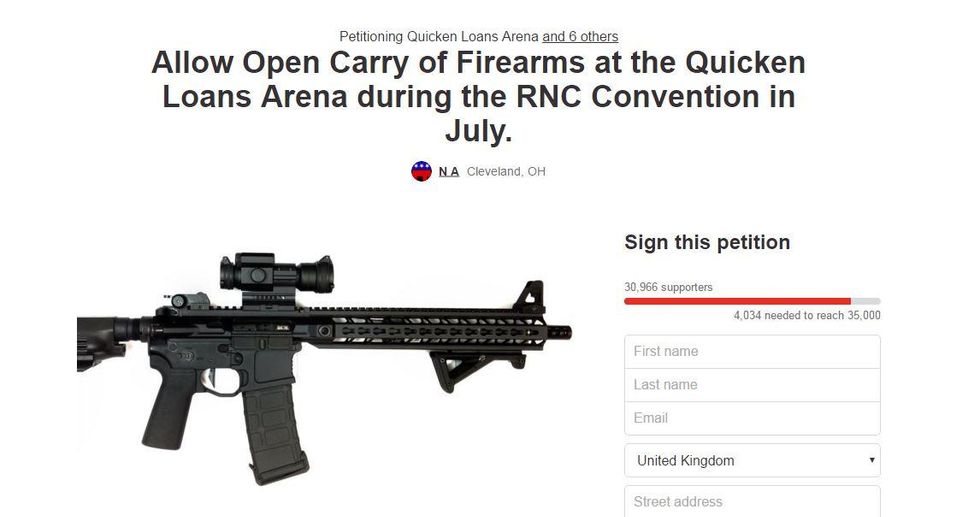 Violence has become a theme of the GOP candidate race. Earlier this month, Donald Trump was forced to cancel a rally in Chicago, after protesters clashed with supporters and the police.
And let's not forget what he said of a protester last month. "I'd like to punch him in the face, I tell ya", he said before lamenting the "good old days":
We're not allowed to punch back any more. You know what they used to do to a guy like that in a place like this? They'd be carried out on a stretcher, folks.
So far. So utterly terrifying.
But the petition in full makes for a rather bleak and utterly bewildering read:
In July of 2016, the GOP will host its convention at the Quicken Loans Arena in Cleveland, Ohio. Though Ohio is an open carry state, which allows for the open carry of guns, the hosting venue—the Quicken Loans Arena—strictly forbids the carry of firearms on their premises.

According to the policy on their website, "firearms and other weapons of any kind are strictly forbidden on the premises of Quicken Loans Arena."

This is a direct affront to the Second Amendment and puts all attendees at risk. As the National Rifle Association has made clear, "gun-free zones" such as the Quicken Loans Arena are "the worst and most dangerous of all lies." The NRA, our leading defender of gun rights, has also correctly pointed out that "gun free zones... tell every insane killer in America... (the) safest place to inflict maximum mayhem with minimum risk." (March 4, 2016 and Dec. 21, 2012)

Cleveland, Ohio is consistently ranked as one of the top ten most dangerous cities in America. By forcing attendees to leave their firearms at home, the RNC and Quicken Loans Arena are putting tens of thousands of people at risk both inside and outside of the convention site.

This doesn't even begin to factor in the possibility of an ISIS terrorist attack on the arena during the convention. Without the right to protect themselves, those at the Quicken Loans Arena will be sitting ducks, utterly helpless against evil-doers, criminals or others who wish to threaten the American way of life.

All three remaining Republican candidates have spoken out on the issue and are unified in their opposition to Barack HUSSEIN Obama's "gun-free zones."

Donald Trump said "I will get rid of gun-free zones on schools—you have—and on military bases on my first day. It gets signed my first day...you know what a gun-free zone is to a sicko? That's bait." (Jan. 8. 2016)

Ted Cruz has accurately pointed out "shooting after shooting after shooting happens in so called gun-free zones." He continued, "look, if you're a lunatic ain't nothing better then having a bunch of targets you know that are going to be unarmed." (Dec. 4, 2015)

And Ohio Governor John Kasich has been a leader in this movement to eliminate deadly "gun-free zones" starting with his brave decision to fight the Democrats and end "gun-free zones" at National Guard facilities in Ohio. (Dec. 18, 2015)

We are all too familiar with the mass carnage that can occur when citizens are denied their basic God-given rights to carry handguns or assault weapons in public. EVERY AMERICAN HAS THE RIGHT TO PROTECT AND DEFEND THEIR FAMILY. With this irresponsible and hypocritical act of selecting a "gun-free zone" for the convention, the RNC has placed its members, delegates, candidates and all US citizens in grave danger.

We must take a stand. We cannot allow the national nominating convention of the party of Lincoln and Reagan to be hijacked by weakness and political correctness. The policies of the Quicken Loans Arena do not supersede the rights given to us by our Creator in the US Constitution.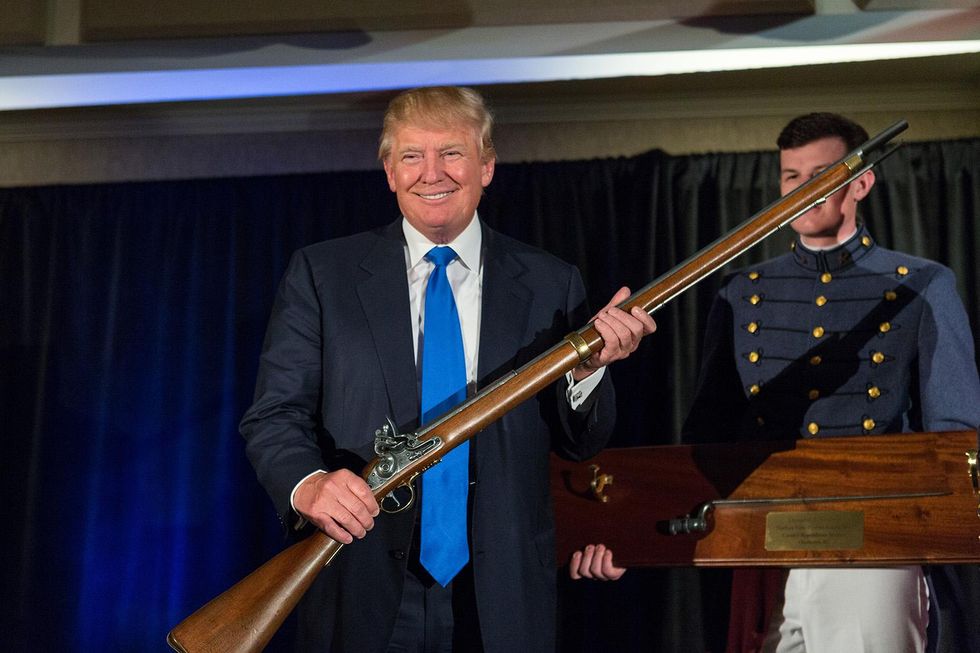 Picture: Richard Ellis/Getty Images