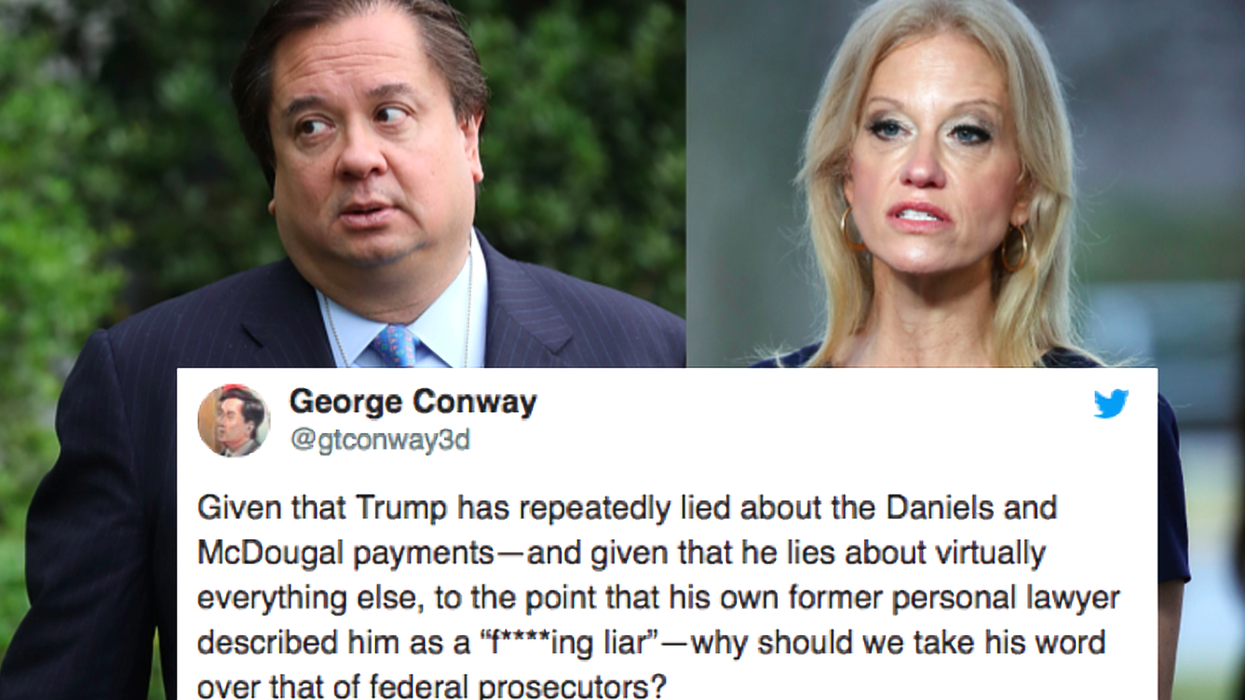 GETTY
White House adviser Kellyanne Conway spent a marathon 39-minute interview defending her overlord president on CNN.
Kellyanne might have invented the term "alternative facts" while defending president Trump's lies, but even her husband George didn't appear to be convinced by her justifications this time, taking to Twitter to troll her.
During the interview, Kellyanne accused CNN host Chris Cuomo of making a "slur" against the president.
You took a shot at the president tonight. You called him a slur I'm not going to repeat.

You're saying he's not telling the truth. That's a slur. That's a slur.
She said that Trump knew nothing about "hush-money" payments to porn star Stormy Daniels and former Playboy bunny Karen McDougal, both of whom have alleged they have had affairs with Trump.
After the interview ended, her husband George, who frequently criticises Trump publicly, tweeted his disapproval.
Given that Trump has repeatedly lied about the Daniels and McDougal payments—and given that he lies about virtually… https://t.co/BKzD9gIpNI

— George Conway (@George Conway) 1544756977
During the exchange, Kellyanne said that when Trump replied "no" when asked whether he had knowledge of the payment to Daniels, he had meant he didn't know "when" - not "if" - the payment was made. Though Cuomo quickly responded that Trump was clearly seen on video saying "no" when asked about his knowledge of the payment.
George has been a vocal critic of Trump since he was elected. He has even set up a group of conservative lawyers who oppose Trump's agenda. Eric Trump, the president's son, recently took to social media to call out Conway's "disrespectful" treatment of his wife and the president.
Of all the ugliness in politics, the utter disrespect George Conway shows toward his wife, her career, place of wor… https://t.co/p5B5IQeCH2

— Eric Trump (@Eric Trump) 1543887049
H/T: NYPost