The above image shows London's green spaces, and it probably amounts to a lot more of the capital than you think.
The average Londoner thinks that 19.1 per cent of the city is physically green. In reality, 47 per cent of it is made up of gardens, parks, nature reserves and other green spaces, according to Greenspace Information for Greater London (GiGL).
As well as famous green spots like Hyde Park...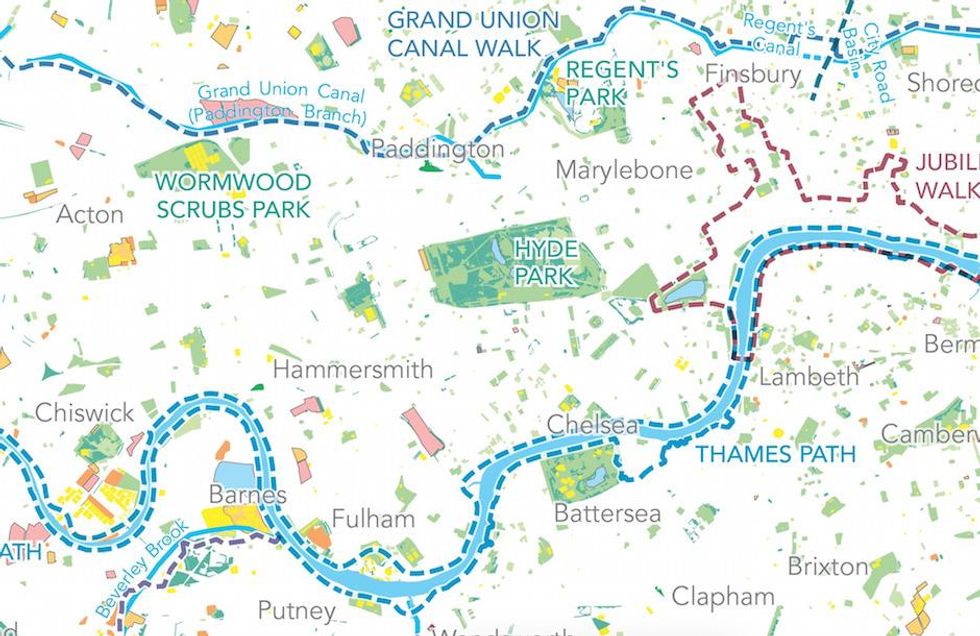 And Hampstead Heath
It also shows lesser known, but still expansive, spaces like this area around Biggin Hill down in the south-east
The research, carried out by Lancaster University Management School, also found that 89 per cent of Londoners think more needs to be done to improve London's environment and green spaces, while 93 per cent think using London's green spaces can improve people's health and wellbeing.
The Greater London National Park City Initiative, who commissioned the research, has proposed declaring Greater London the world's first 'National Park City'.
Of those surveyed, 85 per cent believe the proposal, which would aim to make 51 per cent of London 'physically green', would make the capital a better place to live.
The proposal requires the declared support of the Mayor of London and two-thirds of the capital's electoral wards.
So far, mayoral candidates Zac Goldsmith, Sadiq Khan, Caroline Pidegon, Sian Berry, George Galloway and Rosalind Readhead have given their backing, as well as 40 per cent of the wards required.
Professor Edward Truch, who led the research at Lancaster University Management School said:
Londoners feel strongly that better use should be made of Greater London's green places and more needs to be done to protect them.

The substantial underestimate of the proportion of London's land that is green, points to a knowledge gap that needs to be addressed if these green assets are to be fully appreciated and valued.
Daniel Raven-Ellison, initiator of the Greater London National Park City Initiative, said:
By making London a National Park City we can not only make 51 per cent of the capital physically green - but make our city creatively, emotionally, politically, economically, liveably and educationally greener too.

Doing this could radically improve our health, wellbeing and prosperity.
Image courtesy of Charlie Peel for the Greater London National Park Initiative. Contains Ordnance Survey data (c) Crown copyright 2015. Contains OpenStreetMap data available under the Open Database License (c) OpenStreetMap contributors.
To browse a full resolution version of the map, created using Ordnance Survey open data, click here.