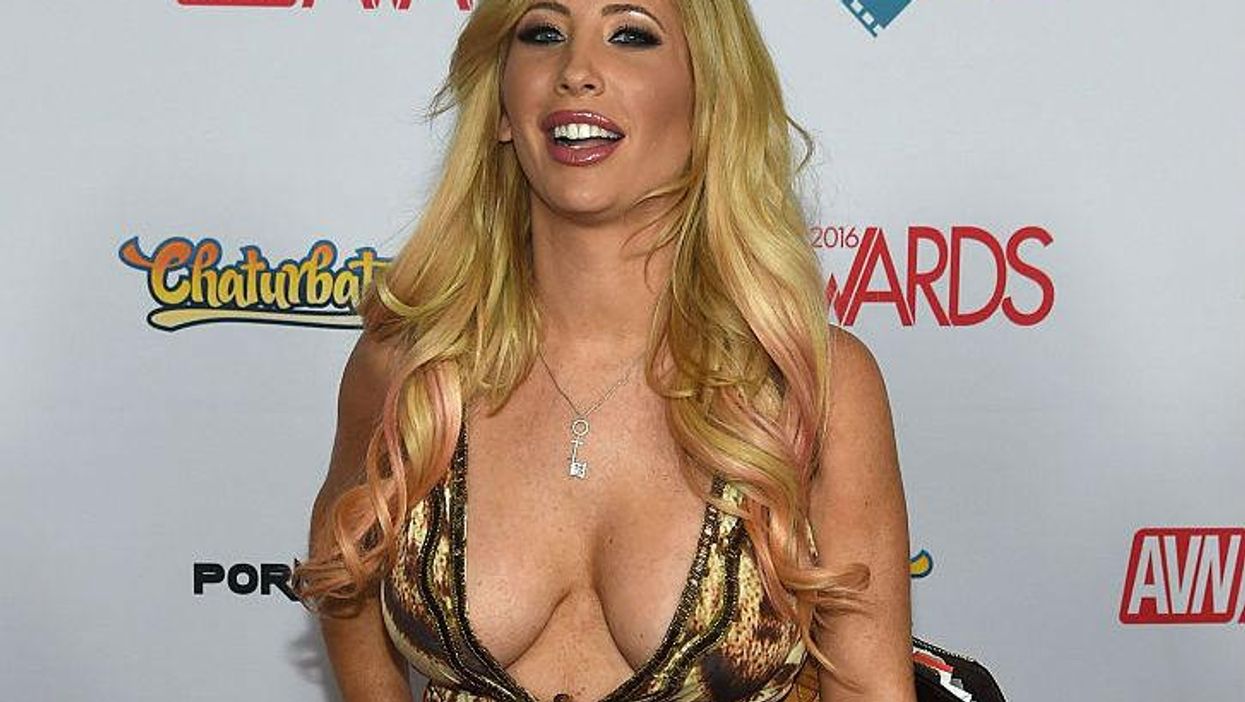 Ethan Miller/Getty Images
The adult film actor 'Tasha Reign' has been campaigning against a proposed law to make all pornography feature actors wearing condoms.
California's constitution allows for state wide plebicites on laws. These proposed laws, which are set before the population, are known as 'Propositions'.
As well as choosing a president 8 November, a member of the House of Representatives, a Senator, a state legislature, and possibly a mayor, will also vote on 16 propositions.
Some of these include funding for schools, a cigarette tax to fund healthcare, marijuana legalisation, abolishing the death penalty.
Proposition 60 wants to make all porn actors wear condoms, an idea to which Reign objects.
The 'Adult Films, Condoms, Health Requirements. Initiative Statute' calls for:
Provision of and required use of condoms during the filming of adult films.
On the part of the filmmakers. It also calls for STI vaccines and treatment costs for the actors to be covered by the film's producers, and asks them to sign a certificate ahead of filming which promises to use condoms for vaginal or anal intercourse.
It's in an effort to reduce the high rates of STI and sexual ill health that studies have shown is prevalent among adult film actors. Condoms are an effective means of preventing STIs.
Tasha Reign (real name Rachael Swimmer) has been visiting college campuses in an effort to campaign against the law.
The 25-year-old actor has been working in the industry since 2012. She argues that the law is an infringement of the rights of actors to do what they like with their own bodies.
Speaking to the Daily Star, Reign explained she objects to the ballot in the first place.
I don't think it's even your right for you to vote on this in the first place... I'm an adult star and I take a lot of steps to make sure I am safe and at the end of the day I should have the choice... It's honestly crazy that I even have to be talking to people about voting because I wish they didn't have the opportunity to have that say about my body.
In a separate interview with the Guardian, she explained:
I do acts where I literally could not use condoms, whether that be anal, whether that be double penetration, whether that be multiple guys. I cannot even imagine having a group sex scene like that.
She's also warned that it would 'criminalize' the porn industry and warned it would reduce revenues and give the state government extra costs in terms of regulations.
Reign drew a comparison with the lack of realism demanded from California's other film industy, Hollywood.
I am in the adult industry. I make fantasy films. You're not going to ask Vin Diesel to teach your kid how to drive a car.
Despite being a California law, due to the amount of pornography that is produced in the state it will have a wider effect on the internet, and if adopted could spread to most pornography.