This is what today's Mail on Sunday's front page looks like.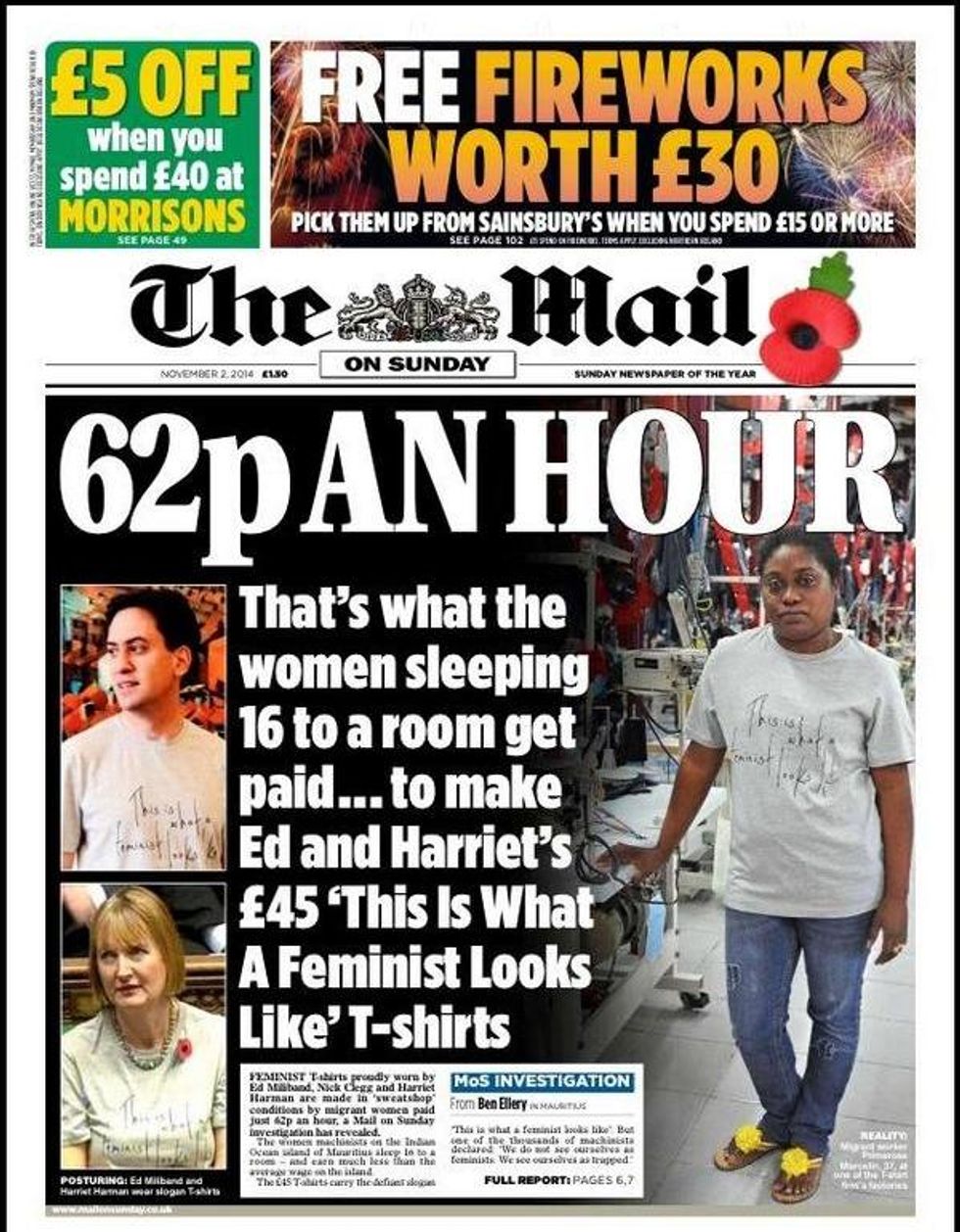 It reports that the "this is what a feminist looks like" T-shirts worn by Ed Miliband, Nick Clegg and Harriet Harman this week are made by women in a factory on the Indian Ocean island of Mauritius by women who earn just 6,000 rupees a month - equivalent to £120 - or 62p per hour. According to the Mail on Sunday, this figure is around half of what a waiter earns and the women machinists in the factory sleep 16 to a room. The paper toured one of six factories on the island owned by Compagnie Mauricienne de Textile, (CMT) which produces the garments.
Fayzal Ally Beegun, president of the International Textile, Garment and Leather Workers Union, told the paper: "The workers in this factory are treated very poorly and the fact that politicians in England are making a statement using these sweatshop t-shirts is appalling."
The slogan tee is an update on the Fawcett Society's classic, made by Whistles with Elle magazine. It costs £45 and all profits go to the Fawcett Society. On Monday Elle revealed that the prime minister had been asked five times to wear it and had declined - despite Ed Miliband and Nick Clegg being happy to provide a photo of them in the T-shirt.
The Fawcett society has claimed in a statement they were assured by Whistles that the factory used to produce the T-shirts were ethically complaint. They have said if more allegations emerge they will withdraw the range.
If any concrete and verifiable evidence of mistreatment of the garment producers emerges, we will require Whistles to withdraw the range with immediate effect and donate part of the profits to an ethical trading campaigning body
Fawcett Society Statement
Essentially:
Fashion retailer Whistles, which sells the garments for £45 each, described the allegations as "extremely serious" and said it would be mounting an urgent investigation, adding that they "carry out regular audits of its suppliers. We are committed to ensuring that our clothing range is manufactured within safe, fair and humane conditions and sought to work with accredited organisations such as CMT, which fully conforms to the highest standards in quality and environmental."
A spokesman for the Deputy Prime Minister said: "Nick Clegg had no idea where these t-shirts were being made and can only assume that the Fawcett Society were unaware of the origins, or they would not have asked him to wear it."
A Labour Party spokesman said: "This was a campaign run by Elle and the Fawcett Society to promote feminism and we were happy to support it. Anything else is a matter for Elle magazine and the Fawcett Society." Elle is yet to make a statement.
Additional reporting: PA