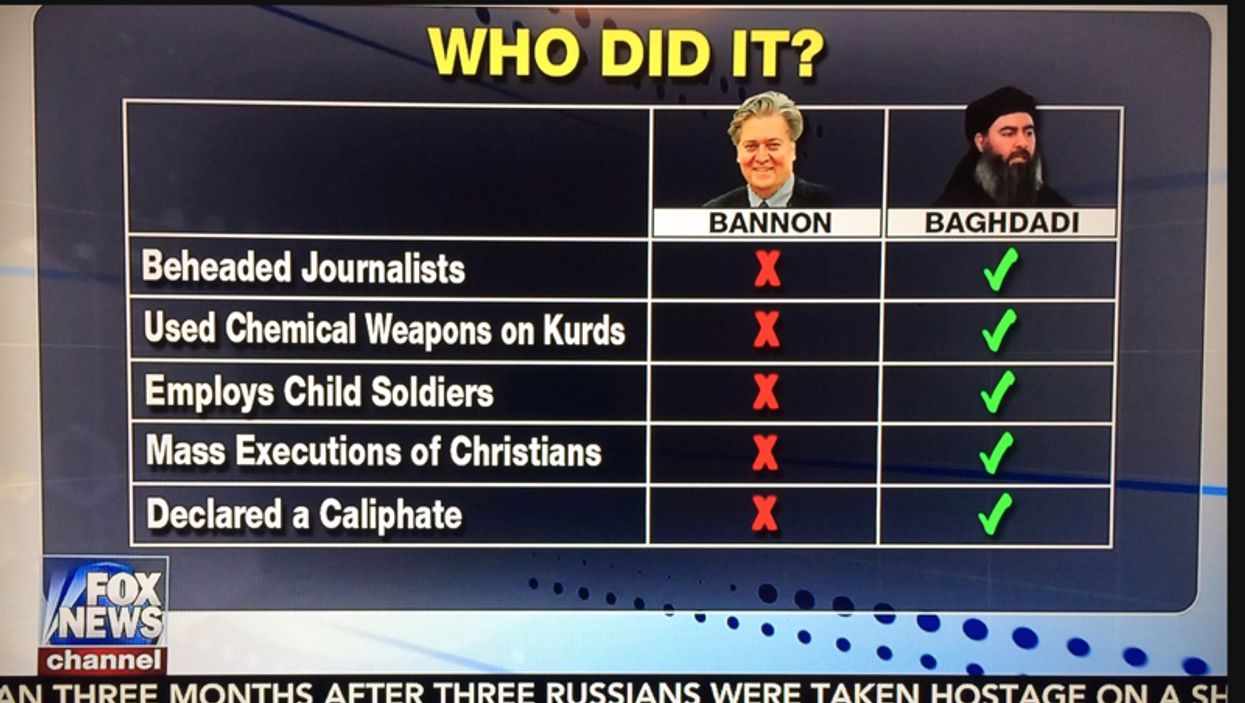 Fox News
The latest twist in Steve Bannon vs. The World: Fox News couldn't find a better defence for him than "he's not as bad as Isis".
Not the best recommendation ever.
Quick recap...
David Mastio, deputy editorial page editor of USA today, published an op-ed about Steve Bannon (the former chair of Breitbert News LLC and chief strategist of the Trump administration)
Mastio compared remarks made by Bannon and Abu Bakr al-Baghdadi, leader of Isis
He described Bannon and al-Baghdadi's shared belief that a civilisational divide between the Western and the Islamic World will inevitably lead to conflict
Tucker Carlson, Fox News presenter, grilled Mastio over the piece and argued that making any comparison was wrong
To make his point, Carlson said:
I want to put up on the screen the record of Bannon and al-Baghdadi. I don't think Bannon had murdered a single Yazidi.

Comparing him to the head of Isis is over the top.
Carlson then proceeded to compare Bannon to the head of Isis.
With the help of this handy idiot-proof chart...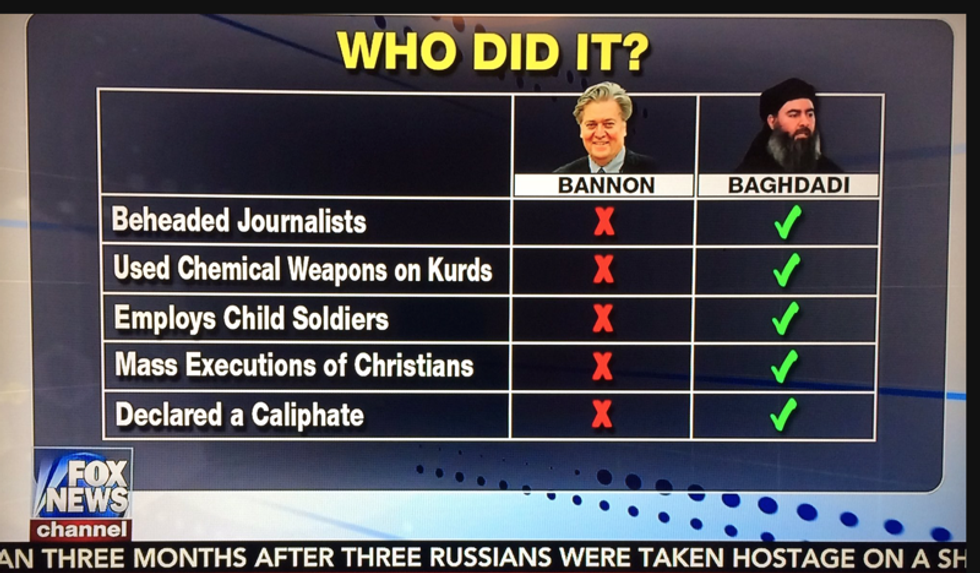 Just to clarify, David Mastio wasn't actually comparing Bannon and Baghdadi.
He was pointing out a shared belief system relating to a clash between the West and Islam.
This subtle distinction seems to have been lost on Fox News.
Given remarks in Bannon's 2014 speech to a conference in the Vatican, as reported by BuzzFeed, Mastio's comparison is also completely supportable.
I believe the world, and particularly the Judeo-Christian West, is in crisis.

If you look back at the long history of the Judeo-Christian West struggle against Islam, I believe that our forefathers kept their stance, and I think they did the right thing.

I think they kept it out of the world, whether it was at Vienna, or Tours, or other places.

It bequeathed to use the great institution that is the church of the West.

We are in an outright war against jihadist Islamic fascism.
But basically Steve Bannon is OK because he's not literally Isis.