Eid Aljazairli's journey from Syria to the UK was surrounded by water, but as he sat in a boat that took him across the Mediterranean and to the UK, one thing was certain: He couldn't swim.
In fact, until January of this year, 24-year-old Eid had never been in a swimming pool before.
It all started when he happened to come across a video of Olympic swimmer Michael Phelps as he rested in his room at a YMCA hostel in Walthamstow, which ignited a fire in his heart. Now, he swims four hours a day for the chance to one day compete in the very same competition.
He has been in the country since 2016, having left behind a budding career as an accountant after the war broke out in Syria. He settled first in Scotland and later in Essex.
'I didn't even know who Michael Phelps was,' he says, speaking to indy100 on the phone.
But as I watched him, he was amazing. He was so determined, flying in the water. There was something inside me that was off, and it got switched on – like a passion.
'I want to learn how to swim,' he decided resolutely.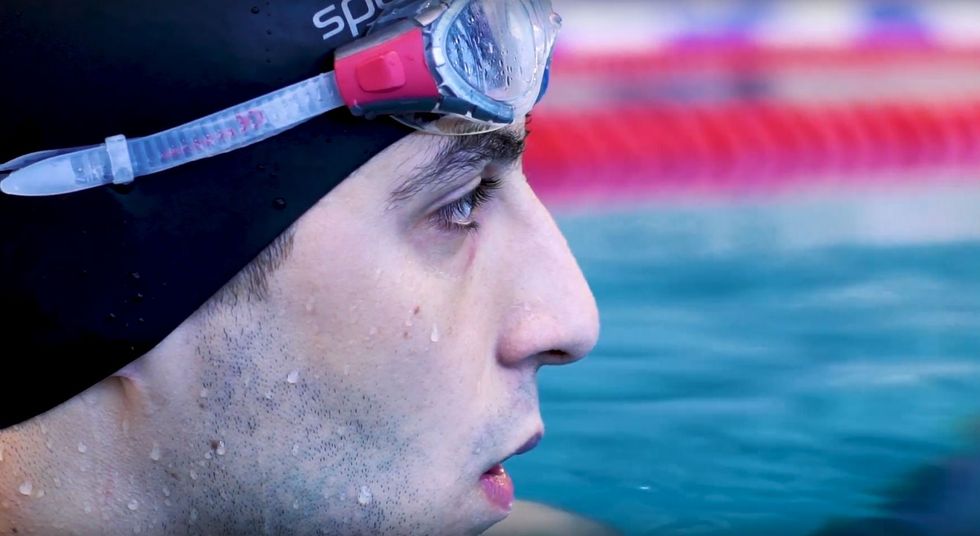 (Picture: YMCA St Paul's Group grab)
It was cold and dreary wintertime, however the abysmal weather was the least of his worries - his only income was the £5-a-day he received in government aid whilst he studied English at the local college. Despite the challenges Eid was determined, and the next day he took himself to the Feel Good Centre behind Waltham Forest College where he studies English. It had a swimming pool.
I decided to save money from the £5 a day. Some days I saved two pounds, sometimes three pounds. It was really, really hard.
'I've never been in a pool in Syria. I've never [swam] in my life,' he recalled.
'Oh my god,' he laughed. 'I couldn't swim two metres.'
He spent the day trying to swim, but without any direction it seemed to him impossible. Eid went the next day, and the third day and the fourth day, but without the basics down he was stuck.
Then came Trish Brennan.
The Waltham Forest College swimming instructor agreed that she would give him a free swimming lesson, and taught him how to breathe correctly in the water.
An avid student, he made rigorous notes of everything Trish taught him and stuck them to his wall to remind him of what to do every day.
And then he swam. And swam. And swam. In a few days he managed to swim half the length of the pool, and after a month of swimming every day, he came across his first hurdle – he couldn't swim past the halfway mark. He watched an instructor who he later came to know as Jackie Antoine, teaching children how to swim, and tried to memorise her instructions.
Eventually, he approached the coach with determination, and told her what he wanted: To be the next Michael Phelps. 'She was the first person to take it real [sic]. She didn't laugh. She said 'Okay. Go in!'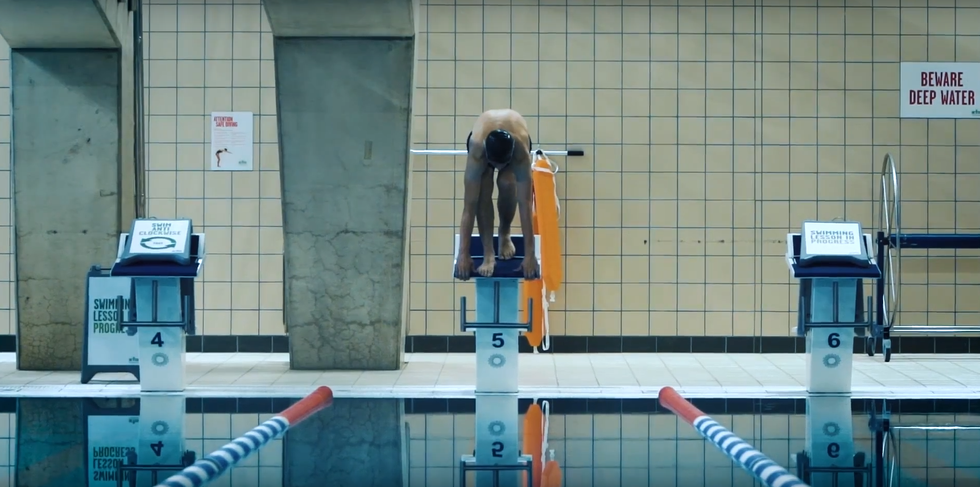 (Picture: YMCA St Paul's Group grab)
'I said 'Go in where?'
That would be the first time he swam the entire length of the pool, and his journey has been on an upward trajectory ever since.
When you go to the pool, when you have a really long day, if you struggle with stuff - as a refugee, how people look at you - or [when I think about] the problems in Syria, the violence...when I come to the pool, this is my place. I only have 25 metres.
Being in the water, he says, is like being in 'another world.'
When you are under the water, everything is silent.
Swim coach Daniel Bullock decided to take him on, and said that he had not seen that rate of progress in an adult in 'quite some time,' though Eid has some way to go if he wants to make it to the Olympics.
'I spoke with some of the other teachers. I didn't quite believe how recently he learned to swim. His progress has been that remarkable,' he said.
A crowdfunding page has been set up to raise money in order to provide Aljazairli with the support he needs to push his potential to the maximum.
And what would it mean to him, to get to the Olympics?
Only the world.
More: UK Black Pride founder 'Lady Phyll' talks diversity, white privilege and Black Panther
More: One woman's journey through being pregnant and HIV-positive