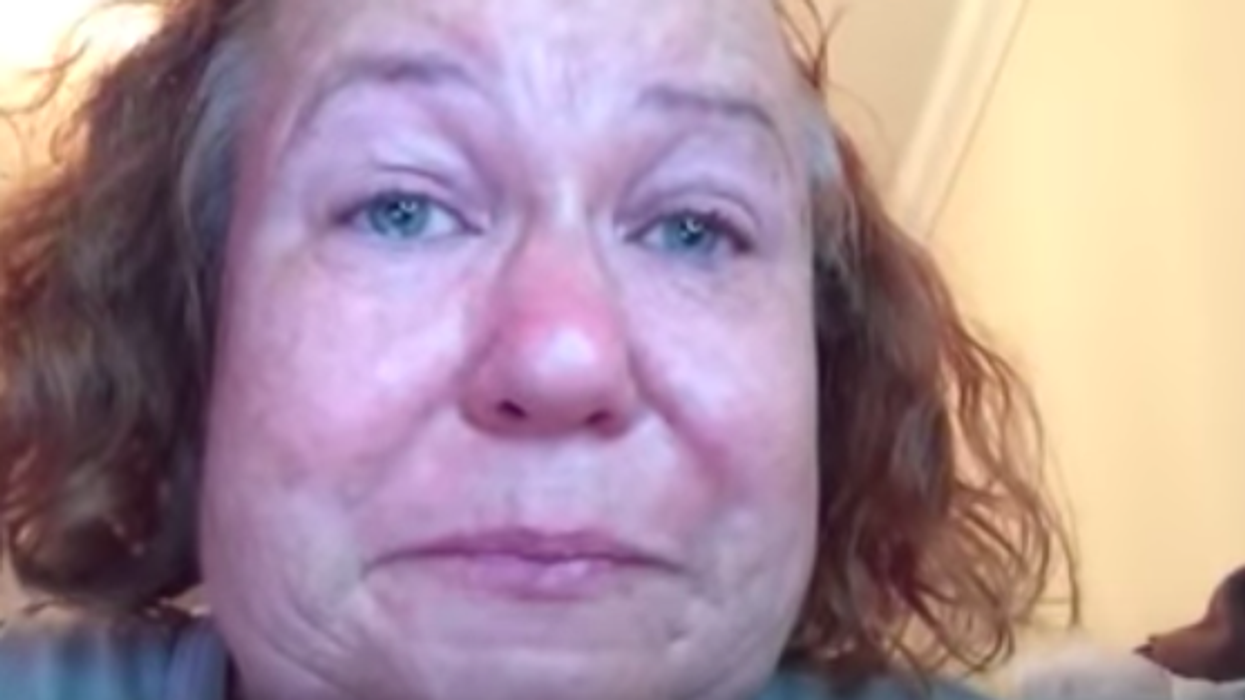 YouTube / Tanyalee Davies
Disabled comedian Tanyalee Davis was 'left stranded' on a moving train for over an hour after rail staff failed to bring her a ramp meaning she missed her stop.
Davis, 47, who suffers from a form of dwarfism, was left stranded in Darlington, Yorkshire, after boarding a train from Peterborough to York where she was due to perform at the Greater Yorkshire Fringe on Friday.
A ramp, which Davis had pre-arranged with a guard on the train, was not brought when the train stopped at York, meaning Ms Davis wasn't able to leave the train and had to continue an hour in the wrong direction to Darlington.
North East Rail service has apologised for the error, and the company say that an investigation has been launched.
The guard was "mortified" and apologised, and apologetic staff bought her two bottles of wine upon her arrival at York station, reports the BBC.
Tanyalee took to YouTube to express her outrage at the error, and in an emotional video she said:
We get to York. I am waiting and nobody is coming. People get off and they just assume that the guard will be coming and all of a sudden the train doors close and now I am off to Darlington.
She then continued to praise the train guard, who did all that he could, however it was just another example of 'another day another trial' as a disabled woman using the train network.
Many people left messages of support for her after witnessing the YouTube video. One simply said:
You are so absolutely amazingly breathtakingly adorable.
While another fan praised her for speaking out about the issues disabled people face on a day-to-day basis:
You are a beacon!!! Keep speakin out .....
London and North Eastern Railways have since apologised for the incident.
Speaking to The Evening Standard, they said:
We are very sorry for the unacceptable experience Ms Davis had whilst travelling with us.

We are fully investigating the incident to understand what went wrong and to ensure that lessons are learnt for the future.
This isn't the first time that Davis has run into trouble as a disabled passenger on the rail network this month.
On July 15, she shared an emotional video on her YouTube channel that has now had over 20,000 views saying that she was left 'distressed and humiliated' after a train guard made her move her disability scooter for a mother with a pram.
Ms Davies was travelling on the 11:00am service to London Paddington from Plymouth, after performing at a comedy club in the town on the Saturday night.
She had left her scooter in the unreserved disabled space when a young mother asked to use it for her pram.
She alleges that the train guard then told her fold up the scooter or leave it in the concourse and then move it out of the way at every stop, reports The Evening Standard, and also threatened to call the police if she did not leave the space.
He then made an announcement over the tannoy saying that a woman with a mobility scooter was causing issues, and that the train would be delayed indefinitely.
In an emotional video about the incident posted to her YouTube account, Ms Davies said:
It was humiliating and I cried for most of the journey home. It was really embarrassing and I'm sick of this, having to deal with this all of the time.

I don't know what it is about this country. They really make you feel disabled.

Just because I use a mobility scooter it doesn't make me a pariah, it doesn't make me less disabled.

I'm just trying to make a living, to make people laugh. 
Great Western Railway said the incident 'should not have happened' and have since apologised for the distress caused. The company told the BBC:
We got it wrong, it made no sense.

A wheelchair space is a wheelchair space, it's not for luggage or pushchairs.
HT The Evening Standard Press Association