Protests in the US continue to rage on as the #BlackLivesMatter movement reaches a crescendo in Louisiana's Baton Rouge.
The past two weeks have seen two unarmed black civilians killed by police officers: Philando Castile, who was shot in his car with his daughter in the back seat, and Alton Sterling, who was tackled and shot several times by two police officers.
Hundreds of protesters responding to the killing were arrested on Sunday, including prominent Black Lives Matter activist DeRay Mckesson by police in heavy riot gear.
Picture: AP Images/ DeRay Mckesson arrested on July 9
Across the pond, Britons also marched in London over the weekend in solidarity.
Many images of the protest circulated on social media but one in particular is being hailed as immortalising 'America's Tienanmen moment':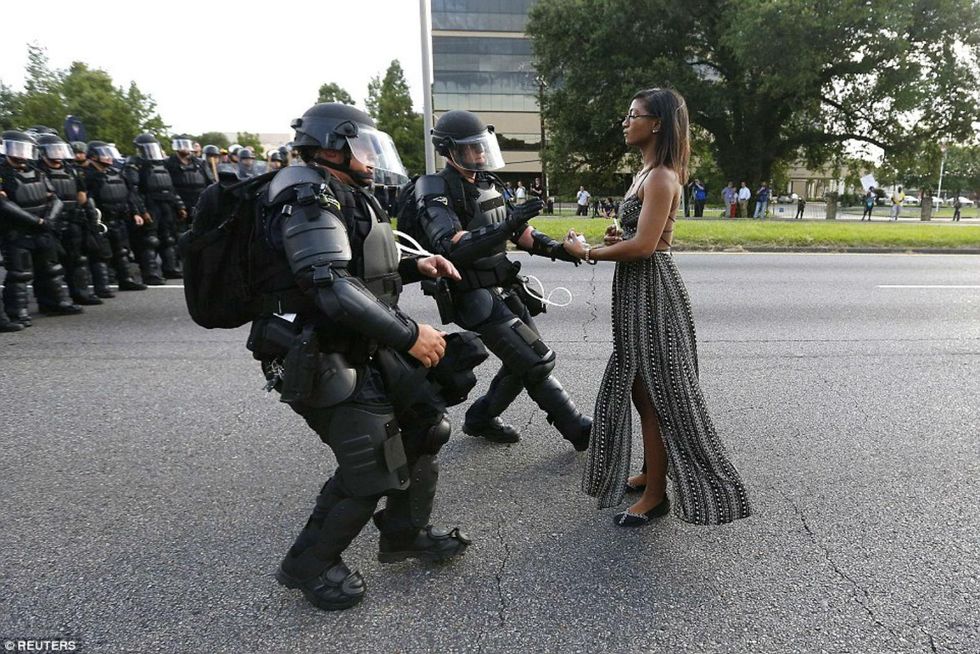 Picture: Jonathan Bachman/ Reuters
The photograph features 28-year-old mother and licensed nurse Leshia Evans who was attended her first protest in Baton Rouge following the death of Alton Sterling, because she wanted a "better life for [her] five year old."
Picture: AP Images
According to the Associated Press, Evans was arrested and held for 24 hours after police attempted to push the crowd back in what was reportedly a peaceful protest.
Instead of moving, she walked straight up to the police and stared them down.
One comment on journalist Shaun King's Facebook post received over 10,000 likes, and for good reason:
Look at her posture. She is balanced, powerful, upright and well-grounded with both her feet firmly planted on the earth. Look at the line made from the crown of her head to the heels of her feet. She is only protected by the force of her own personal power.

By contrast, the officers have the transitory, temporary protection of their equipment that will be removed at the end of their shift. They are rocked back on their heels, knocked off balanced, and appear about to fall over backwards, just from the power of her.

This is a legendary picture. It will be in history and art books from this time.