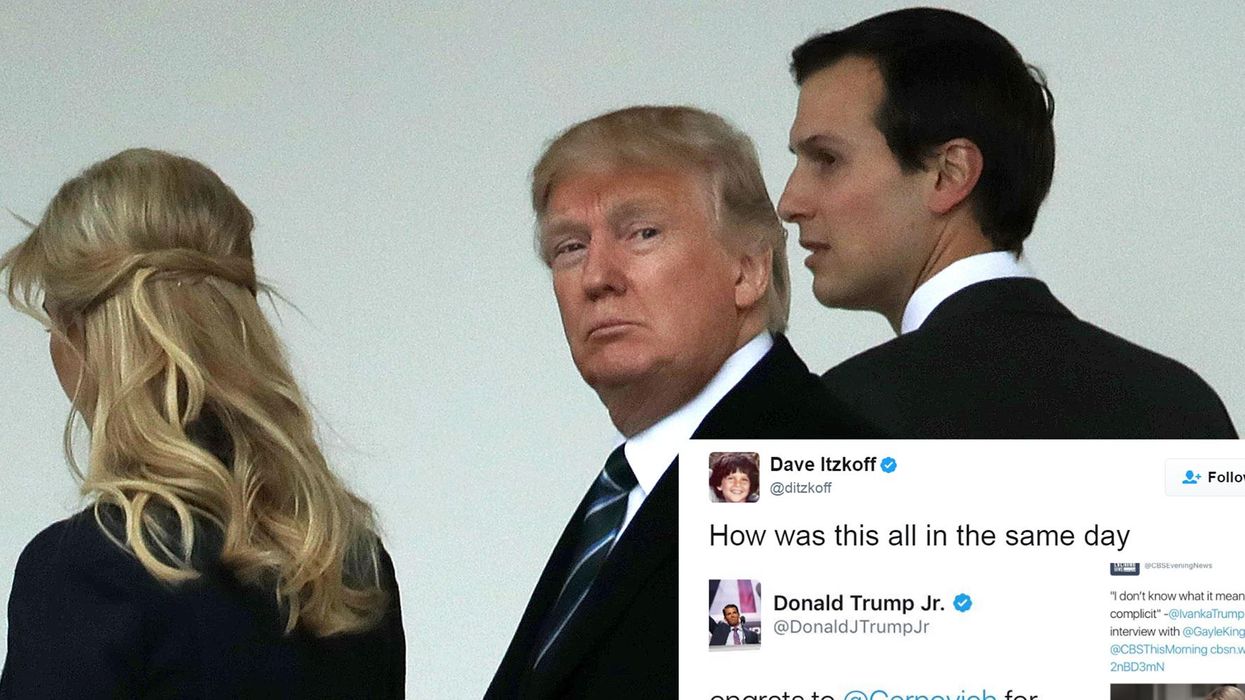 Chip Somodevilla/Getty Images
David Itzkoff of the New York Times has shared three news stories from Tuesday that would make even the most seasoned political commentator pause in disbelief.
How was this all in the same day https://t.co/6qKxZsrkmc

— Dave Itzkoff (@Dave Itzkoff) 1491358938
Nepotism and dynasties haven't been uncommon in office, but abuses of power and enrichment from public office is usually done with less flagrancy.
The Adamses, the Harrisons, the Roosevelts, the Kennedys, the Bushes, the Clintons, the Trumps.
President Richard Nixon was accused of making money from his presidency. His famous cry 'I am not a crook' was a reference to financial dealings, rather than the Watergate burglaries.
Yet the conflicts of interest at the heart of the Trump White House seem so brazen it beggars belief.
Itzkoff referred to stories relating to Ivanka, Eric Trump, and Donald Trump Jr.
Complicit
In an interview with CBS on Tuesday, the first daughter denied that her influence over administration policy in the absence of a formal portfolio amounted to nepotism.
Ivanka, who's been given the reigns of the Trump empire, and runs her own businesses, has been put into the heart of power in the White House.
Picture:
In addition to a coveted West Wing office, Ivanka has been seated alongside visiting foreign leaders in policy discussions and patched into telephone calls between the president and other world leaders.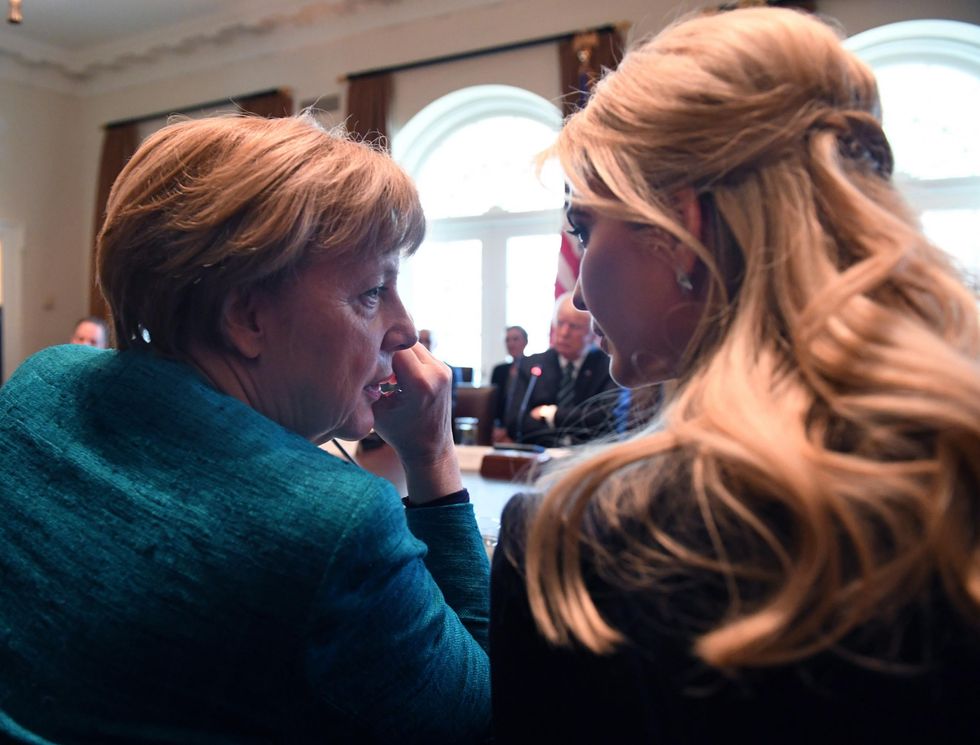 German Chancellor Angela Merkel (L) speaks with Ivanka Trump during a roundtable discussion on vocational training with United States and German business leaders in the Cabinet Room of the White House on March 17, 2017 in Washington, DC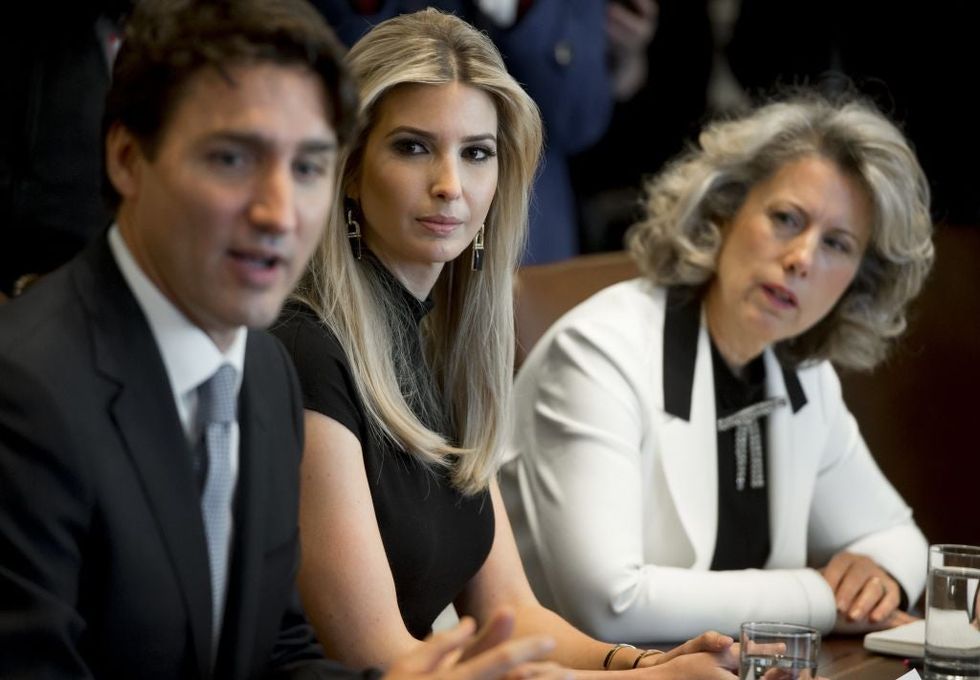 Canadian Prime Minister Justin Trudeau speaks alongside Ivanka Trump (C), daughter of US President Donald Trump, and Dawn Farrell (R), President and CEO of TransAlta Corporation, during a roundtable discussion on women entrepreneurs and business leaders in the Cabinet Room of the White House in Washington, DC, February 13, 2017.
This is more than Dorothy MacDonald ever did.
Asked about whether she, her husband and presidential advisor Jared Kushner, and her father the president, were 'complicit' on certain issues.
Ivanka responded,
If being complicit is wanting to, is wanting to be a force for good and to make a positive impact then I'm complicit. I don't know that the critics who may say that of me, if they found themselves in this very unique and unprecedented situation that I am now in, would do any differently than I am doing.
She continued.
So I hope to make a positive impact. I don't know what it means to be complicit, but you know, I hope time will prove that I have done a good job and much more importantly that my father's administration is the success that I know it will be.
White House Senior Advisor to the President for Strategic Planning Jared Kushner (L) and his wife and President Donald Trump's daughter Ivanka Trump walk down the West Wing Colonnade following a bilateral meeting between Trump and Japanese Prime Minister Shinzo Abe February 10, 2017 in Washington, DC. Picture:
Defending her 'silence' on issues such as planned parenthood, gay rights, and climate change, which the Trump Administration has pushed down priority list, Ivanka said:
I would say not to conflate lack of public denouncement with silence... So where I disagree with my father, he knows it, and I express myself with total candor. Where I agree, I fully lean in and support the agenda and hope that I can be an asset to him and make a positive impact. But I respect the fact that he always listens. It's how he was in business. It's how he is as president.
Ivanka was formally made a 'Special Assistant' to the president on 29 March.
Nepotism 'a factor of life'
Eric Trump, trustee of the Trump Organisation and founder of the Eric Trump Foundation has tried to argue that nepotism is factor of life.
In an interview with Forbes magazine, conducted in February and printed in April, Eric stated:
Nepotism is kind of a factor of life, we might be here because of nepotism, but we're not still here because of nepotism. You know, if we didn't do a good job, if we weren't competent, believe me, we wouldn't be in this spot.
He claimed that he and his brother Donald Jr would not have been given the Trump business to play with if their father, the President, had not felt they were ready.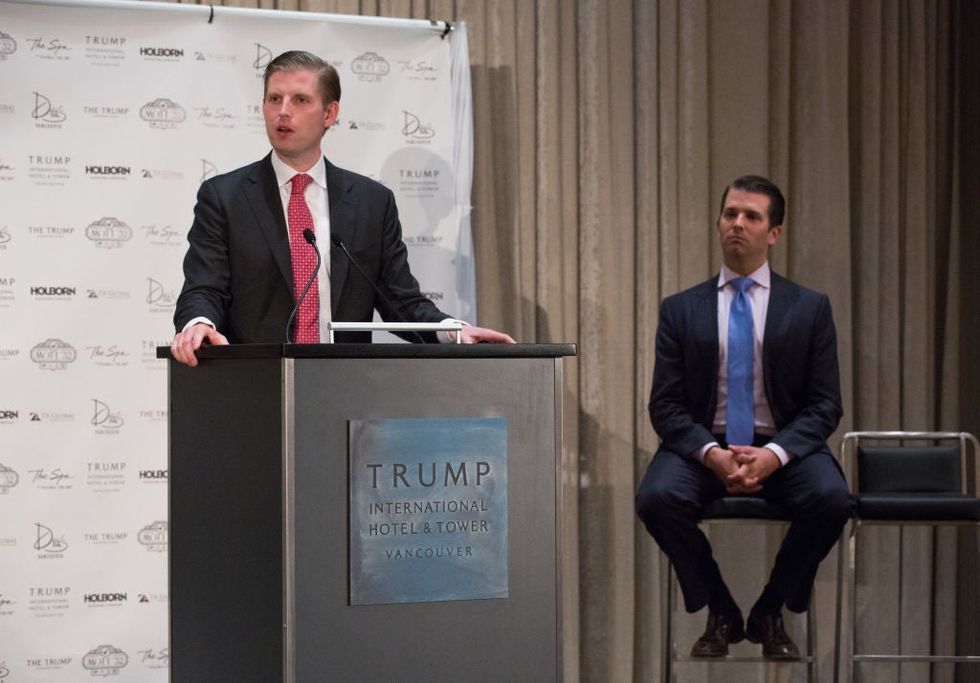 Eric Trump and Don Trump Jr., Executive Vice Presidents of Development and Acquisition and Development for the Trump Organization, attend the Trump International Hotel And Tower Vancouver Grand Opening on February 28, 2017 in Vancouver, Canada. Picture:
Exclusivity
On the same day as the Forbes interview and Ivanka's CBS interview were published, the president's eldest son Donald Trump Jr tweeted in support of an article written for Medium by Mike Cernovich.
The article was an exclusive 'scoop' by the documentary maker Cernovich, who CBS' 60 minutes once dismissed as 'fake news'
In it, Cernovich asserted that president Obama's national security advisor had 'unmasked' business associates of Donald Trump.
'Unmasking' is when an individual whose communications were picked up in a more general exercise of intelligence gathering is personally identified.
Rice reportedly sent requests for Trump associates to be unmasked.
Moreover Cernovich claimed that journalists at the New York Times had been 'sitting' on the story.
Donald Trump Jr tweeted about the story on Tuesday.
Congrats to @Cernovich for breaking the #SusanRice story. In a long gone time of unbiased journalism he'd win the Pulitzer, but not today!

— Donald Trump Jr. (@Donald Trump Jr.) 1491309664
Congrats to @Cernovich for breaking the #SusanRice story. In a long time of unbiased journalism he'd win the Pulitizer, but not today!
Cernovich has been called 'the meme king' of the Alt-Right, and was also one of the more prominent writers on the 'Pizzagate' conspiracy theories.
Susan Hennessey, a fellow at the Brookings Institute tweeted on Monday that there was nothing 'improper' about Rice's actions.
Nothing in this story indicates anything improper whatsoever nor does it explain or justify Nunes's bizarre conduct.
Hennessey also wrote:
What we're seeing here is US officials doing jobs to respond to what had markers of a counterintelligence threat: the Trump campaign.
It's important to remember that all these top political stories focus on the family of the president, in the year 2017, a century after the 'gilded age' was supposedly brought to a close.
HT CBS, Forbes, New York Times, ThinkProgress