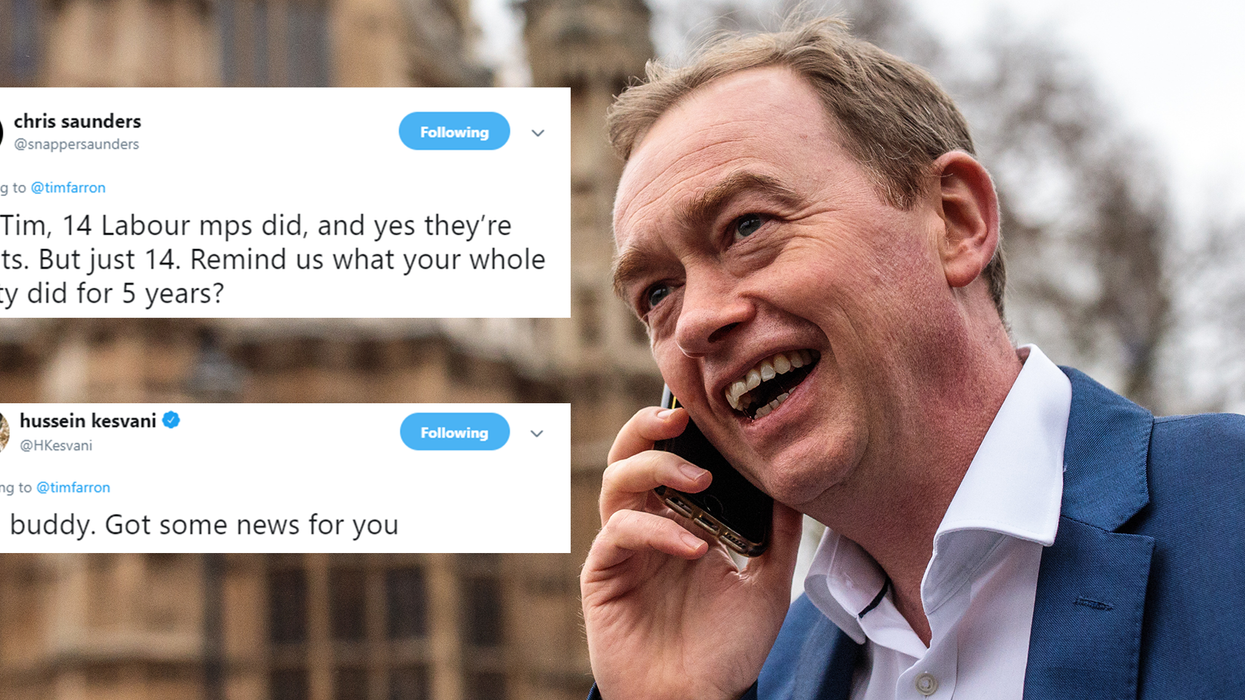 Getty Images / Twitter
Tim Farron has attempted to own the Labour Party by bringing up tuition fees on Twitter over the 14 rebels who voted down the Cooper amendment, however, it's seriously backfired.
Now, there's no denying we've all got a Brexit-induced headache today, but in an 'idiot's guide', the 14 Labour rebels who angered Farron had sided with Theresa May's government, voting to prevent parliament from taking steps to prevent a no-deal Brexit by extending the article 50 negotiating period, in order to give time to agree an alternative deal with the EU.
Yvette Cooper's amendment was voted down by 321 votes to 298, with former minister Caroline Flint, Laura Smith, and Eurosceptics Kate Hoey, Graham Stringer, and Dennis Skinner joining the ranks of the rebels reports the Guardian.
There, clear as mud.
In response to the vote, Tim Farron, the ex-leader of the Liberal Democrats, took to Twitter to say:
Dear Labour. You are officially no longer allowed to mention tuition fees. You've just stuffed the country.
Right... Needless to say, the tweet went down like a tonne of bricks. In a lift. That's plummeting to the bottom of a lift shaft in a 20 story building. In other words, not very well.
Some reminded Tim it was only 14 Labour MPs who voted down the motion, not the entire Labour party.
Others thought he'd completely missed the point in attempting to score points against Labour.
Some thought it was the *perfect* time to mention tuition fees.
Others reminded him of the many other pieces of legislation the Liberal Democrats backed.
And postulated on why Tim was taking the whole thing quite so seriously.
Some reminded him about what they had to do in order to get a 5p tax on plastic bags...
And his stance on gay sex.
While one summed it up.