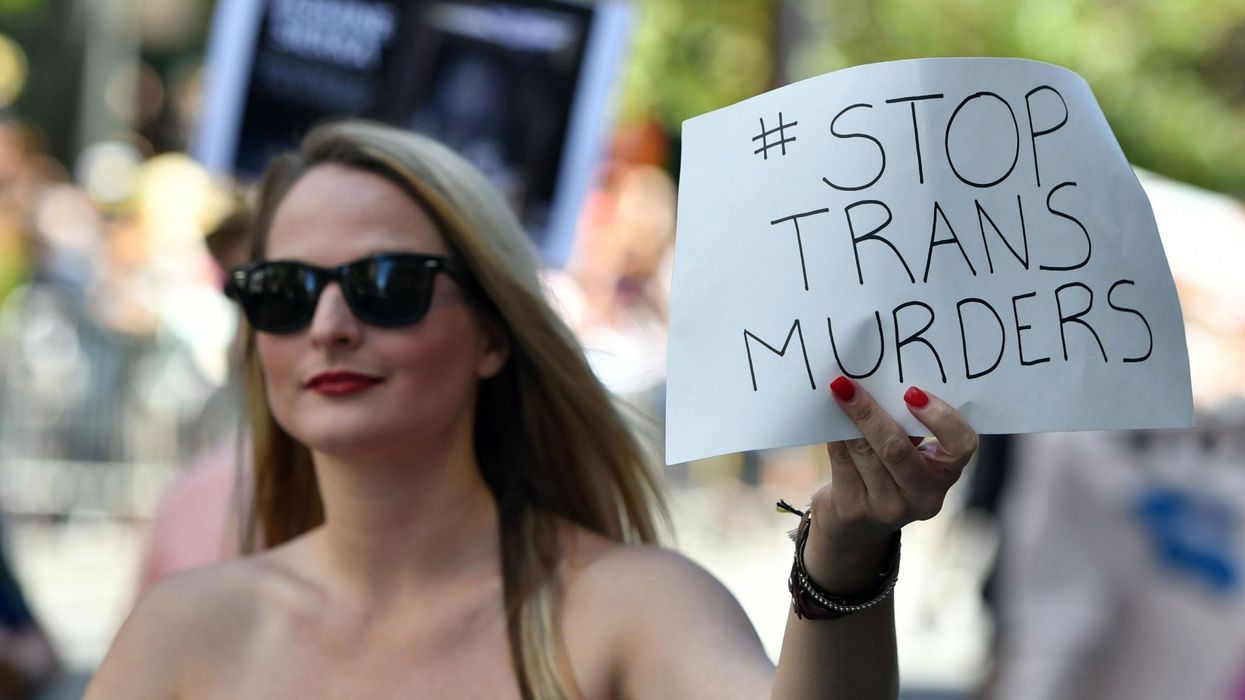 Earlier this week, Dallas police revealed that the dead body of an unidentified black, trans woman had been found in a Texas creek.
Just days earlier, Carla Patricia Flores-Pavon, a 26-year-old who was also a trans woman of colour, was choked to death. Meanwhile in Atlanta, Nino Fortson, a black trans man who was repeatedly misgendered by media outlets reporting on his death, was fatally shot.
Speaking to NBC News, Chuck Smith, CEO of non-profit organisation Equality Texas, lamented:
Texas has the dubious distinction of leading the entire country in hate-related homicides of LGBT+ people in 2017, with seven Texans who were murdered.
These statistics were lifted from a report authored by the National Coalition of Anti-Violence Project, which showed that 52 LGBT+ Americans were killed - the highest number ever recorded. A separate report released by the Human Rights Commission shows that 28 trans people were murdered, almost all of whom were trans people of colour. Again, these statistics added up to the deadliest year on record for America's LGBT+ community.
2016 was similarly deadly; in June, terrorist Omar Mateen stormed popular gay Miami nightclub Pulse and shot almost 50 revellers dead. Despite the targeting of a gay venue and the fact that most victims identified as LGBT+, trial evidence meant that the attack wasn't deemed a hate crime.
This year's statistics are no less harrowing, although the fact that victims are still misgendered and their deaths misreported can lead to inaccurate coverage, which American LGBT+ organisation GLAAD is fighting to correct. In an official statement, it claimed:
Victims of anti-transgender violence are overwhelming transgender women of colour, who live at the dangerous intersections of transphobia, racism, sexism, and criminalisation which often lead to high rates of poverty, unemployment and homelessness.
A lack of information surrounding motive can often mean that these murders escape being labelled as hate crimes, a term which is crucial to the protection of all minority communities. More details of each individual murder have been reported by Instinct Magazinein an article illuminating a pattern of male-perpetrated violence usually involving stabbing, strangling or shooting.
These cases have led to media outlets describing an "epidemic in violence against trans women of colour".
Tragically, an article exploring this "epidemic" was the last ever shared by Naomi Hersi, a UK trans woman of colour found dead due to numerous stab wounds in a Hounslow hotel room.
Trans Women of Color Face an Epidemic of Violence and Murder http://t.co/S7ZkgqXX6J via @vicecanada

— Naomi Damian~Hersi (@Naomi Damian~Hersi) 1432688699
Numerous UK media outlets, plenty of whom have been accused of fear-mongering and sharing misinformation by trans and non-binary activists, were criticised for their silence and frequent misgendering of Hersi.
Travis Alabanza, a trans, non-binary actor and author, best summarised this media mistreatment in a poignant piece written for gal-dem:
Even in death, we cannot be mourned respectfully.