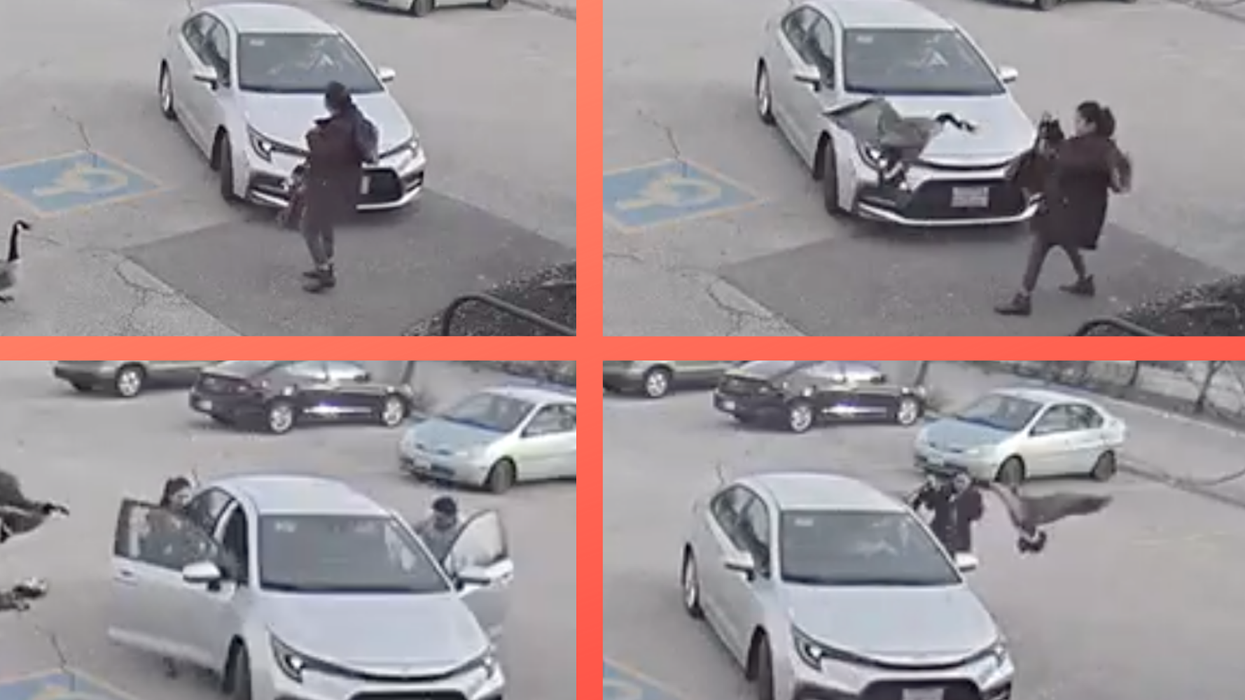 gif-finder.com/Twitter/indy100
There are the animals we're taught to be afraid of, and then there are the ones most closely associated with Christmas dinner.
One such creature we don't walk around worried about being attacked by is a goose.
Yet a new video which is going viral may be about to change all that.
Meanwhile in Dartmouth.... https://t.co/Wpidl6eOkT

— Scott (@Scott) 1588816578
According to Twitter user @Roscopcoletrain ("Scott") from Eastern Shore in Nova Scotia, Canada, the footage, which is credited to gif-finder.com, was captured in Dartmouth (presumably Canadian Dartmouth, rather than British Dartmouth or US Dartmouth).
The video appears to come from CCTV footage, and it's impossible to tell when it was filmed.
It shows a woman in a parking lot when a goose appears seemingly out of nowhere and starts following her.
As her ride appraches, the woman tries to walk away from the goose, but it's a persistent one and absolutely refuses to let up.
What ensues is a hilarious/terrifying few seconds in which the woman runs all the way around the car as the goose chases her. Desperate to break free of the bird's pursuit, she throws her bag to the ground and jumps in the car... but before she has a chance to close the door the goose flies in behin her.
Meanwhile her driver, clearly not expecting this extra feathered passenger, jumps out and falls to the ground, while the woman somehow manages to kick the goose out the car and finally slam the door.
Phew.
This is where the footage ends, so we have no way of knowing if the goose and the woman eventually put aside their differences but given the level of tension in the exchange, we're going to assume not.