KCNA/AFP/Getty Images
You may have noticed that things have been getting a little...tense.
No longer the remit of dystopian fiction and high budget / low quality American movies, a huge global conflict - also known as World War Three - is now very much a possibility.
According to the latest SIPRI data, global military expenditure is estimated to have been around $1686 in 2016, or 2.2 per cent of the global GDP.
That's an increase of around 0.4 per cent since 2015.
This could be partly due to escalating global involvement in Syria's bloody civil war, or the increasing threat of nuclear conflict between North Korea and the US.
What's clear is that, after a plateau of military spending between 2011 and 2014, this second year of increase indicates an alarming trend.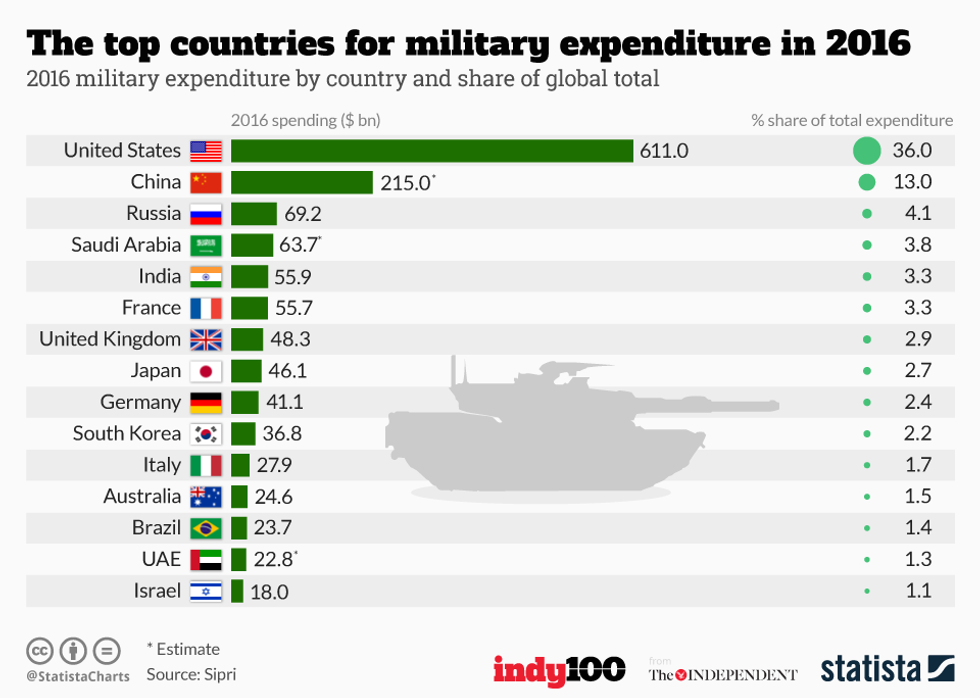 Picture:
U.S.
Not unexpectedly coming in top, the United 'World Police' States have spent an estimated $611 billion.
That's a staggering 36 per cent share of the global total, and nearly three times the level of China - also the first increase after five consecutive years of decline.
Nevertheless, that's still 20 per cent lower than its peak in 2010.
China
A big gap separates front-runner United States with second-place China, as grown in Chinese military spending slows.
Nevertheless, a spending of $215 billion (13 per cent of the global share) by the world's most populous country is incredibly serious.
Russia
In a dramatic increase since 2015, Russia is now third in the world for military expenditure, with a worrying increase to $69.2 billion.
That's 4.1 per cent of the global expenditure, and a staggering 87 per cent increase since 2007.
Saudi Arabia
The fall in oil prices in oil-exporting countries since 2014 has led to "substantial decreases in military spending".
Saudi Arabia is of course one of the world's foremost oil providers, and has made significant cuts to its military budget.
India
India has spent $55.9 billion, or 3.3 per cent of the global total.
This is likely related to ongoing separatist conflicts in Kashmir.
France
Despite the vast difference in size and population, France has spent nearly as much as India - $55.7 billion.
That's 3.3 per cent of global expenditure.
United Kingdom
For a small nation, Britain packs a punch on the global scale, with military expenditure at 48.3 billion.
Nevertheless, it's fallen in the rankings since 2015, from 6th to 7th place, which is largely attributed to the devaluation of the pound after the referendum.
This means that the Uk failed to achieve planned increases in military spending announced in 2015.
Japan
Japan's military spending remains high, at $46.1 billion, or 2.7 per cent of the global share.
This could be related to ongoing tension between Japan and China ovr claims in the East China Sea.
Germany
Largely due to Chancellor Merkel's efforts, Germany raised its spending in 2016 by 2.9 per cent.
This brings their expenditure up to $41.1 billion , or 2.4 per cent.
South Korea
Tensions in the Korean peninsula and threats from North Korea have led to a significant growth in military expenditure.
South Korean's spending now stands at $36.8 billion, or 2.2 per cent.
Italy
Italy increased its spending by 11 per cent, bringing it to $27.9 billion, or 1.7 per cent.
The report attributes this to Italy's support for its local arms industry by funding domestic procurement.
Australia
Considering the relative population size of Australia, a share of 1.5 per cent in the global expenditure is significant.
With military expenditure in Oceania having increased by 5.1 per cent since 2015, Australia's budget now stands at $24.6 billion.
Brazil
Brazil's worsening recession has led to cuts in military budget by more than 7 per cent, bringing it down to $23.7 billion.
However, that is still 1.4 per cent of the total global expenditure.
UAE
The current figures are an estimate, as no data is available for 2015 and 2016.
Nevertheless, in 2014 the UAE was the second largest military spender in the Middle East.
Israel
Israel's expenditure has increased by almost 10 per cent since 2007.
The figure now stands at $18 billion, or 1.1 per cent of the global expenditure.