A new Android update for Whatsapp is allowing users to do a whole host of new things on their phones.
1. WhatsApp Speak
Whatsapp can now read your message back to you. You can find the option with Copy, Reply, Forward, Delete and Message.
2. Voicemail
iOS devices and Androids can send and receive voicemail to each other if they can't take a Whatsapp call.
3. Selfie at night
An Android update makes it possible to take front-facing selfies in the dark with flash (by lighting up the screen). Score
Picture: clownbusiness/istock
And, in case you haven't been using the original phone app to its full potential, here are 10 other things you may not know you can do:
4. Bold, italics, strikethrough
For bold, add (*) to the beginning and end of the word
For italics, add (_) to the beginning and end of the word
For strikethrough, add (~) to the beginning and end of the word
5. You can change your friend's profile picture to a monkey
Go to contacts and copy your friend's number.

Rename the monkey image your friend's number, taking out the (+).

Paste the image to his/her WhatsApp profile picture, and voila, your friend is now a monkey!
6. Blue-ticks-no-more
Open WhatsApp

Go to settings, account and then privacy

Un-check the 'read receipts.'
Unfortunately, this means you can't see when people have read your messages, either.
7. Tricking the blue tick
When you've received a message, turn on Airplane Mode.
Open the message.
Read it in secret.
The sender won't see the blue ticks until you open WhatsApp again!
8. Saving your chat history
Got to settings, chats, and chat backup
Configure your chat settings so that the backup frequency is either weekly or monthly, and tick 'include videos' if you want to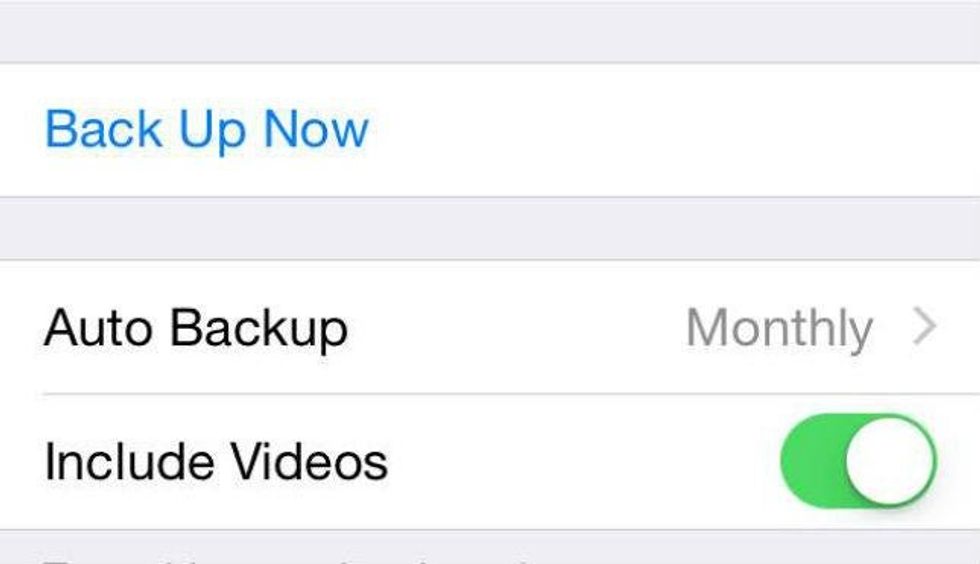 9. Sending a giant heart
This one has been around for a while, but it's still a nice reminder.
Find the heart emoji
Send it without anything else
10. Transfer files between your computer and your phone
Create a group, add a friend and then delete them (so you're in a group with yourself)
Open WhatsApp Web and login by scanning the QR code
Send the media you want to transfer to your computer through the WhatsApp group
Open the chat on the computer and the media is there!
11. Custom notification rings for different chats
Go on the chat you want
Tap on the name
Enable the 'custom notifications' option
Pick the tone you want
12. See someone's Last Seen and hide yours
Send one message to the person of your choice
Delete said person from your contact list
The chat will still be in the app
Go to settings, account and then privacy and change the 'last seen' preferences to My Contacts
13. Change your WhatsApp wallpaper
Go to settings, chats and wallpaper!
You're welcome