That didn't take long.
Five days after his now-infamous Miss Universe mix-up (during which he announced that the winner of the pageant was Miss Colombia when it was actually Miss Philippines), Steve Harvey broke his silence and decided to poke fun at himself.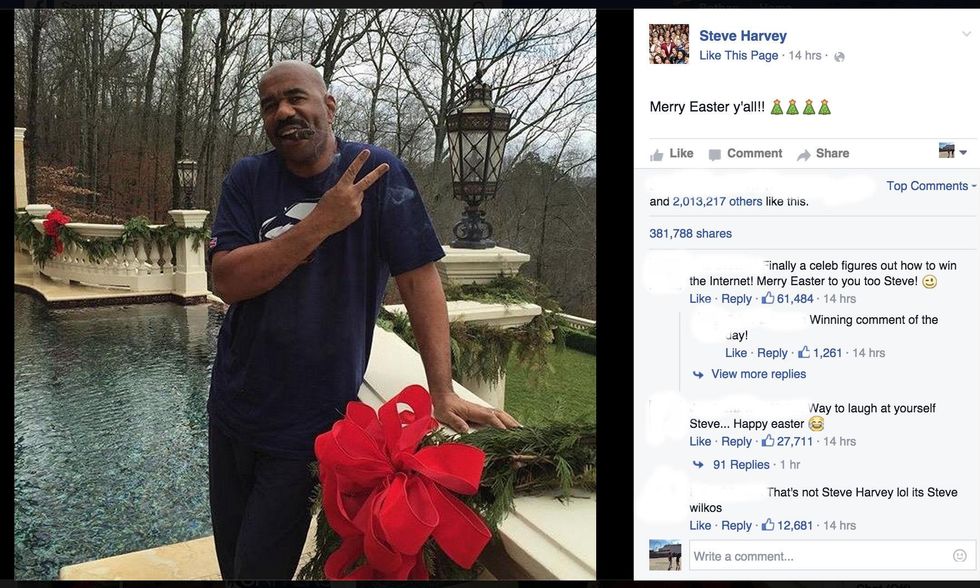 "Merry Easter y'all!!" Harvey said in a Christmas Day post on his Facebook page dominated by a picture of him.
Social media already loves it, and Harvey is clearly having a great time. Is there a pose more confident than casually leaning against an extremely fancy pool while smoking a cigar and flashing a peace sign?
And why shouldn't he be at ease? As floated by many the day after the pageant, the incredibly viral incident seemed like a planned mistake, as it ensured that everyone was talking about Harvey, best known as a daytime talk show and "Family Feud" host. A pageant executive laughed off the suggestion, but Harvey certainly isn't shying away from the publicity.
Plus, it doesn't hurt that "Entertainment Tonight" is reporting that Harvey will not only be back as host in 2016 (as the pageant exec hoped he would), but he also signed a multiyear deal with the organization. It would be a smart move on the pageant's part, a surefire way to get viewers to tune in to the end next year.
So even as Miss Colombia Ariadna Gutierrez and Miss Philippines Pia Wurtzbach gracefully handled the mortifying moment that unexpectedly put them under the spotlight worldwide, it's Harvey who could most immediately benefit from all the exposure.
Washington Post ©
More: The Miss Universe crown was given to the wrong person and it was so painfully awkward
More: Amazing pictures from the third annual 'Miss Holocaust Survivor' beauty pageant