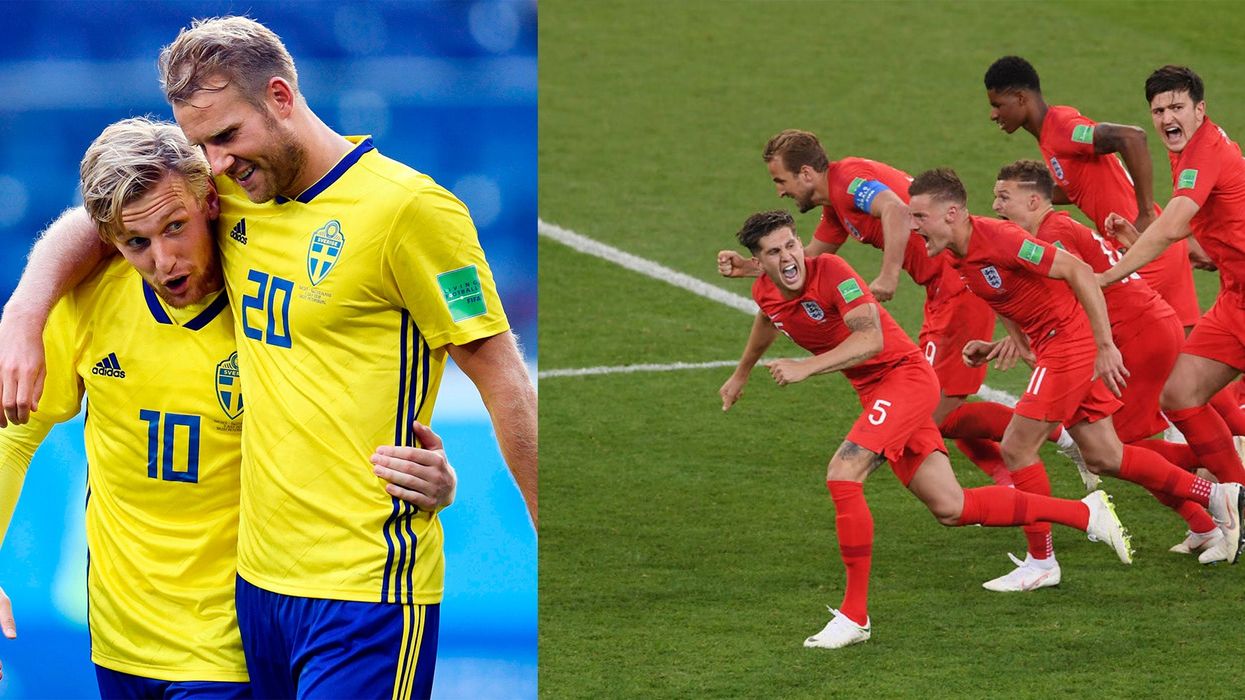 CHRISTOPHE SIMON/ AFP/ Laurence Griffiths/ Getty Images
England's breathtaking victory over Colombia on Tuesday night means that the Three Lions will now play Sweden in the World Cup quarter-finals.
Scenes of hysteria and jubilation broke out across the nation after Eric Dier slotted home the deciding penalty in the shootout
Goodness knows what will happen if Gareth Southgate's men can overcome Sweden on Saturday (we're predicting a state of emergency), but it will not be easy against the Scandinavians.
England has a less-than-impressive record against the country that gave us ABBA, Ulrika Jonsson and Ingmar Bergman, but this is no reason to be pessimistic.
So ahead of this Saturday's impossibly important match, we have compiled a few interesting facts about the two teams and some of their previous matches.
England have never beaten Sweden at a World Cup.
Yep, that's the biggest - and most terrifying - fact that you need to know before this game.
In their two previous World Cup encounters, the Three Lions could only draw with the team in Yellow and Blue.
Those results including a dull 1-1 draw in 2002 and a slightly less dull 2-2 in 2006.
England did manage to break their tournament duck over Sweden at Euro 2012 where they won 3-2 but that World Cup stat will still hover over them, though maybe only for a few more days.
Andreas Granqvist's unfortunate substitution.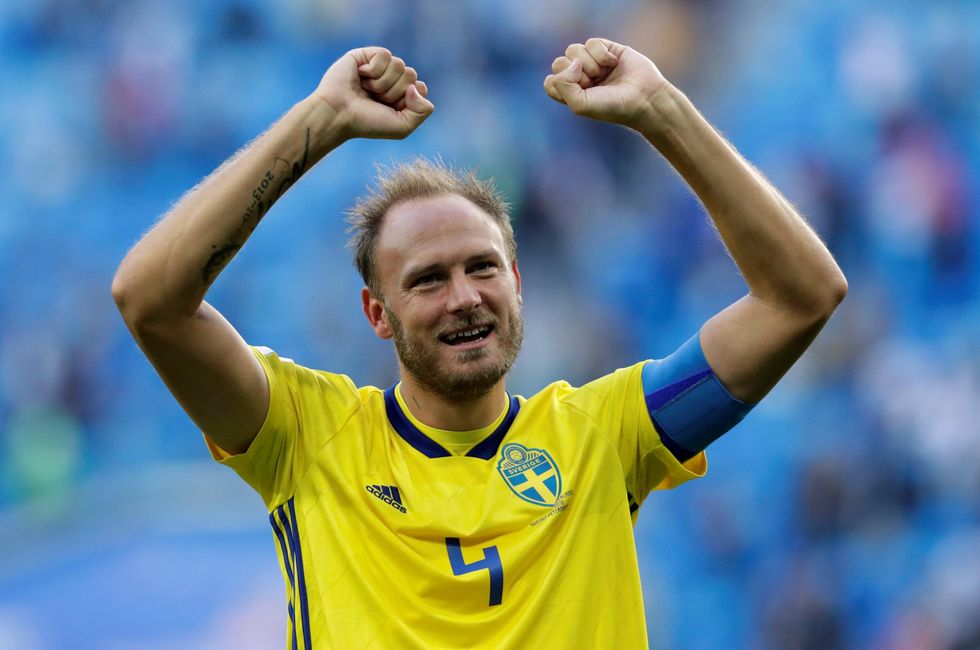 Picture: REUTERS/ HENRY ROMERO
Sweden's 33-year-old captain Andreas Granqvist has been one of their most important players in their tournament progression to date.
The veteran centre-back has played for the national team since 2006 and was involved in the match with England at Euro 2012 in Ukraine.
Unfortunately, he won't have good memories of that game and we aren't talking about the result.
After one of his teammates scored, he had to be taken off because he had been poked in the eye during the celebrations. Ouch!
Michael Owen's last ever England World Cup game was against Sweden.
Once upon a time, Michael Owen was quite a good footballer and wasn't a boring man who appeared in terrible adverts.
His England career had a lot of highs and lows, but it virtually came crashing to an end in 2006 when he sustained a serious injury in the first few moments of their World Cup clash in Cologne, Germany.
He continued to intermittently play for England until 2008, but that match against Sweden was the last time he ever appeared at the World Cup.
Football's loss was the Internet's gain .
The 2000th World Cup goal was scored in this fixture.
Here is a unique stat for you. When Marcus Allback equalised against England in 2006 it was the 2000th goal to ever be scored at the World Cup.
We doubt Mr Allback realised that at the time as he had rescued his team a point and scored at the World Cup, which must be a great feeling in general anyway.
Another record was set in that match as Henrik Larsson, who ultimately rescued a point for his team in the 2-2 draw and became only the sixth man to score a goal 12 years after their maiden goal at the competition.
Larsson joined greats such as Pele, Diego Maradona, Michael Laudrup, Uwe Seeler and Sami Al Jaber in securing this remarkable feat.
Two ridiculous goals have been scored in this match.
We don't want to sound too optimistic, but don't be surprised if you see an amazing goal on Saturday.
In recent history this game has produced two of the most preposterous goals you'll ever see.
First up is Joe Cole's ridiculous volley in 2006.
Then we have Zlatan Ibrahimovic's physics-defying goal in a 4-2 friendly win for the Swede's in 2012.
Danny Welbeck's in 2012 wasn't too bad either.
Kyle Walker's first-ever start for England was in a 1-0 win over Sweden in 2011.
With 38 England caps to his name, Kyle Walker is now a mainstay in the Three Lions' defence.
He made his international bow for England in a 2011 friendly win against Spain but was only a substitute.
His first ever start for his country came just three days later in a 1-0 friendly win over Sweden.
Surely he'll be hoping for a similar result on Saturday.
'Maneater' by Nelly Furtado was UK number one in their last World Cup game.
This has absolutely nothing to do with football and is just an excuse to listen to a great pop song again.
Hard to believe that this song is 12-years-old but that's what time does to you.
Oscar Hijemark's many talents...
Let's conclude by doffing a cap to possibly the best-dressed man at the World Cup.
Swedish midfielder Oscar Hiljemark can literally put that title to his name as in 2016 he was voted best-dressed by in Sweden by Cafe magazine.
Although that was two years ago he still managed to finish in the top 50 of the poll, which is still very impressive.
Beyond that, he can also ride a unicycle. The Guardian quotes the 25-year-old as saying:
My youth coaches teased me sometimes and teased me sometimes and said that I was 'too prepared' and some people thought I was weird when I came to school on a unicycle.

I played ice hockey too and during one camp we had trained our coordination and balance so I bought a unicycle and travelled around town on that.
More: World Cup 2018: UKIP tried to congratulate England's football team and everyone made the same joke