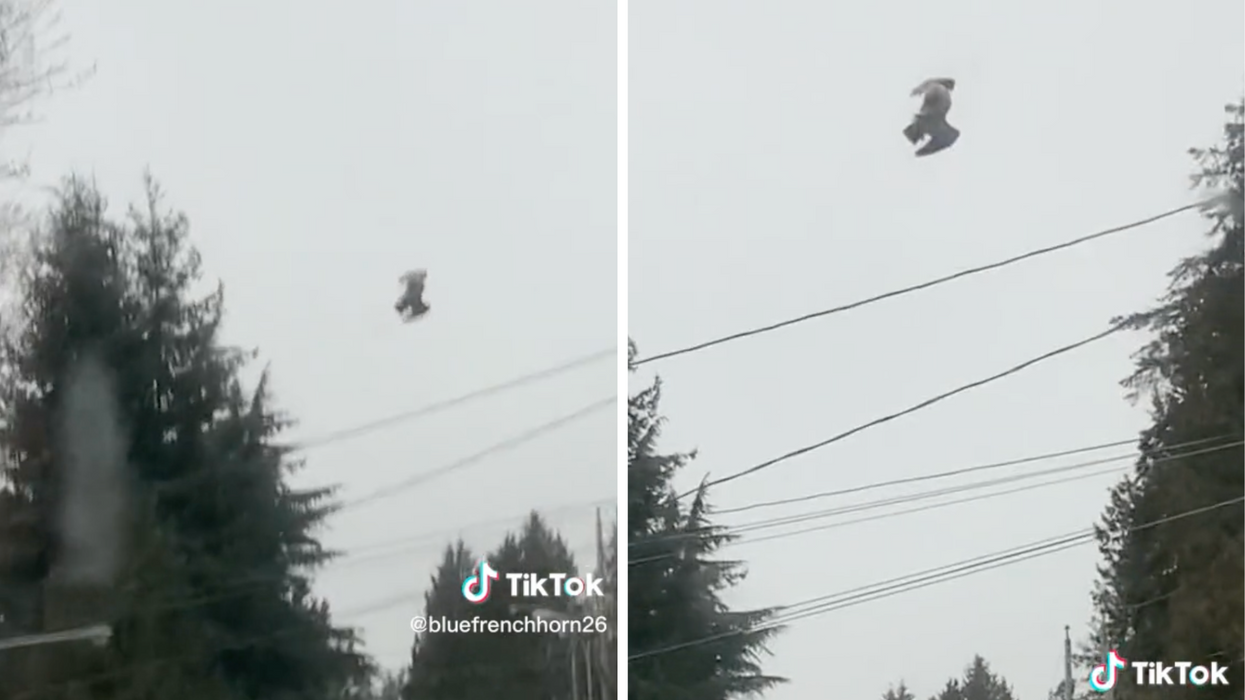 TikTok/@bluefrenchhorn26
A clip of a bird seemingly floating motionless in mid-air has gone viral again after resurfacing online.
The original video was shared online by TikToker @bluefrenchhorn26 who revealed that it had been filmed by her daughter's boyfriend near Vancouver, Canada.
She captioned the video, "WHAT IS IT" and said: "Somebody tell me what in the living bejesus my daughter's boyfriend recorded tonight on his way to his lifeguard training?"
She continued, explaining: "It's a dead bird and it's floating in the sky."
Sign up to our free Indy100 weekly newsletter
The clip then showed someone filming through their car windshield an object that looked like a dead bird suspended in the sky.
Other passersby could be seen filming from outside their vehicles as they were all left baffled by the sight.
Since it was posted on TikTok in February, the clip has been viewed 4 million times and has gone viral again with 27.5 million views after being shared on Twitter.
@bluefrenchhorn26

WHAT IS IT #greenscreen #weird #jumanji #nothanks #fypシ #foryou #unexplained #mystery #westcoastcrew🇨🇦 #fyp #foryoupage #foryoupageofficiall
Someone replied: "Matrix is glitching……."
On Twitter Another person asked: "Why nobody did the logical thing to do and threw a rock or some s**t at it to find out wtf is going on?"
\u201cwhy nobody did the logical thing to do and threw a rock or some shit at it to find out wtf is going on\u201d

— kira \ud83d\udc7e (@kira \ud83d\udc7e) 1687203687
"Did anyone have dead floating bird on their 2023 bingo?" asked another TikToker.

Meanwhile, another person joked: "Ran out of battery!"
Have your say in our news democracy. Click the upvote icon at the top of the page to help raise this article through the indy100 rankings.