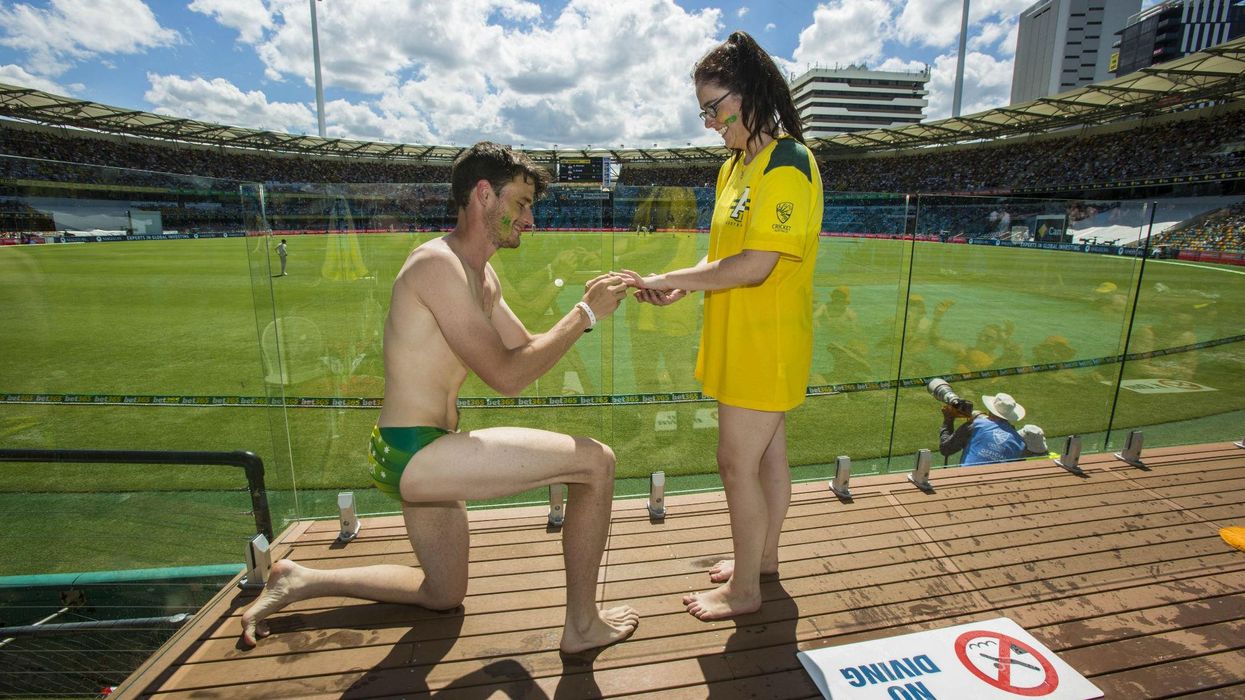 Glenn Hunt/EPA
At Brisbane Cricket Ground, the Gabba, in the middle of the installed pool deck, this couple became engaged.
Say yes to the #Ashes. He put a 💍 on it at the Gabba's Pool Deck. https://t.co/k0p9pbUd4R

— Wide World of Sports (@Wide World of Sports) 1511493169
The moment was caught on TV, and even had some live commentary.
I'm assuming she'd said yes, what with all the kissing going on.
The proposal was made during the First Test of the Ashes series2017.
According to BBC Test Match Special the couple were Michael Langridge and Tori Roebuck.
Langridge told the programme;
I've been planning this for about three months.

I've been obsessed with the Ashes since I was born and I wanted to share that with Tori here.
And Tori said yes! Sort of.
Well I was in too much shock to actually say anything so I just nodded...But then I kissed him!

So I think he assumed it was a yes.
The happy pair posed for photos out of the water.
Where was he hiding the ring? Michael Langridge re-enacts his proposal to Tori Roebuck on the pool deck of the Gabba.
The moment almost didn't happen. The pool deck, built in 2016, is very selective about who can and cannot get in.
Attendees to events at the stadium have to show up in their best swimming attire, and share a photo of themselves with the hashtag #CricketPoolDeck in order to be considered for selections.
According to Langridge it took five uploads before he and Roebuck made it into the pool, though he said he still would have made the proposal that day.
A lot of people watching thought the proposal, in speedos, in a pool, during the Ashes, at the Gabba, was the most Australian thing ever.
Aussie cricket fans get engaged in the pool at the Gabba during the #Ashes https://t.co/L8VJBybnJQ

— Elliot Wagland (@Elliot Wagland) 1511502821
I question the sanity of anyone who proposes on the pool deck at the Gabba. I question the wisdom of anyone who sa… https://t.co/dZTfraKRcy

— Mark Gottlieb (@Mark Gottlieb) 1511493519
Congratulations!
HT BBC