Mmm, tastes just like... oil spills? Air pollution?
Ice cream makers Ben & Jerry have come up with a new flavour called Save Our Swirled to raise awareness of their climate change campaign.
Ice cream melts. Polar ice caps melt. Branding 101, really, and Ben & Jerry's are no strangers to a good cause.
CEO Jostein Solheim said in a statement:
Ben & Jerry's has committed to dramatically reducing our own carbon footprint in an effort to help keep warming below 2 degrees [celsius]. With the Paris climate summit approaching at the end of the year, we are asking our fans to join us in calling on leaders around the world to support the transition to 100 per cent clean energy now.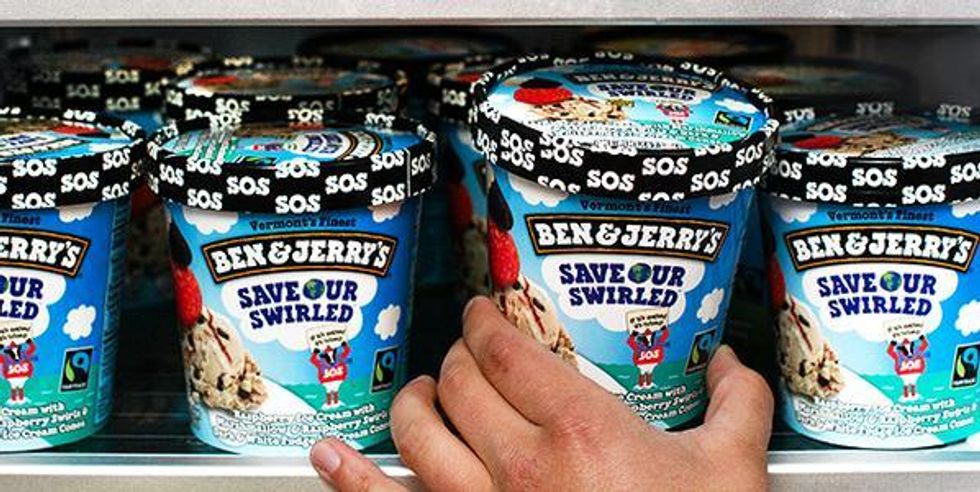 Tubs of Save Our Swirled also encourage ice cream lovers to sign a petition organised by Avaaz to get world leaders to commit to switching to clean energy by 2050.
The new raspberry flavour ice cream comes with swirls of marshmallow and dark and white fudge cones, with royalties from sales going to support Ben and Jerry's climate change partners, so as temperatures rise this summer you can help do your turn for the planet with ice cream.
Om nom nom all round.