Getty Images / Dan Kitwood / Staff ; Getty Images / Christopher Furlong / Staff
Just under a quarter of a million people are estimated to be sleeping rough in Britain.
In the next decade, this figure is set to rise by 76 percent unless the government takes long-term action, according to analysis by homelessness charity Crisis.
Considering that more and more people are sleeping on the streets, you'd be forgiven for assuming that society might do anything in its power to make life more comfortable for the homeless.
Or, at the very least, not introduce punitive architecture designed to make the streets even more hostile for rough sleepers. Surely.
Well, anti-homelessness architecture is designed to deter the homeless from sleeping nearby.
It can involve numerous, often hard-to-notice measures – from small metal spikes to uncomfortable seats, dividers on benches to artificial slopes.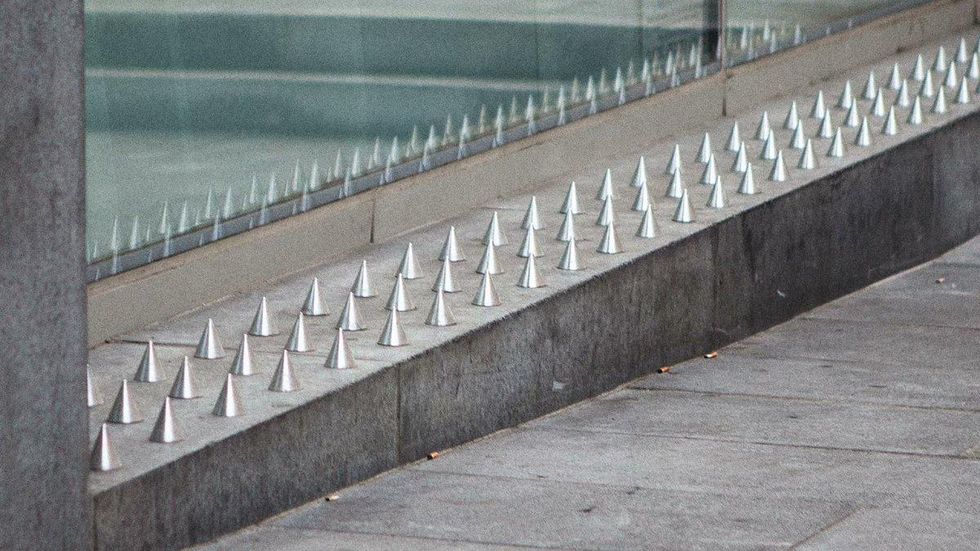 Picture: Twitter / @Toadsanime
Picture: Twitter / @Toadsanime
Picture: Twitter / @Toadsanime
Picture: Twitter / @Toadsanime
Recently, rapper Professor Green slammed benches installed in Bournemouth that have a metal bar across the middle to stop people sleeping on them.
Bournemouth council was branded "inhumane" for installing metal bars on benches to stop homeless people sleeping on them.
Bournemouth council was also petitioned in 2015 by over 4,000 people over its use of bagpipe music, which was played at night to discourage rough sleepers.
In central London, where one in every 59 people are homeless, a picture of metal studs installed outside a block of flats set social media ablaze in 2014.
Protestors poured concrete over another set of spikes and, after a petition was signed by nearly 130,000 people, the spikes were moved from the London apartment building.
The backlash to anti-homelessness architecture can be furious – when the public eye notices it.
But it is easy to walk by a bench with an extra arm rest without sparing a thought. As a result, hostile architecture often goes unrecognised by people who are not excluded by it.