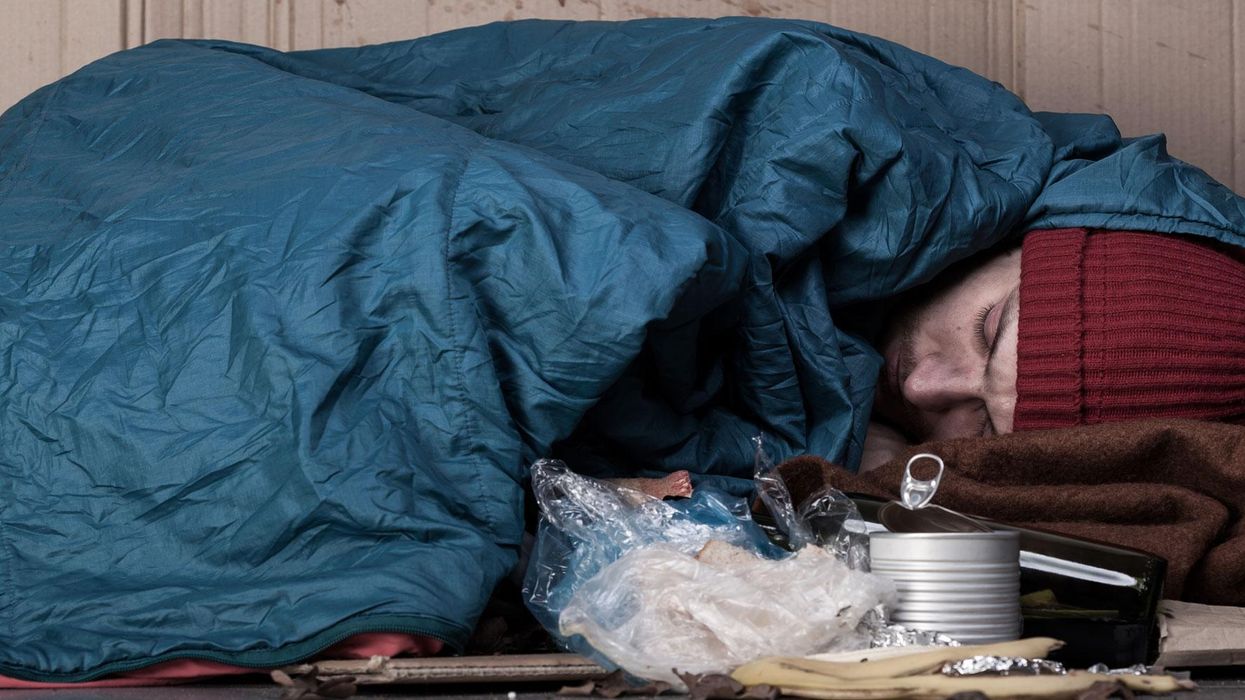 iStock
With temperatures plummeting in parts of the UK, many people don't have the luxury of a stable home to shelter from the rough weather.
According to a study by housing charity Shelter, 300,000 people are homeless in Britain – with over 4,000 of those rough sleepers.
What can we do to help during snowfall?
The Mayor of London has opened emergency shelters to accommodate homeless people sleeping in the freezing temperatures.
StreetLink
If you see a person sleeping rough, especially in the snow, you can go to streetlink.force.com and fill out an online form.
This is a service run by St Mungo's and Homeless Link, and is funded by government grants in an effort to end rough sleeping in England and Wales.
You can use a map to pinpoint the rough sleeper's exact location, give details of the time you saw them and any information about their appearance (including hair, eye colour and what they are wearing).
The information you provide will be forwarded to a local authority or outreach service in the area, and someone will be contacted to connect with the person in need.
You can also call their 24-hour hotline on 0300 500 0914.
StreetLink is now also available to download as an app.
There are a number of other ways that the public can help rough sleepers.
Provisions for people experiencing homelessness
Councils have a duty to help people who are experiencing homelessness.
According to St Mungo's, a charity set up to help homeless people, depending on a rough sleeper's situation they might be eligible for provisions organised by a local council. They could receive emergency accommodation like a shelter or hostel, as well as something longer-term, depending on the person's circumstances.
If you've made contact with someone sleeping rough, or are sleeping rough yourself, you can contact a local authority here.
What about rough sleepers who appear to be under 18 years old?
Children and young people under the age of 18 are a priority for housing and support with local councils.
While it may be difficult to identify teenagers who may seem older, if you believe them to be a young person it is important you let StreetLink know.
If you see a child who appears to be on their own, you can also contact 101 for advice.
Should you give money to a rough sleeper?
This is what StreetLink says:
Ultimately we believe that the choice of whether to give money to beggars or not lies with the individual. Many people who are begging are not sleeping rough and equally, not all people who sleep rough, beg.

In the longer term, giving money to people who are begging can aid harmful or destructive behaviours, and if begging is a viable solution for someone, there may be fewer incentives to move away from the streets and into stable accommodation.

There are many alternative ways of helping people who are homeless, for example by donating to or volunteering with local homelessness services.
What about giving/buying food?
That is entirely up to you. You can ask if they're hungry or thirsty, and buy them food if they would like it.
You can also inform them of the nearest soup kitchen using Streets Kitchen or by finding information on the internet. Some of these places also offer basic toilet facilities and toiletries.
However, the best way to help is to facilitate a long-term solution by contacting a charity, council or support network.
If you see someone in great need, you can also call the emergency services on 999.