Twitter / Screengrab
Bus drivers in France are wearing skirts to work - partly to cope with the heat and partly in protest of a ban on shorts in their uniform.
With temperatures reaching almost 50C in the busses, and with no air-conditioning, the workers are calling it "discrimination."
Speaking to Presse Ocean news site, driver Didier Sauvetre said:
Our uniform is not appropriate for these high temperatures. We envy women at moments like this.

A modern approach would allow us to wear long shorts from time to time. Women drivers can wear skirts, but not the men. It's a form of discrimination.
Another union member, Gabriel Magner insists the high temperatures behind the windscreen, along with the lack of air-conditioning makes it "unbearable in trousers", the Telegraphreports.
1. The bus drivers just want to combat the heat...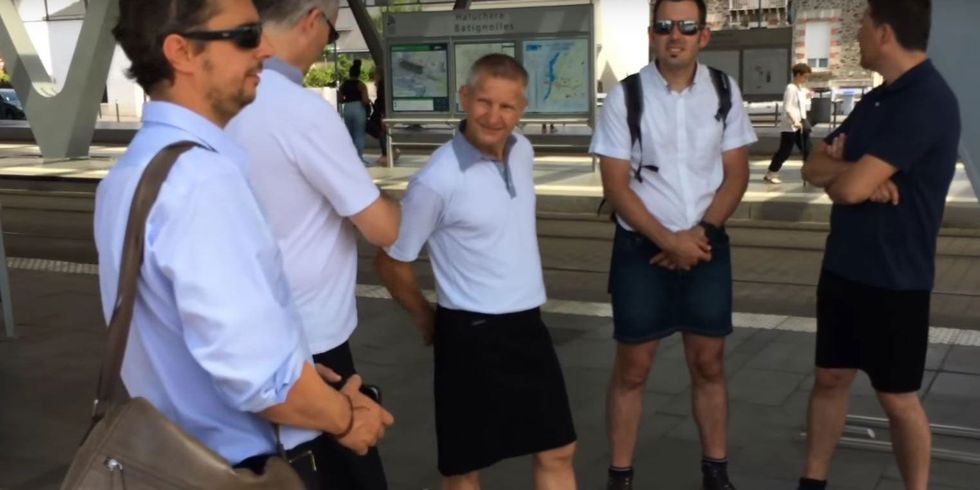 Bus drivers wearing skirts
And it's not just the French bus drivers who have opted for the traditionally female attire.
Here are a few others:
2. These school boys at Isca Academy in Exeter
They are also wearing skirts to protest the school's 'no shorts' policy.
Claire Reeves, 30, told Devon Live that her son was "suffering" with the heat.
I have called the school several times and they have told me that if I send my son to school in shorts then he will be sent to the isolation room all day and if I keep him off school then it'll be an unauthorised absence.
3. This guy, who opted for a dress to work:
After being sent home from work for wearing shorts to the office, 20-year-old Joey Barge went back wearing a pink dress. As you do.
4. This Swedish train worker:
He had decided to wear a skirt because - you guessed it! - it was too hot.
5. Jaden Smith
His reasoning for wearing a skirt, is so that future generations won't get bullied for not conforming to gender stereotypes. Deep.
​
In fact, there's even a Kickstarter campaign to sell 'unisex skirts', suitable for both men and women.
They really are very good for the heat...