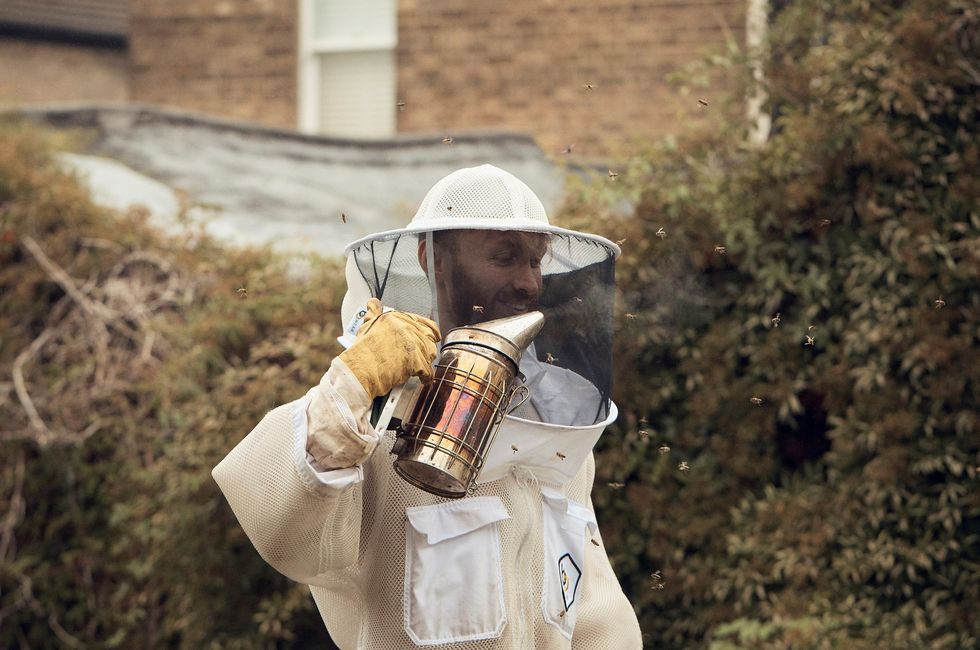 A Syrian activist facilitating therapeutic beekeeping workshops for refugees and asylum seekers said he is "very excited" to launch a renovation to his environmental justice organisation's farm in Kent.
Ali Alzein, 38, founded Bees & Refugees in 2019 after he left a job in the luxury fashion industry in London, learned about the mental health benefits of beekeeping and wanted to pursue beekeeping as a therapeutic tool to help fellow refugees.
Mr Alzein, who fled conflict in Syria in 2014, said his organisation has developed relationships with community groups working with refugees and offers beekeeping workshops to fellow migrants.
He said Bees & Refugees has taken on around 280 volunteers since it was founded, has worked with numerous organisations in London to help them meet their sustainability goals, and now has expanded their farm in Otford.
Mr Alzein and volunteers have converted a bomb shelter from the Second World War into a carpentry area and community space, achieving their five-year goal of renovating the space two years early.
He told the PA news agency: "It was originally a bomb shelter during the Second World War and then after that it was converted into a chicken coop.
"We're converting it into a carpentry space so we can use it to build our own hives and build insect hotels."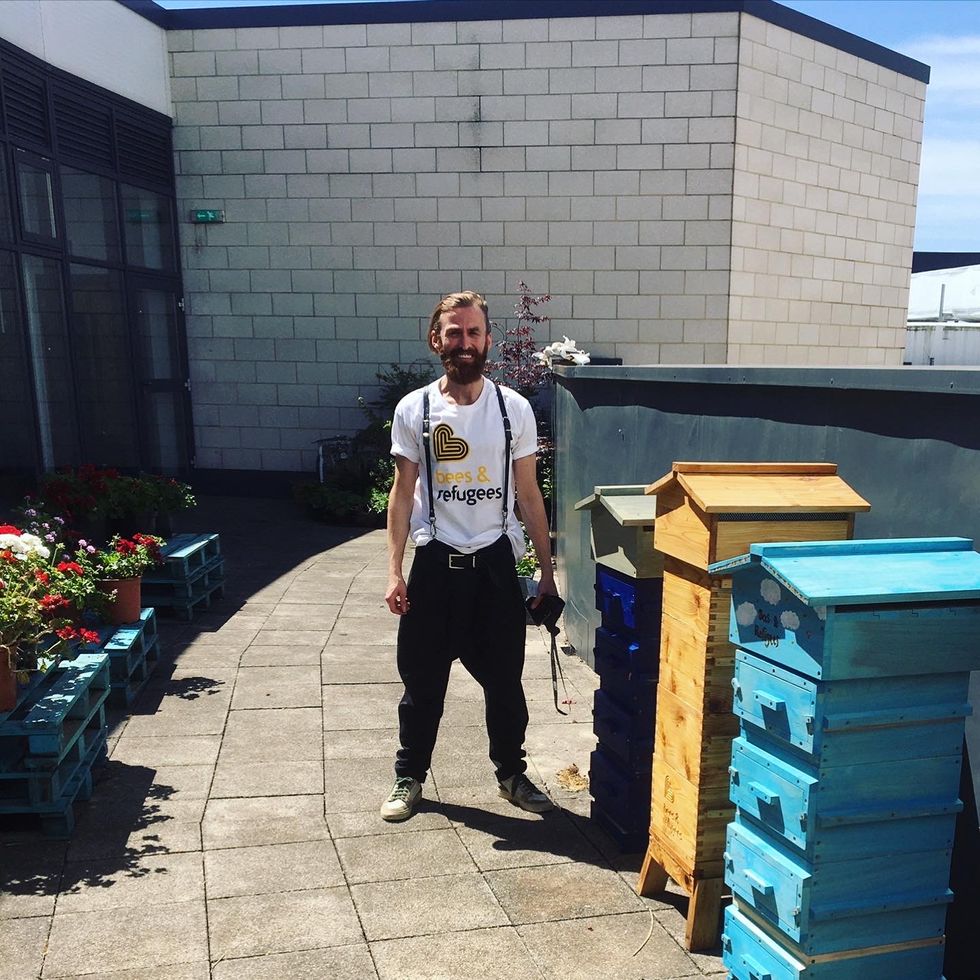 Ali Alzein, the founder of Bees & Refugees, said he is 'very excited' to launch the renovation to the organisation's farm (Bees & Refugees/PA)
The farm has also reintroduced chickens and Mr Alzein said: "All the neighbours are super excited that we have chickens on the farm now because this farm used to supply all the villages around with eggs, like 10, 15, 20 years ago, so the farm owner, the neighbours, are very excited that we brought that legacy back.
"A second farm building that we need, we want to renovate for making candles, jarring honey, delivering workshops, and as a rest area for the visiting groups.
"We still don't have the funding to do that. Once we have the funding, hopefully we'll start renovating it as well."
Mr Alzein believes that beekeeping can help people suffering from trauma and PTSD heal.
He said: "I think every beekeeper can witness and confirm the theory that being around these bees has that magic element that makes you feel very calm, makes you feel centred and grounded.
"If you're someone like me who has regular panic attacks or anxiety attacks, being around bees is the place where I could never have an attack, because I'm so focused on these beautiful, majestic creatures and focusing on calming myself because bees reflect your energy, just like your dog."
Mr Alzein founded Bees & Refugees after quitting his job in the luxury fashion industry.
He said: "I was working with people who were spending £1 million on buying two items from Dolce and Gabbana, or other brands and at the same time I was going to refugee camps where people didn't have access to clean drinking water or basics like food or warm clothing."
Mr Alzein explained: "When I discovered the therapeutic benefits of being around bees and beekeeping, I started thinking, 'how can I use that?' At that time I was learning a lot about the native black bees, and how they were almost extinct.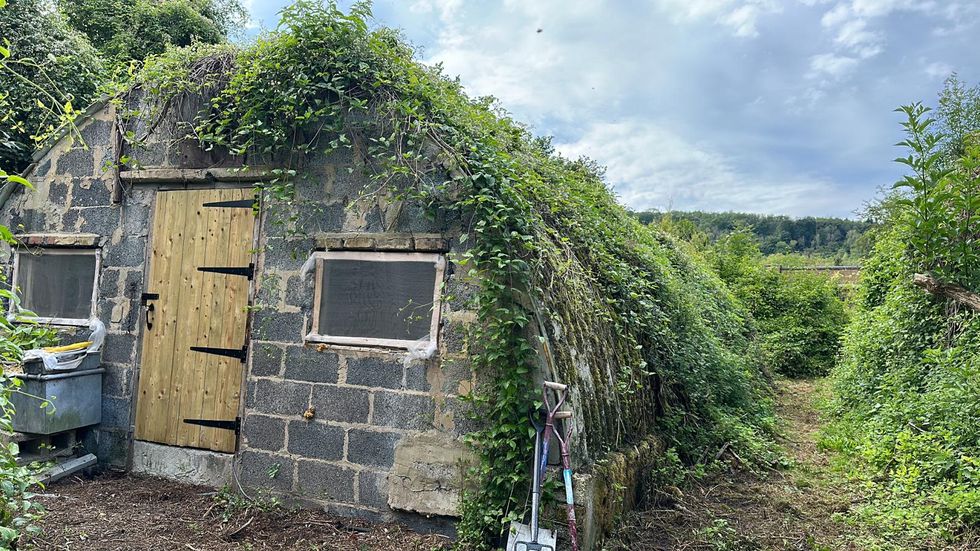 The farm in Otford, Kent, used by Bees & Refugees (Ali Alzein/PA)
"At the same time, I was constantly following the news about the fortress of Europe and the horrible things that refugees and asylum seekers were going through to have safety.
"That's where Bees and Refugees came alive, because bees are threatened and refugees are under attack."
Bees & Refugees raises funds by partnering with big companies in London to help them achieve their sustainability goals by offering beekeeping workshops and installing insect hotels and hives.
He said: "Recently we wanted to push companies towards working and supporting and creating habitats for solitary pollinators rather than introducing more honeybee colonies to London."
Solitary pollinators are pollinators that work alone, like solitary bees, beetles and wasps.
He said: "London is already a city with a high density of beehives, which is causing a bit of pressure on solitary pollinators and that's why we started relocating our hives and placing them in areas where there are less beehives."
While the organisation works with big companies, its focus remains on helping refugees and asylum seekers in the UK by offering beekeeping workshops and promoting the benefits of ethical and therapeutic beekeeping.
Mr Alzein said: "I think beekeeping is beneficial to anyone and everyone, whether they are struggling with their own mental health or not."