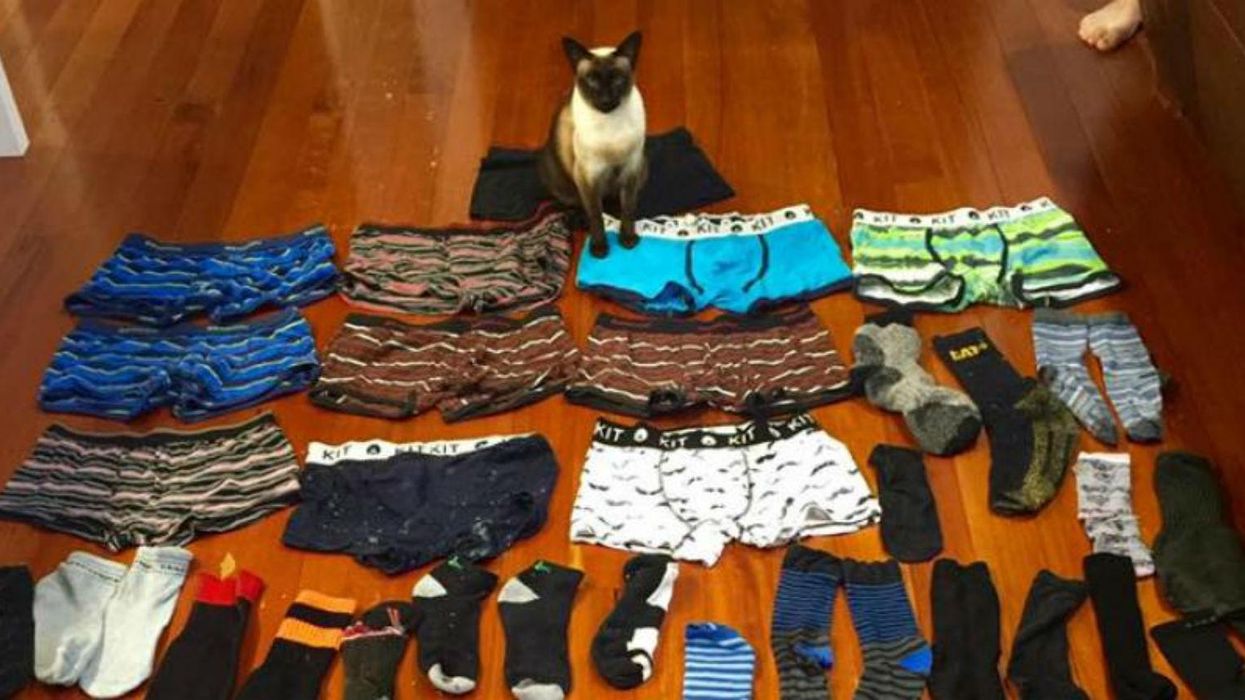 This cat has a particular fancy for pants.
Such is the feline's desire for undergarments that she decidedly steals men's briefs and boxers with cunning regularity.
Six-year-old Brigit, who lives in Hamilton East, New Zealand, has burgled more than 11 pairs of pants and over 50 socks in the last two months.
According to owner Sarah Nathan, that's just the underwear that she's kept. Apparently her pet has brought back much more. She took to Facebook to apologise to neighbours and warn them off their potential loss of pants at the claws of the cat.
Sarah also talked to the New Zealand Herald about her cat's odd fondness for men's underwear. Sarah often finds pants and socks on her bed, or outside the cat flap.
"We just did a really big gardening session and we found a whole bunch of them stuck in the fence," Sarah explained.
It seems Brigit has always enjoyed her practice. Sarah said that her cat has always brought home oddities, but conceded that Brigit has become more 'rampant' since settling into the area after moving house with her owner.
Sarah told the NZ Herald:
It's all men's. It's really, really weird. She's got really specific taste.

In our last house she'd bring home a bit of everything - she'd bring home men's undies, women's undies, togs, she even brought home a hockey shin pad and a jumper.

She was much less discerning - now she's decided menswear is the thing - and it's a very specific kind of underpants that she likes.

She stopped when we moved to George St, but she's obviously got herself acclimatised, because now she's rampant again.

It's an absolute obsession. A night does not go by without her bringing things home. I got up this morning and there were another four socks in the house.