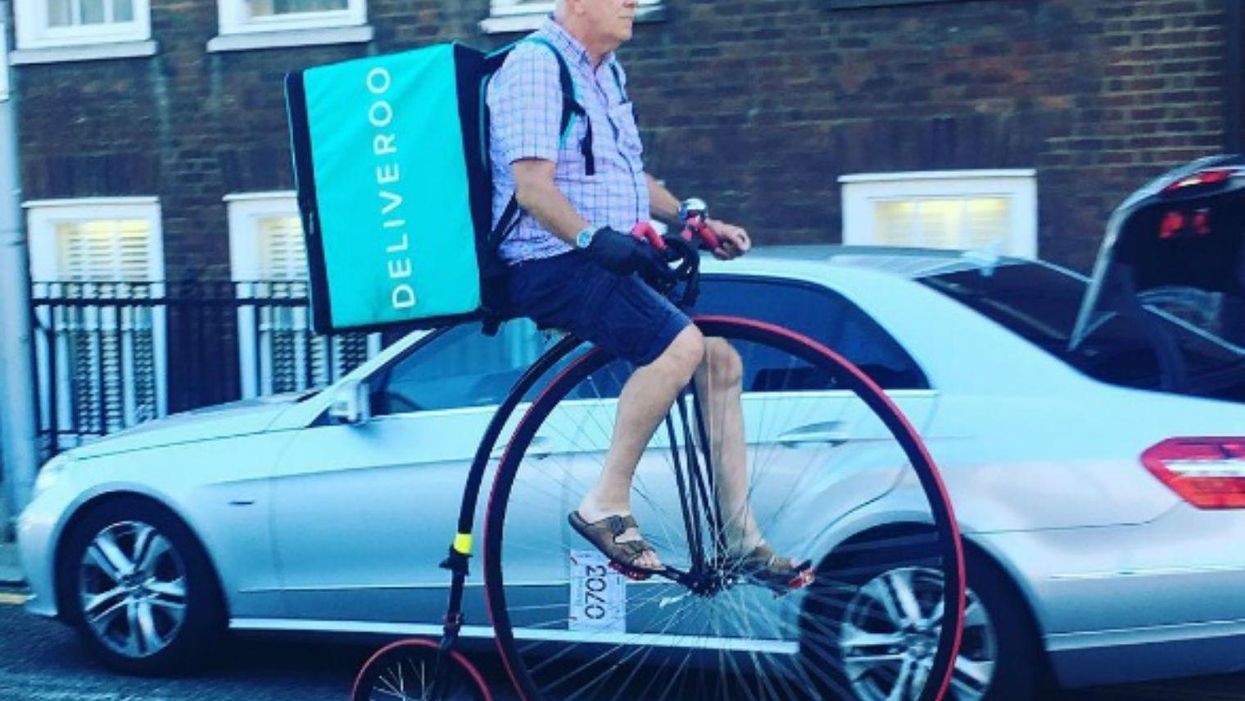 Here is a typical British scene.
The man was spotted in South Kensington yesterday while riding a penny-farthing.
Notably, he has a Deliveroo satchel upon his back. He is, it would appear, delivering somebody's lunch upon the Victorian bicycle.
It's not the first time the man has been seen around London. Earlier this week, he was snapped, Deliveroo bag in tow, around Trafalgar Square.
Please also note his hat.
The high-wheeler gets around.
It's worth mentioning here that Deliveroo recently hit the headlines for paying low wages.
A new contract announced in May means that Deliveroo can pay workers well below the minimum wage. Drivers now get paid just £3.75 per delivery, instead of £7 per hour. They get £1 commission per delivery.
Deliveroo claims that the scheme allows workers more flexibility:
Along with this increased flexibility, we've seen average hourly fees for riders in previous trials rise to more than 2.1 times the previous payment model at our busiest times.
Critics say it will leave them with lower wages and have criticised the move.
It could be, then, that this penny-farthing Deliveroo situation could be nothing more than an elaborate PR stunt.
Even if a PR stunt is likely, we should also say that the man is a legitimate penny-farthing user.
The writer of this post once met him on Parsons Green in south west London. His name eludes me, but he ended up joining in our exciting/ridiculous game of Segway polo.
If you look behind former Made in Chelsea star Francesca Newman-Young, who won 'most improved player' on the day, by the way, you'll see the penny-farthing parked up on a bench.
The rider of the bicycle said that he plays Segway polo for England. We cannot verify this comment, but he was very good.