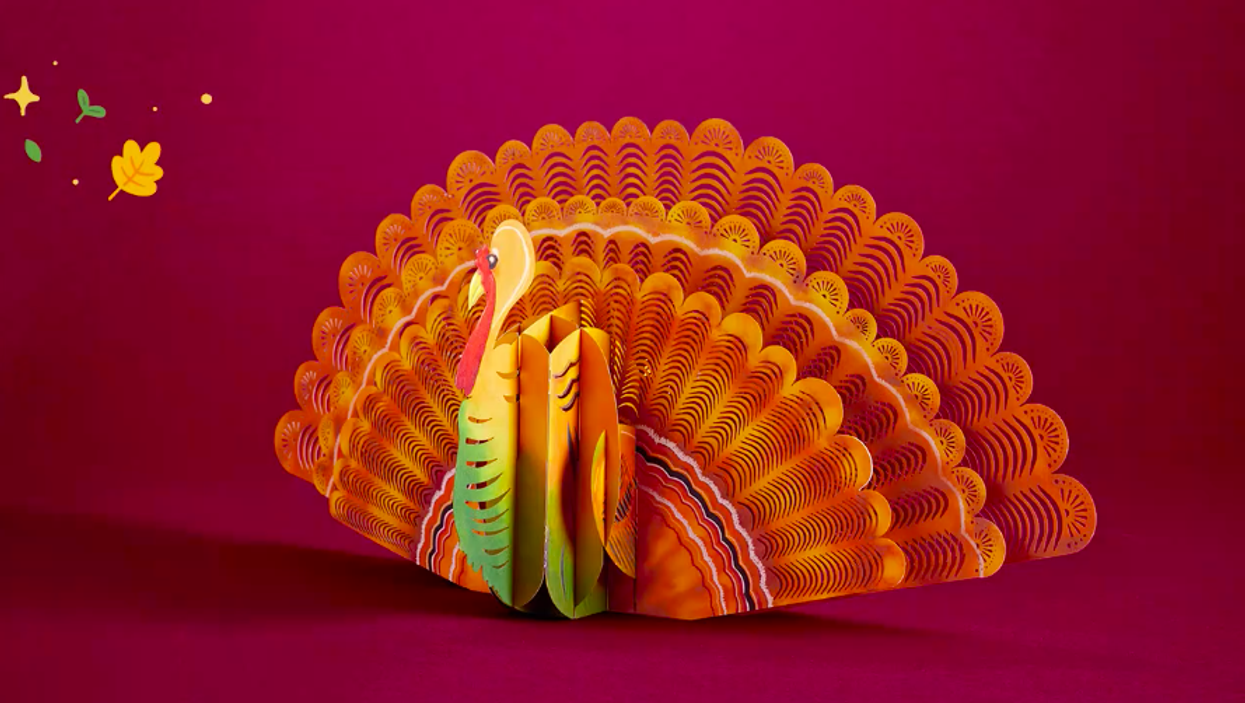 Lovepop
Greeting cards are often an afterthought, just something grabbed in the checkout aisle to differentiate your gift from the next at birthday parties, showers, and other celebrations. We're apt to disregard just what special pieces of keepsake art they can be, though, especially when chosen carefully and finished off with a personal note.
The owners at Lovepop know this and since appearing on Shark Tank in 2015, they've been "on a mission to create one billion magical moments" through creating an extensive line of cards, stationery, and decorations that push paper art to is inventive limits.
I was having a terrible day when I opened a surprise package from the company, who'd previously emailed me regarding their upcoming advent calendar (more on that soon). Being the avid Halloween fan I am, I was thrilled to see Hocus Pocus branded cards and other cute n' spooky products on their website but seeing these products in person?! It sparked a new level of joy that turned my mood right around.
I felt like a kid discovering the magic of my favorite holiday all over again as I poured through the Playpop Explorer figures, marveling at the cartoonish cuteness of the wide-grinning witch and smiley skeleton. The Haunted House soon became a masterfully crafted centerpiece around which to build a desktop village in my already spooked-out office (we decorate early in this house). A few minutes of unwrapping later, I had a huge spread of Halloween pieces filled with charm and surprising details, including the beloved Hocus Pocus greeting card with its iconic trio of witches convened around a cauldron as Winifred prepares a wicked potion.
If Halloween isn't so important to you, Lovepop has plenty of other options to explore. I also received the beautiful "Thinking Of You" bouquet which comes packaged in sturdy cardboard to prevent the intricate pieces from being bent in transport. There is zero work required as it simply opens into a flourish of flowers with a separate note card where you can write a personalized message. There's also the option to have Lovepop personalize it for you at a small additional fee.
A dazzling cornucopia also arrived in the bundle along with a fall candle, and I have already started planning how I'll set the Thanksgiving table with these lovelies tucked among the mashed potatoes and cranberry sauce. The star of the show will of course be the fantastic turkey popup seen below whose colorful plumage highlights the artistry displayed in his splay of feathers. Lovepop truly took Thanksgiving–hardly considered an aesthetic holiday–and made it a day to dress up the table before you dive into a hearty meal with loved ones.
One of the most impressive aspects of these dainty works of art is that each piece is laser-cut then assembled by hand, ensuring the standard of quality stays consistently high. "There's a lot of love that goes into each one," the company's own Christine Vicari told me. "Our design team is always dreaming up fun new designs and product extensions - they really are magical works of art."

On top of creating beautiful pieces, the company uses fully recyclable paper that is sustainably sourced. The designs are imagined, actualized, and created between founders Wombi Rose and John Wise's home base of Boston and Vietnam, where they first learned of the country's ancient Kirigami art form. They call their take on the classic technique Slicegami to lead a team in creating hundreds of designs per month, including our current favorites you can find below.